All You Need To Know On How To Read French Wine Labels
France is famous for its high-quality wines produced in a traditional manner, leading to some of the best wines worldwide.
While it's easy to note that they offer top-tier wines, reading and understanding the French wine AOC classifications is another thing entirely. By learning about AOC wine, you can understand what flavor notes to expect, what grapes are in the wine, and more.
What Are The Main Wine Classifications In France?
There are four primary wine classifications to be aware of when looking for a bottle of French wine. The classifications include Vin de Table, Vin de Pays, VDQS – stands for Vin Delimité de Qualité Supérieure, and lastly -AOC – stands for Vin d'Appellation d'Origine Controlée, and more.
What Is Vin de France (Or Vin de Table)?
As mentioned, vin de table is France's lowest-quality tier of wine. It is the only wine in France that can be from anywhere in the country. There are no restrictions for this type of wine, and it does not have to meet any quality standards.
What Is VDQS (Or Vin Délimité de Qualité Supérieure)?
VDQS (Vin Délimité de Qualité Supérieure) is a now-defunct French wine classification that was created in 1949 as a step between the basic AOC (Appellation d'Origine Contrôlée) and the highest level, the AOC Crus Classés.
The VDQS classification was intended to recognize wines that were of superior quality and distinctive character but that did not yet meet the strict requirements for AOC status. However, in 2011, the French government decided to abolish the VDQS category, and many of the wines previously classified as VDQS were either promoted to AOC status or demoted to Vin de Pays (country wine) or Vin de France (table wine) status.
What Is IGP (Indication Géographique Protégée Or Vin de Pays)?
Vin de pays a slightly higher quality than table wine. Originally, wines outside the AOC range were marked as vin de pays. This name was associated with wine beginning in the 1960s. In 2009, these same country wines became registered with IGP. Often, these terms are used interchangeably on wine labels.
The primary difference between vin de pays and IGP is that vin de pays is the pre-EU version of this classification.
What Is AOC (Appellation d'Origine Contrôlée)?
As mentioned above, AOC wine is the top-quality wine available in France. For a wine to qualify for this classification, it must have distinctive qualities and only be made in regions or areas in France that coincide with those qualities. There are stricter rules regarding which wines can be AOC, though these rules vary greatly depending on the wine region. Some rules that accompany an AOC classification include the type of grapes that can be used, harvesting techniques, and even the amount of alcohol in the wine.
Under the AOC classification, wines can be further marked as different "cru." The cru notes the wine's vineyard plot or chateau where it was produced.
What Is AOP (Appellation d'Origine Protégée)?
The AOP, also known as PDO (Protected Designation of Origin) in English, notes that a bottle of wine originated with regulations in a particular region or area. The area can be small or large, depending on the rules noted for each area. Each region generally has a set standard for its wines, including the grapes, growing conditions, and quality allowed.
What Is Premier Cru?
Premier cru, the first growth or 1er cru, is typically used to note wines made in Champagne and Burgundy vineyards. Specifically, this refers to the second-best vineyards in these regions.
What Is Grand Cru?
Grand cru, meaning great growth, also refers to Champagne and Burgundy vineyards. In this case, grand cru indicates the very best vineyards in the region.
The grand cru classification runs from 1er grand cru classé to 5ème grand cru classé. In English, "cru" means growth. So, it would be the first growth to the fifth growth. The "cru" levels coincide with the quality levels.
IGP And VDF (Indication d'Origine Protégée And Vin de France)
IGP is another classification that is less strict than AOP. In English, IGP is the same as PGI (Protected Geographical Identification). Typically, the IGP has a bigger region and fewer rules than an AOP classification. This wine quality sits between Vin de France and AOP.
Main French Wine Regions & Communes
Generally, the vineyards can be split into two areas – northern and southern. Of course, this rule has a few exceptions, like Savoy and Jura. The main french wine regions include Alsace, Bordeaux, Burgundy, Champagne, Corsica, Languedoc, the Loire Valley, Provence, and Rhône.
Within these regions, there are dozens of communes that are connected to wine. A few of the top French communes include Graves, Médoc, and St. Emilion.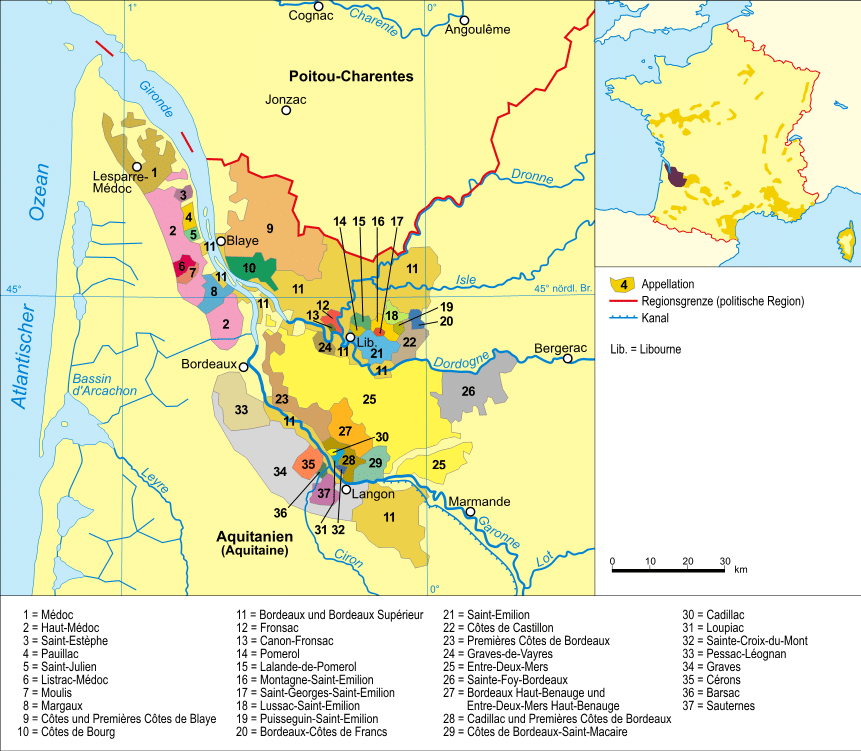 French Wine Labels Guide
There are a couple of notes to remember while deciphering a French wine label, starting with the type of label you see on the bottle. Generally, there are two types of labels on the wine, one which notes the brand name and one which states its appellation details. Usually, a branded wine will have the grapes used listed on the front of the label.
A label with appellation credentials uses the quality standards from the specific region it's made to identify what's in the wine bottle. For example, Chablis wines do not mention the type of grape used, only that it qualifies as Chablis.
There are typically five main sections of a French wine label, the name of the wine (or the producer), the region, the type of grape (or protected area, the year of production, and the ABV.
Here are a few important terms you'll see on French wine bottles:
Blanc de noirs – white sparkling wine use black grapes (like pinot noir)
Brut – a dry sparkling wine
Coteaux – wines that come from a grouping of hillsides
Demi-sec – means a lightly sweet wine
Doux – denotes a sweet wine
Sec – refers to a dry wine
Final Notes
Once you understand the basics of French wine labels, deciphering which type of wine you're about to drink is much easier. The above guide will help you select a wine that is within your desired quality and price point. It's worth noting nearly all wines created in France are high-quality, even table and country wines. So, regardless of budget, you can find some excellent wine options in the country.
Related FAQs
What is 3ème cru classé?
3ème cru classé refers to Bordeaux made on the left bank. This wine classification system began in 1855 when there were 60 chateaus on the left bank (in Haut Medoc and Graves). The chateaus here are known for having the right soil, climate, etc., for producing high-quality wines.
3ème translates to third, indicating a "third growth" quality wine. It sits right in the middle of the grand cru classification system. However, it's still considered a very high-quality wine.
Do Italians drink French wines?
Yes, Italians also drink French wine. However, the wine culture in Italy is much different than in France. In Italy, the focus is on having wine present every day, so it's offered at very low prices. In France, the wine focuses on quality, so it's usually a higher price. Because of this, most Italians will continue to reach for local wine options. However, some Italians do go out of their way to buy French wine from time to time.
How do French wines compare to Italian wines?
The quality of French and Italian wines is very close, which is only the case in recent years due to Italian winemakers focusing on quality more. Otherwise, there are a few differences between French and Italian wines produced. For example, France is very particular about where wines are produced, using a ranking of quality vineyards to provide information on each wine bottle.
Italy has a large grape variety (much higher than France). So, their wine aromas, flavors, and overall variety are much higher than France's. Additionally, Italian wines are best consumed when "young," while French wines are usually better aged.
What are the differences between American and French wine?
There are multiple differences between how wine is produced in American vs. French wineries. For example, in certain French wine regions, you can only use specific grapes for wine. In America, there is no structure around which grape varieties can be grown in each area.
Additionally, French wines are more traditional. American wines constantly change, with different fruits used as a base and flavor notes and aromas added.