The beauty about the growing wine club industry is that you can find memberships to suit every preference and budget. There are now multiple different wine club experiences available. This array of choices is wonderful if you are looking for a wine club service that suits you, but it can be difficult to wading through the choices to determine the best fit. This is where the Wine Club Review comes in!
Not only do we provide in-depth company profiles but we also do a range of company comparisons so you can look at two different clubs side-by-side and work out which is the best one suited to you.
Today we are going to be looking at two companies that offer quite different memberships. These companies are Plonk and VineBox.
Plonk offers a wine club experience that is all about wines that have been organically and sustainably produced. They specialize in the smaller lesser-known boutique wineries from around the world. VineBox is a membership that is focused on providing an 'at-home' tasting experience with their unique by-the-glass membership format. Their wine list includes grapes and blends from all over the world.
The clubs and available plans:
As a Plonk wine club member, you will have a choice of two different plans.
The first is a four-bottle plan that includes four different wines with one bottle of each included in your monthly delivery.
The second is a twelve-bottle plan that includes four different wines with three bottles of each included in your quarterly delivery.
As a VineBox wine club member, you receive a quarterly delivery made up of nine-single glass tastings. You can sign up for a quarterly or annual membership. Your membership also includes credits to purchase full-size bottles of your favorite wines
Who is it for?
Plonk is ideal for those who love to enjoy an organic wine tasting experience. VineBox is great for people who would like to broaden their tasting horizons and enjoy a format that offers an extensive range of wines.
Main Benefits:
Plonk:
Wines that are organic, sustainably produced and biodynamic
Flexible membership – choice of 4 or 12 bottles per delivery
Incredible 100% satisfaction guarantee
Wines come with tasting notes and recipe pairings from Food52
VineBox:
A diverse range of tasting options every quarter
Unique 'by-the-glass' tasting format
Different levels of subscription available
Membership includes credit to buy full-size bottles of wines at reduced prices

Join Today and Get $10 OFF Plus Free Shipping!
The personalization process:
Plonk:
The Plonk wine club offers its members to specify if they would like a red, white or mixed delivery.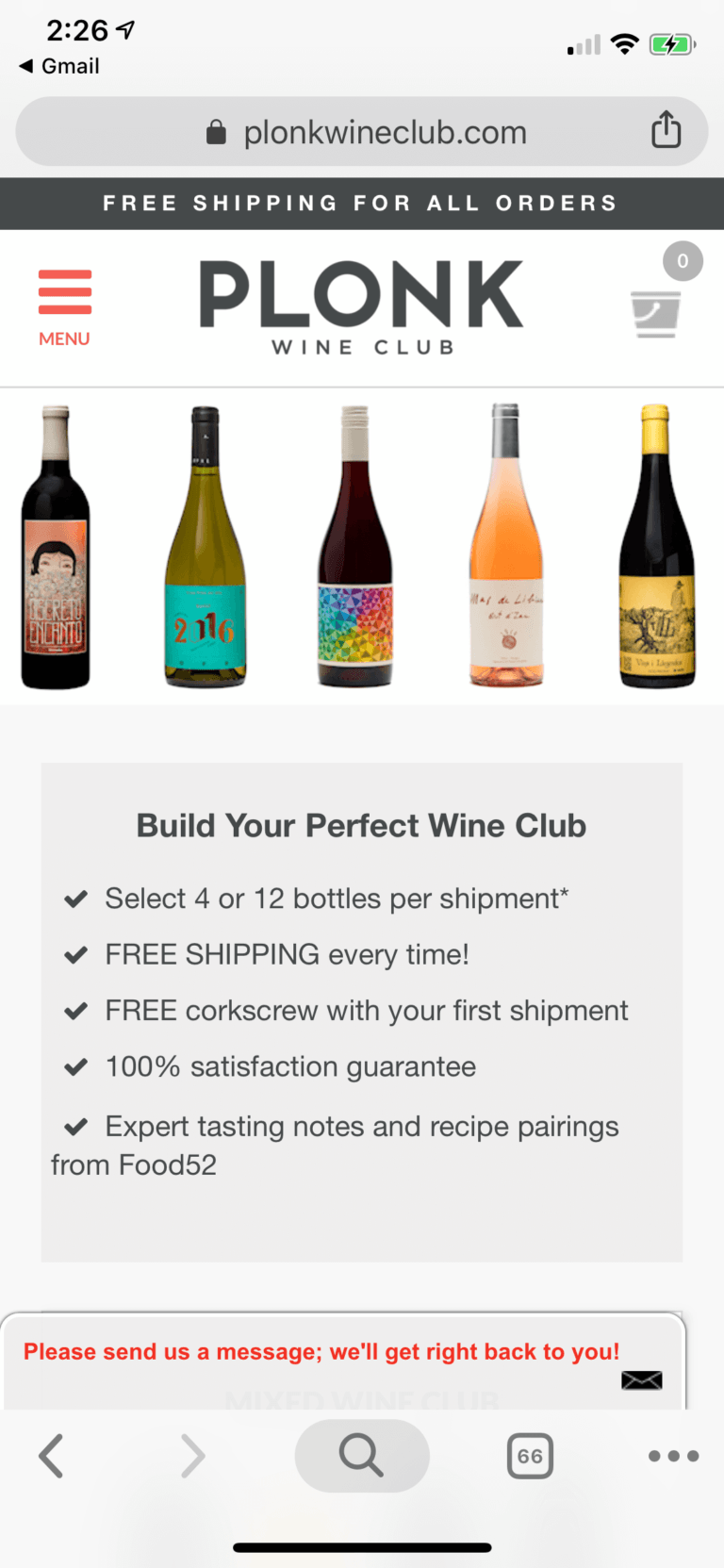 VineBox:
VineBox is more about giving you the opportunity to try a diverse range of wines from over 72 different counties than creating a tasting profile. Then you can purchase bottles of your favourite wines at greatly reduced prices.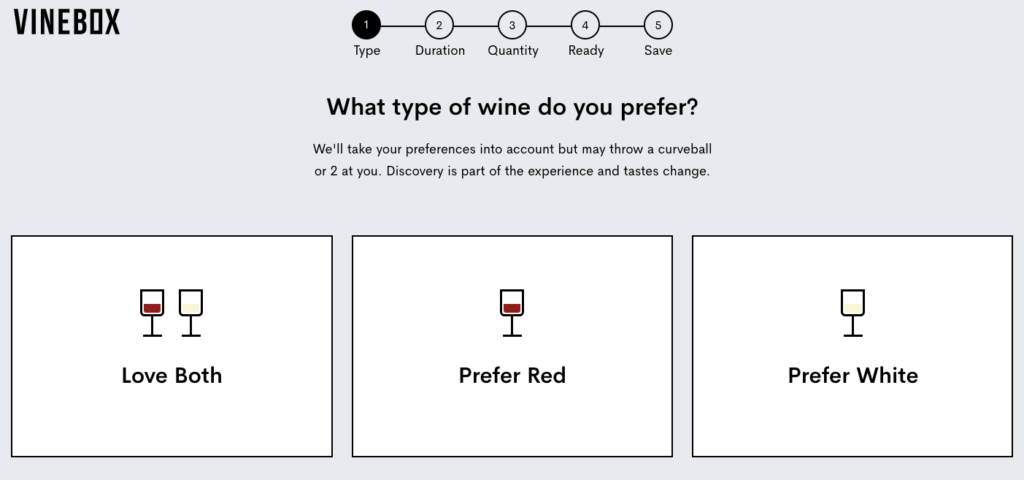 The website and ordering process:
Both Plonk and VineBox offer wine club memberships that are very easy to manage. They both have a simple sign up process and websites that are easy to navigate.
The Plonk website allows you to explore the wine selection for the current month and shop from their changing wine selection. To begin your membership, you will need to choose the type of delivery you would like to receive (red, white or mixed), pick the number of bottles per delivery, choose your payment plan and then checkout!
The VineBox website gives you access to more information about the company and the wines that are on offer.   To begin your membership, you first need to select the type of box you would like to receive, select a plan and then create your account.  
Please note that with any wine deliveries in the USA, that someone 21+ must be available to sign for the order at delivery.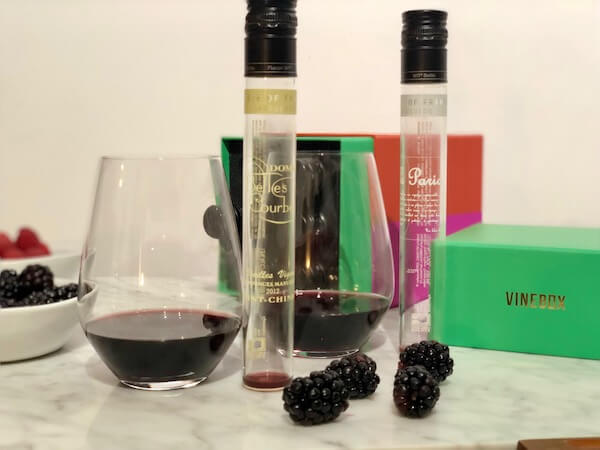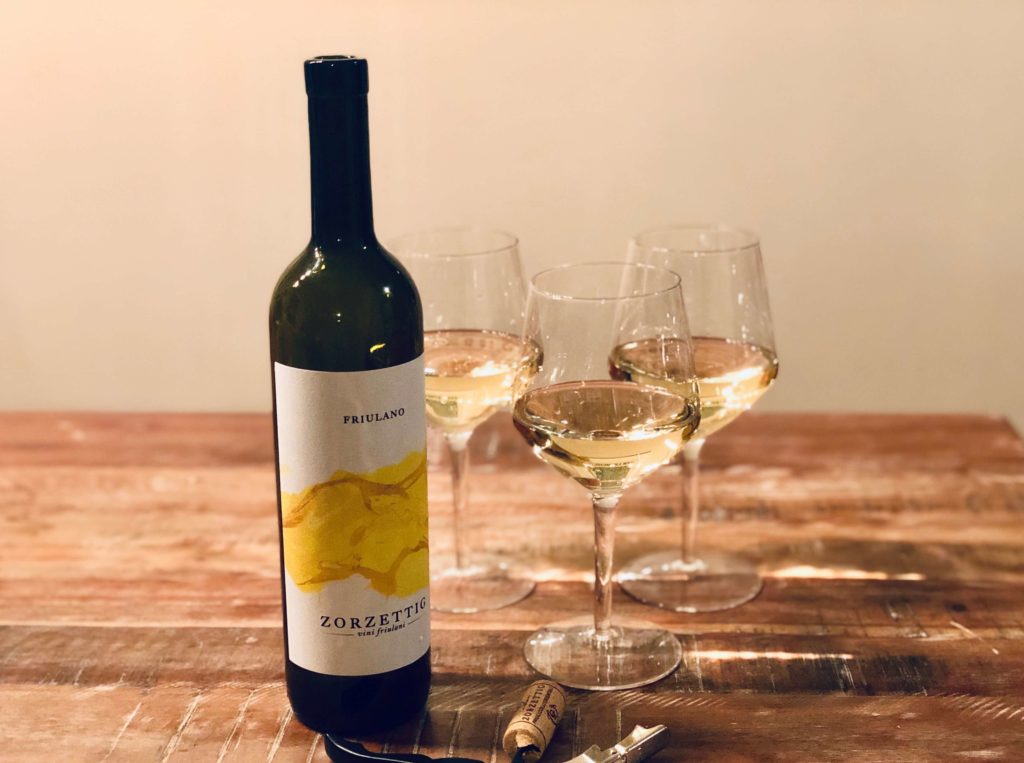 The wines:
Part of our review and comparison process is that we make sure that we try a diverse selection of wines from every wine club that we include on our website. This ensures that all information on the Wine Club Review comes from genuine first-hand experience. We enjoyed our tasting experiences with both Plonk and VineBox.
The Plonk wine club features only naturally grown wines that are free of pesticides or commercial additives of any type. They also ensure that wines are produced using organic and biodynamic methods. The Plonk team is also passionate about lesser-known wines and grapes and wines that are produced in small-boutique vineyards with sustainable practices.
The VineBox wine club is all about providing a diverse tasting experience. Their wines are hand-picked from wineries from around the globe. They are also very focussed on giving their members the experience to taste boutique wines that you would not normally find in your normal retail store.
Bottom Line:
We enjoyed our experience with both Plonk and VineBox and found their wine club experience to be quite different. Even though we loved the VineBox by-the-glass tasting experience, Plonk is the winner in today's comparison. We love the fact that all their wines are organic and sustainably sourced and thought that all the wines we tasted were perfect.

Join Today and Get $10 OFF Plus Free Shipping!