Quick FirstLeaf Review:
Firstleaf is an affordably-priced, fully personalized wine club with a large portfolio of award-winning wines, both international and domestic. The club cuts out the middlemen (importers, distributors, and retailers), and shares the savings with you, so you can enjoy amazing wines at much lower prices.
What Is The Firstleaf Wine Club?
Firstleaf subscription service is focused on making your wine tasting experience easy and enjoyable. This affordably priced wine club offers a fully personalized experience, with a range of elegant award-winning wines sourced from local and international wineries. 
With Firstleaf, you can try California wines from Napa or Sonoma, and imported wines from Argentina, France, and Italy.
Firstleaf offers quality wines at up to 60% off standard retail prices. This is achieved by cutting out the middleman – avoiding importers, distributors, and retailers by partnering directly with wineries. 
Firstleaf Wine Club Offer
The Firstleaf wine club involves two different stages:
Introductory Shipment – includes a 6-bottle box of wines. The wines are matched to your initial tasting profile after answering a few simple questions. This initial shipment then further develops your taste profile based on how you rate the wines you received.
Club Shipments – every club shipment includes six wine bottles that are personally matched to your palate profile. If you don't like a bottle included in your box, you can change it before it is shipped. The first club shipment will arrive a month after the initial shipment. You can then stipulate your preferred delivery frequency, whether every month, every two months, or three months.
Firstleaf – who is it for?
The Firstleaf wine club is ideal for people who appreciate drinking wine but prefer an accessible and affordable wine experience. The Firstleaf wine club is great for domestic and international wine lovers alike.
Firstleaf wine club main benefits
Many award-winning wines at attractive and affordable prices
Great beginners' promotion 
Wine selections are 100% personalized to your wine preferences 
Flexibility – you can select a shipment every 1, 2, or 3 months
100% guarantee refund for wines you did not like from your delivery.
 
Firstleaf personalized process
Based on a few simple questions at the beginning of the wine subscription process, the Firstleaf team of experts will send you an introductory order of six wine bottles. After tasting these and providing feedback online, your tasting profile is updated, and the team will then begin selecting wines for your next shipment.
The process of rating all the wines you have received and tasted from the club ensures that each box you receive improves in matching to your wine tastes! From our experience as registered customers – it really does works!
We tried and ranked the Firstleaf wine club deliveries for six months. With each delivery, we received wines that better suited our preferences, all because of our ongoing ranking. 
Firstleaf Flexibility
Frequency of delivery  – you can choose how often you would prefer to receive your wine club box – every 1, 2, or 3 months. 
Personalized selection – with Firstleaf, the wines you receive with each delivery are personally matched to your profile and past rankings.
Select wine preference – do you prefer red wine, white wine, or a mix of both? You can specify the types of wines you would like to receive, 
Promotions – Firstleaf always offers a great beginner's promotion for you to enjoy. Firstleaf does not provide a free trial. 
100% satisfaction guarantee – Firstleaf guarantees a 100% refund, without the need to return the bottle, for any wines that you did not like from your delivery.
Easy cancellation – you can cancel your wine subscription service online at any time and get a confirmation email right away.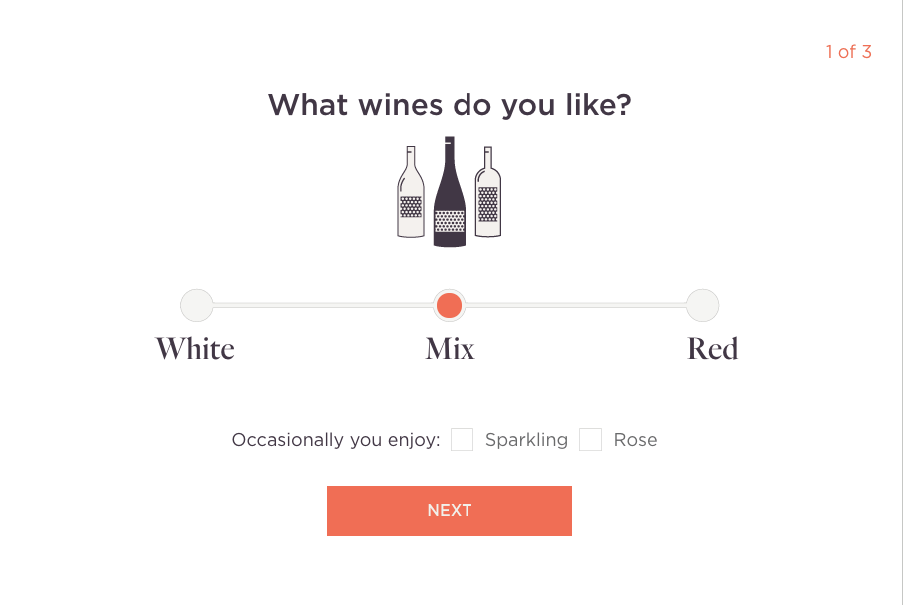 Firstleaf website and ordering process
The Firstleaf website is very well organized and easy to navigate. The subscription and ordering process is also super easy to follow.
The website allows you to explore the available wine selections via their store link located on the upper left toolbar. This includes information such as full price, country of origin, pairing tips, and more. 
To make an order, you start by answering a few short, simple questions. Your answer will determine the wines that are selected for your introductory box. Next, you create an account and view your wine selection recommendation.
You can opt to change your initial selection to a specially curated introductory box that can include an award-winning wines selection or a founder's favorite selection.
After this, you simply follow the checkout process. The Firstleaf orders usually ship within 2-5 days to the location of your choice.
The delivery legally requires someone 21+ to sign, so we recommend having it sent to a business or a verified UPS access address if you are rarely home during the day.
Firstleaf wines
When looking at the Firstleaf wine selection, you can see that their expert wine team is always looking for the next up-and-coming wine trends. Their selection includes wines that have won awards at multiple important competitions within the wine world.
Since Firstleaf has direct relationships with the wineries, the prices you have access to are incredibly attractive and are usually priced 40%-60% lower than standard retail prices!
Firstleaf wine selection continually changes. The club's team works hard to find the best wines for their customers. Their list of wines is endless and includes hundreds of different wines from all over the world. 
Red wines – Cabernet Sauvignon, Pinot Noir, Merlot, Zinfandel, red blends and more
Whites wines – Pinot Gris, Pinot Grigio, Chardonnay, Sauvignon Blanc, white Blends and more
In our Firsleaf review, we tested these award-winning favorites wines from the Firstleaf wine club:
Isolde's Rapture 2016 Red Blend – An absolute stunner that has left judges and Firstleaf members amazed. This wine took home 95 points and a Double Gold medal (unanimous Gold votes from every judge) at the 2018 International Women's Wine Competition and was voted "Best of Show" for red wines at the 2018 Denver International Wine Competition.
Disorderly Conduct 2016 Dark Bold Red – Judges at the 2018 Women's International Wine Competition unanimously awarded this wine a Double Gold, 97 points, and named it Best of Class. 
Hawthorne Grove Winery – won numerous silver medals, five gold medals, one double gold medal, and was voted 2016 Monterey County Winery of the Year.
Avistelle Pinot Gris – this white wine was awarded 91 points and received a gold medal at the 2017 Critic's Challenge. It is also one of Firstleaf's all-time member favorites.
Paso Del Tiempo – a real stand out wine that received a double Gold medal at the 2016 Harvest Challenge. It was also awarded the competition's two highest honors – Best of Class and Best Red.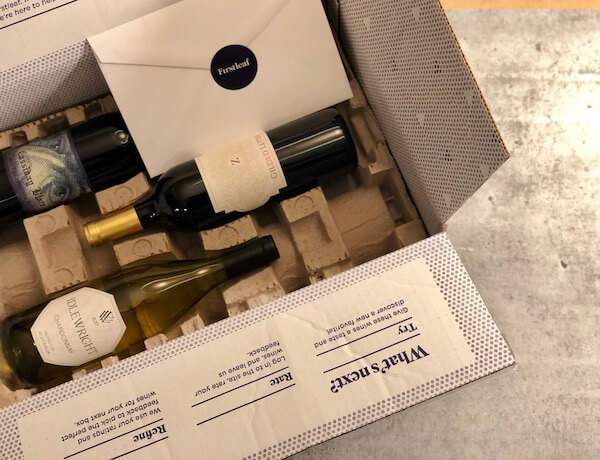 Firstleaf Box:
The Firstleaf wine box delivery arrives in a medium-size, labeled box. Inside the box, there are six wine bottles, packed in a specially designed wine carton, which keeps the wines protected during the delivery.
Inside each box, you will also receive an informative printed Firstleaf newsletter, with many interesting facts and articles about the club and its wines.
Delivery Area
Firstleaf currently ships to 43 out of 50 states in the USA. Here is the full list. You can see the full list of delivery areas within the USA here
For deliveries, the company uses either UPS Ground or FedEx Ground. The delivery usually takes around 2-5 business days after ordering on their website to arrive at your door. 
Customer Support:
Firstleaf offers terrific customer service.  They were very responsive every time we needed some assistance. If you have any questions about your subscription or want to learn a bit more about their wine selection and can't find answers on the website, we suggest contacting them directly.
You can send a message to their customer service at service@firstleaf.club, or call Monday-Friday, 9 am-8 pm EST at the number: 1-800-461-7203.
Bottom Line
If you are looking for a wine club that will allow you to enjoy excellent wines at affordable prices, Firstleaf is a great choice!
The Firstleaf wine club offers a vast selection of hundreds of quality award-winning wines. What's also great about the Firstleaf wine club is that it is 100% personalized to your palate.
Since the club has partnered directly with the winemakers, they can cut out the expensive middlemen and offer you substantial savings. 
We enjoyed the wines we tasted from the Firstleaf selection, and we highly recommend giving Firstleaf a try!
Our team at the Wine Club Reviews is passionate about the world of wine clubs! Many of us have been using them for years and are experienced in all that this industry offers.
We recommend using our Firstleaf review because we have done the hard work for you! Our in-depth review process involves us trialing each wine club that we review for an extended period.
We then report back on all aspects of each wine club service, ranging from how much information is available on the company website, to challenges with account management, the personalization process, ease of ordering, etc.
Moreover, we include wine club comparisons and 'best for' lists for different needs like 'Best wine clubs for white wines', 'most affordable wine clubs', and more. 
We are continually adding insights to our website, so you know you can find the most up-to-the-minute information.
FirstLeaf FAQ: