If you love Pinot-Noir-Only delivery, read on to see your best options!
With so many wine clubs to choose from, we've selected the best wine club for delicious pinot noir wines. These include members-only wine clubs that offer unique access for red wine lovers and wine-of-the-month clubs for adventurous wine drinkers looking to discover exceptional bottles from small producers.
What is Pinot Noir, and Why is It Such a Popular Wine?
Pinot noir is a variety of red wine grapes. It's also the name for wines made with this grape. Pinot noir grapes are known for having thin skins. For this reason, the wines produced from the grapes tend to be light to medium in the body and low on tannins.
While winemakers worldwide cultivate this varietal, it's known to be challenging to grow. 
The pinot noir grape is native to Burgundy, France, where many of the most popular bottles of pinot are found. However, you can find excellent bottles of pinot noir grown here in the US, where the wine is trendy.
In particular, US-grown pinot noir comes from California, Oregon, and Washington, where everyone from industrial-sized vineyards to boutique wineries cultivates delicious ruby red pinot noir bottles. 
While it's becoming more common for winemakers to use pinot noir to make rosé, these wines tend to be dry and delicate, with less sweetness than white wines or dessert wines.
1. Winc Wine Club
Best Pinot Noir Wine Club, With Personalized Wine Selection
Winc is one of a kind personalized wine club, suitable for people who enjoy wine and wh...
Winc wine club is probably the most known and popular wine club, and for a good reason! Winc wine club offers members a set of personalized recommendations for monthly four bottles club shipments.
Whether you want exclusively pinot noir, cabernet sauvignon, or only California wine, you can always customize your shipment with their extensive catalog of wines from around the world.
Winc is also known for delivering an affordable wine experience – with an extensive collection of wines at a $13-$15 price tag. Plus – the club also offers free shipping to its members! Moreover, each shipment comes with the promise of satisfaction guaranteed, meaning you will never need to pay for a bottle you did not like.
The Winc website makes it super easy to learn about each wine you choose, including tasting notes, info regarding the winemakers and wine region the wine comes from, food pairing tips, and in-depth reviews from other members.
Winc Wine Club Pinot Noir Bottles We Tasted And Loved
2020 Alma Libre Pinot Noir Aconcagua, Chile
2019 Endgame Pinot Noir, Sonoma Coast, California
2020 Baseline Pinot Noir Sta. Rita Hills, California
2018 Pacificana Pinot Noir, California
2019 Folly of the Beast Pinot Noir, Central Coast, California
2. Nakedwines.com
Choose-Your-Own Wine Club Experience, With Hard-To-Find Bottles
Naked Wines is a one of a kind online wine store that also offers a tempting monthly su...
Naked Wines is a subscription club for wine lovers who want access to exclusive wines at discounted prices.
Members, or 'angels', pay a monthly subscription fee. Then, they can browse the Naked Wines online store to select bottles from their favorite winemakers and small vineyards.
This is a great wine club subscription if you love to give wine as a gift, whether for Christmas or another special occasion.
Members design their shipments by selecting each bottle from the constantly evolving Naked Wines catalog. You can choose to go only for pinot noir or mix your shipment with other wine types.
Naked Wines Pinot Noir Bottles We Tasted And Loved
David Akiyoshi Rose of Pinot Noir 2020, California
Chris Baker, Willamette Valley Pinot Noir 2019
Derek Rohlffs Anderson Valley Rose of Pinot Noir 2020
Sharon Weeks Cattoo California Pinot Noir 2020
3. Firstleaf
Concierge Curated Monthly Wine Club
Firstleaf is an affordably-priced, fully personalized wine club with a large portfolio ...
After you join the Firstleaf wine club, you'll proceed through a preference quiz that reflects your taste profile to help design your personalized shipment. While the club doesn't offer a pinot-only option, you can opt for a shipment with a majority of pinot noir.
Each Firstleaf box contains six wines curated by Firstleaf wine experts. Many unique wines are award-winning from prestigious wine competitions or noted in the Wine Enthusiast Magazine. The Firstleaf wines represent high quality and good taste, always at a relatively meager price of around $13 a bottle.
The club also has a policy to guarantee customer satisfaction if you don't enjoy every bottle. 
If you don't want to commit to a monthly shipment, you can buy your favorite bottles directly from the Firstleaf store. The store is constantly updated with new releases from vineyards worldwide, including some excellent pinot noir options, so there is always something new to discover.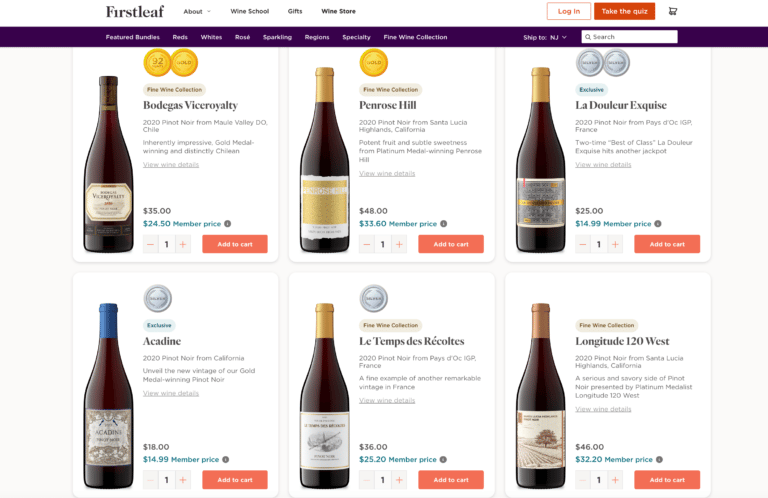 Pinot Noir Bottles We Tasted And Loved
2019 St. Audette Nuit, Pays d'Oc IGP, Pinot Noir from France
2019 Ralí, Valle Central, Pinot Noir from Chile
2020 Incarnadine, Pinot Noir from California
2018 Earth's Draw, Pinot Noir from California
4. Gold Medal Wine Club
Premium Pinot Wine Subscription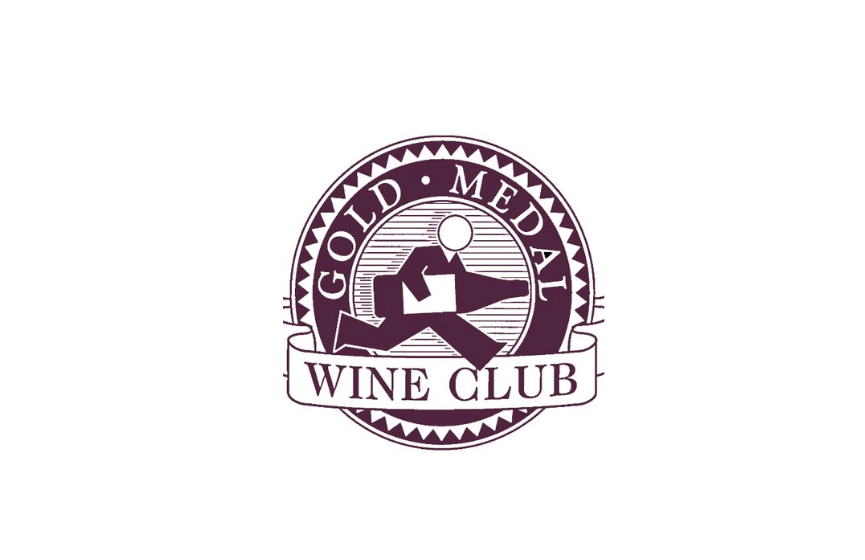 The Gold Medal Wine Club is here to introduce you to the best California wines! The clu...
This wine-of-the-month club offers a dedicated series of monthly delivery of pinot noir high-quality wine bottles. Each monthly shipment includes two bottles of limited-production pinot noirs from premium California and global winemakers.
The Gold medal wine club is best for wine aficionados seeking first-class pinot noir wines delivered directly to their front door, with food pairing tips, tasting notes, and more.
Gold Medal Wine Club Pinot Noir Bottles We Tasted And Loved
2019 Solena Estate, Willamette Valley, Oregon
2018 Furthermore, the Russian River Valley, California
2018 Murder Ridge, Mendicino, California
Is it Worth Being In a Pinot Noir Wine Club?
There's a reason why Pinot Noir is one of the most popular grape varieties in the world, and a Pinot Noir wine club membership is an excellent way to explore new bottles. 
So why is it worth it? There are a few notable reasons:
Pinot Noir Wine Clubs deliver some of the best wines directly to your home without needing to leave your home.
Pinot Noir Wine Clubs usually offer steep discounts on Pinot Noir wine bottles. Wine Clubs offer members 20% to 60% below-average prices. Moreover, wine clubs usually offer new customer coupons, which makes it even more atracctive.
Most Wine Clubs offer flexible membership options – from different levels of pricing, personalized wine selection, flexibility in choosing the frequency of delivery, and more.
Wine club members also have the advantage of investing in their wine world education and palate, from member benefits like personalized wine-food recommendations, tasting notes for each bottle, and more.
Wine clubs offer wine subscription gifts to show love to friends and family members.
Bottom Line
Our Winner Pinot Noir Club Is Winc Or NakedWines.com!
Whether you just want to pair a new bottle of pinot with your favorite food or you're seeking to collect some of the best premium wines from boutique wineries, a wine club is a perfect way to bring the flavors of delicious pinots to your own home.
Each pinot noir wine club listed above features unique characteristics that can make your wine-tasting experience fun and indulging. Sign up today and get your pinot noir shipment in a few short days!
A wine subscription gifts can also be an amazing way of showing love in the upcoming holiday season! All the wine club services above offer the option to send an online gift card.
Why Trust Us?
As you can see, many Pinot Noir wine club subscriptions offer a range of wine services. We understand it can be hard to know where to start. Our reviews are focused on giving you all the needed information – variety, pricing, ease-of-use, quality of wines, and more – on the different wine subscription boxes.
Our reviews are based on our team's hands-on experience as real paying customers for at least three deliveries from each service.