What Is the Wine of the Month Club?
The Wine of the Month Club is the dream of any wine drinker. The service, which started in 1972, is a subscription box model that allows you to taste selected high-quality wines at an affordable price. You can establish a gift membership or a personal membership, and you can even complete one-off purchases if you wish in their online store. 
While many month clubs offer subscription services, this is the one that pioneered the industry. 
Subscription Plan
You get a great selection of wines under the various club membership packages that the Wine of the Month Club offers. There are 13 available packages with a different selection, numbers of bottles, and price range. 
Few examples of membership plan available:
Napa Series package offers a stellar selection from Napa Valley. Napa wines have been a mainstay since 1976, and the club always seeks to find the unique hidden gems of the valley. 
California Series package offers a series of delectable California wines. White wine lovers would need to choose another subscription, though, since this is only a red.
Mystery Case Package
Classic Membership package
Most subscriptions entail a monthly shipment of two wine bottles. However, the Cellar Series Wine Club package includes six, while the Case Club Series and the Mystery Case Wine clubs offer 12. 
Who is it for?
The Wine of the Month Club can accommodate everyone. Whether you're an experienced connoisseur or you're a beginner looking to gain more experience with quality wines, the club is a perfect place for you.
If you need tasting notes, you can even look at the individual wine descriptions for visual, aromatic, and taste descriptions, as well as serving suggestions. 
Paul Kalemkiarian, the club owner, goes the extra mile to find varieties that can suit every taste. To this end, the site states that he samples over 250 wines monthly. 
The packages are relatively affordable, so regardless of which side of the experience fence you stand on, you don't necessarily need to worry about an expensive commitment. 
Wine of The Month Clube Main Benefits:
Incredibly diverse membership catalog 
Gift and self-membership options 
100% satisfaction guarantee – to ensures you never pay for things that you don't like 
wine and gift store for one-time purchases present 
Great selection of local and international white and red wines
Options for Rose' and sparkling wine membership 
Wine of the Month Subscription Flexibility
Delivery – Choose your red and white wine delivery parameters, including location, amount of bottles, and delivery frequency. 
Personalization – There is a lot of flexibility in the form of club choices. Feel free to look at the various descriptions and alternatives to determine which club stands out to your needs. However, the bottles you receive monthly are based on program-selected products. 
Promotions – New members get to choose a gift (at no cost) when beginning a new subscription. Additionally, there are other promotions that the site tends to offer at times. Check out Our Wine of the month promo code! 
Payment guarantee – You only pay if you enjoyed the wines you got. If you ever receive a bottle of wine that you don't like for any reason, you can reach out and have a substitute sent to you.  
Cancelation – Canceling your account is not a chore. If you no longer want to have a membership, you can make your request by email or call. You can even use traditional mail. There are no hidden penalties or late fees.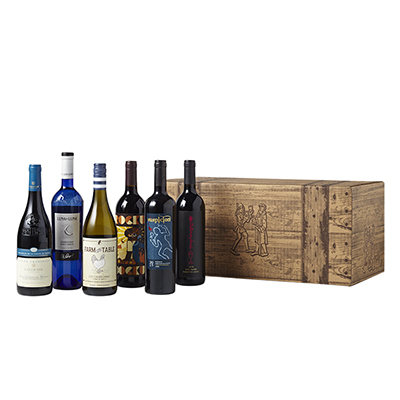 The Ordering Process
The Wine of the Month Club does not have the most modern site layout. The service has been around for a while, and you get that feeling based on the web page's aesthetic. Nevertheless, it's not very hard to navigate, as the information you need can be found in logical positions.
The first step of the ordering process is to add the subscription or bottle to be purchased to your cart.
Once you finish adding items, you can proceed to the checkout page. The site facilitates both member and guest checkouts. If you are a member and you are not signed in, you can log in at this point. Alternatively, you can choose to continue as a guest.
Following that process, you enter your shipping and billing information, after which you confirm your order. Note that if you wish to sign up for a new account, you must do so before making your order, as there is no signup option during checkout. 
There is a detailed layout of shipping details you should know before you have your wines delivered. The information includes eligible shipping delivery areas, delivery SLAs, and tax requirements for some states. 
Wine of the Month Variety of Wine selections:
Though not all the options are local, the sheer variety you can have delivered makes you feel America is a great wine country. The vast selection includes the following: 
Reds – Pinot Noir, Nero Di Troia, Merlot, Cabernet Sauvignon, Shiraz, Zinfandel
Whites – Chenin Blanc. Chardonnay, White Blend, Pinot Gris, Sauvignon Blanc
Dessert and sparkling – Brut Majeure, Champagne, Taylor Fladgate, Sparkling Muscat
This is not an exhaustive list of the available varieties, as each of these categories offers numerous options. There are also other categories, such as rose wines and fine and fun wines, that you can choose from. 
Of course, we had to test the waters, and the Austin Hope Cabernet Sauvignon stood out to us. It's a 2018 offering that comes to us from the Paso Robles vineyard in California. It has a beautiful deep ruby color, and you get a combination of cherries and black currants where its aroma is concerned. We enjoyed the full-bodied finish and the juicy blackberry taste. 
As far as white wines go, the 2017 Ironstone Vineyards Chenin Blanc took the cake. It's a very pale California wine variety with an aroma, which combines pear, melon, and guava. Your palate gets a divine pineapple taste combined with an attractive citrus finish. 
The Delivery Box
The Club delivers your wines in protective packaging to protect them from potential damage. While the box you get for personal memberships is not the most unattractive thing, it pales compared to the containment unit used for initial gift memberships. 
Every month, gift deliveries are completed with wine letters, recipes, and more. The first package is what stands out the most, as it is delivered in the most beautiful burgundy box, complete with a personalized gift card. 
While the packaging is still present in subsequent months, it doesn't rival the first impression made.
Customer Support
Before you go through the available support channels, it's recommended that you explore the site's FAQ section. The idea is to provide you with instant responses if you have a common query. If none of the information on the page takes care of whatever concern you may have had, proceed to reach out to the customer support team.
Your first option to contact is to call at 1-809-949-WINE, which is 1-800-949-9463. You can also call 626-303-1690. If you want to send a fax, you may do so at 626-303-2597.
Traditional mail messages may be sent to P.O. Box 660220, Arcadia, CA, 91066. Finally, you can send an email to [email protected].
The customer service team is available from 7:00 AM to 5:00 PM, PST, Mondays through Fridays. Notes that the team supports any membership queries, including handling the guarantee if you got a bottle that you did not like. 
Delivery Areas
The Wine of the Month Club delivers across the United States, with exceptions made the following states: 
Utah
South Dakota
Oklahoma
Arkansas
Michigan
Mississippi
Tennessee
Georgia
Kentucky
Indiana
Maryland
Delaware
Rhode Island 
There are various licensing and legal requirements that prevent shipping to the exempted states. Note also that there are special conditions present for some of the serviced territories. For example, Alaska and Hawaii have special shipping rates, as they use FedEx two-day shipping. 
Express shipping isn't available for Illinois, Massachusetts, New York, and New Jersey. You can view the club's shipping policies for a more comprehensive breakdown of the shipping details HERE – https://www.wineofthemonthclub.com/shipping_info.
Bottom Line – Do We Recommend Wine of the Month Wine Subscription?
The Wine of the Month Club is about providing unique experiences to its members. This involves a collection of premium wines curated from various quality sources.
There are different subscription options, which means you can exercise some personalization level over the wine categories and types delivered to you. The presence of tasting notes makes the subscription that much more worth it, as you can enjoy each bottle as intended.
Our team gave the Wine of the Month Club a try, and we enjoyed both the local and international wines we received.
Our subscription-only contained two bottles, which we thought was an adequate number, but we loved the flexibility of choosing the number of bottles and the frequency of delivery.
Overall, we are delighted with the wine club offers, where affordability, variety, and quality are concerned. We highly recommend that you try it!