What Is the Cellars Wine Club?
The Cellars Wine Club, founded in 1999, is a subscription wine service. The idea is to provide you with amazing wine options that fit your unique tastes at a relatively affordable price.
Cellars offer you to personalize your choice, as you get to choose from various specially designed wine packages. With Cellars wine subscription, you partake in some of the best domestic and international types of wine – It's the dream of any wine drinker. 
Cellars Subscription Wine Plan
You can choose one of twelve different subscription varieties. Each category comes at a different cost and is based on a theme. For example, there is the Champagne Sparkling club, imported wines club, 90+ points club, premium club, one bottle club, west coast California wine club, and more.
The wines are typically delivered monthly, though you can adjust the shipment frequency – every second month, quarterly, etc.
Whether you want to experience various varieties of red wine, white wine, sparkling wine, or a mixture, the Cellars Wine Club has you covered. 
Cellars Wine Club also offers the option to choose in advance if you wish to get an ongoing delivery or restrict it to a specific amount of deliveries (with a minimum of 2 deliveries)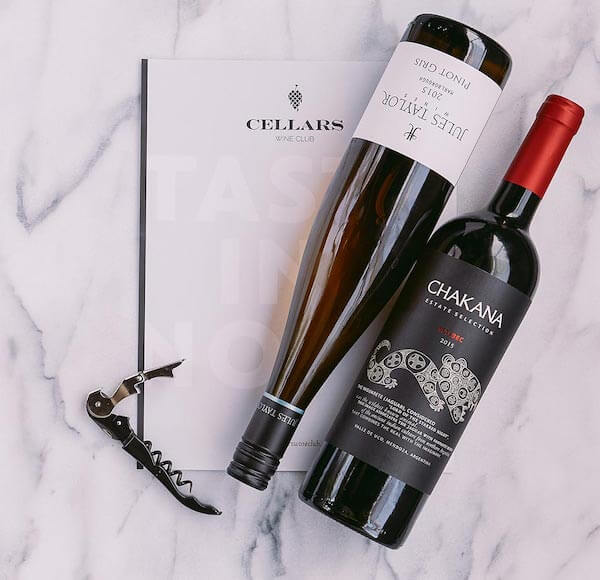 Cellars Wine Club – Who Is It For?
The Cellars Wine Club is suited to anyone interested in wines. The owners, who are experienced and passionate wine connoisseurs, ensured that they provided something for everyone.
If you are a novice, there are numerous options for you to start your wine journey with. The Cellars Wine Club doesn't hold back with information on the wine alternatives. Therefore, it's the perfect platform for you to learn about the wines as you enjoy the tasting experience. There's even a Single Bottle Club for those who want a low commitment.
Experienced wine connoisseurs are also welcome, as there are packages that are dedicated to them. Even if you are looking for a wine gift, the pricing model is very affordable. 
Cellars Main Benefits
Immense variety in subscription choices
Highly customizable customer experience
Wine options are incredibly diverse, with wines from different wine regions
No bad bottle guarantee – If you receive a bottle of wine that went bad or didn't travel well, you get a replacement with no questions asked!
Delivery frequency flexibility
Easy membership cancelation process
Cellars Subscription Flexibility
Delivery – You get complete autonomy over your delivery frequency, number of shipments, and starting month. Choose to have deliveries done every month, every other month, or quarterly.
Personalization – Thanks to the subscription variety, you can adjust your wine deliveries as you please. Note that the Cellars Wine Club facilitates changes without requiring you to begin a new subscription.
Promotions – Depending on when you visit the site, there may be one or more promotions available. Note that you can subscribe to the Cellars Wine case Club email list. Once you do, you receive email notifications about any new offers and promotions that may be going on. 
Wine preference selection – A part of putting your Cellars wine subscription together is choosing the wine mixture. If you want to receive white wine only, red wine only, or even a combination of the two, you can adjust your subscription accordingly. 
No bad bottle guarantee – If you ever receive a bottle of wine that has gone bad or seems to have gone through a rough transportation process, you are eligible for a free replacement! The process of taking up this offer is not a hard one. The Cellars Wine Club asks no questions. 
Cancelation – The cancelation process is not very hard. All you need to do is send an email or call the Cellars Wine Club. You can choose to cancel a single shipment or your entire subscription. Note, however, that you must make contact before the seventh of the month for the cancelation to be successful. 
Cellars Ordering Process
We must commend the Cellars Wine Club for its intuitive and user-friendly design. The information on the site is arranged logically, and navigation never feels like a chore. Additionally, the subscription and ordering process is not a very difficult one.
Your first order of business is to select the wine club that appeals to you. Upon making your choice, you are brought to the customization page before adding the items to your cart. Once there, you must choose the number of shipments, the shipping frequency, and the month you wish to start the subscription. Additionally, you also select your mixture preferences. 
Once you are finished choosing the options that suit you, you may add the item(s) to your cart. When you are ready, you can proceed to the checkout area. Note that you can choose to checkout as a member or a guest.
If you wish to be a member, you can create your account at this point. You may also set up your Cellars Wine Club account before you start looking at the subscriptions. To sign up, you must provide some personal information. This data includes an email address, your desired password, your name, and a billing address. 
With that information provided, you can choose to use the same address for shipping or designate another one. If you chose guest checkout, all you need to do is enter your billing and shipping addresses, and you can proceed with your purchase(s).
The Cellars Wine Club uses a no-commitment model. That means you can choose to skip a shipment or cancel your account if you so desire. If you wish to do either of these things, you must reach out before the seventh of the month you want to cancel. 
Cellars Wine Club Variety of Wines
The Cellars Wine Club realizes the vision of its co-owners who are very passionate about wines. They are not afraid to take risks, and they believe in the concept of variety. That's the reason you get an abundance of choice where both local and international wines are concerned. 
The West Coast Club, for example, has a simple local flair with wines from places, such as Red Mountain and Napa Valley. There are also 90 points wine options, which have all been verified on trusted wine scales, such as Robert Parker and Wine Spectator. If you wish, you may instead go for the International Club, which features lines from territories, such as South Africa, Australia, Italy, etc. 
The wines that you receive are not always the same, as the expert team curates them monthly. Therefore, don't be surprised if you receive an Italian Chianti in one month, and you get a full-bodied Australian Shiraz in the next. 
One of our favorites is a part of the Red Trio Club. It's the incredible Zinfandel, which has a sweet, fruit-flavored taste. Depending on if you prefer a wine experience of the drier variety, you may think of that as a turnoff. However, it has a bold and hearty feel, which causes it to check many positive boxes as a complete tasting experience. 
The Cabernet Sauvignon is another one of our favorites, and we believe any red wine lover would feel the same. You get a combination of flavors, such as warm spice, hints of vanilla, and blackberry. All of this is complemented by a plum aroma, which positively awakens your sense of smell, as the fantastic flavor tickles your palate. 
Cellars Customer Support
Once you are a member of the Cellars Wine Club, you can contact the team at 1-800-256-9853. Customers calling from outside the United States can make contact at 1-425-486-5959.
Alternatively, you may email the Cellars Wine Club at [email protected]. The operational support hours are 9:00 AM to 4:00 PM, PST, Monday through Friday.
The team is ready, willing, and able to assist you with any account changes. It also handles the no bad bottle guarantee and any other queries you may have about your subscription. 
We would, however, like to recommend that you look through the site's comprehensive FAQ section, as it provides solid responses to several potential concerns. It's best to check the information there first and contact the support team if the answers you need are not present. 
Cellars Wine Box Delivery Areas
The Cellars Wine Club delivers across the United States. However, the following states are exempted: 
Alaska
Alabama
Delaware
North Dakota
South Dakota
Hawaii
Mississippi
Rhode Island
Kentucky
New Hampshire
Utah 
The site indicates that the list is subject to change, and it is based on state laws at any given time. 
Bottom Line – Do We Recommend Cellars Wine Club?
The Cellars Wine Club is about providing you with quality wines and a great sense of variety. The wines are curated monthly and come from quality sources around the world. Thanks to the abundance of subscription themes, you can choose your wines based on your personality and desires. One thing we noticed, though, is that the site doesn't say anything on the presence of tasting notes.
Our team at the Wine Club Reviews gave the Cellars Wine Club a try, and we were quite impressed with the sheer level of choice that we had. The wines we sampled were amazing, and we think the dynamic quantity is perfect.
Overall, we are pleased with the Cellar Wine Club's quality, affordability, and variety. Therefore, we recommend that you give the club a try!