There are many wine subscription boxes out there to consider, each with a unique offering and price points. Some offer local wines, while others offer an international wine tasting experience. Some provide a personalized shipment, while others simply assemble a fixed package of interesting wine bottles to try.
This review will focus on the Bright Cellars wine club membership, including the cons and pros of this service, the bottles of wine they supply, their unique users personalization process, available discounts, and more.
Before you order, make sure to read this review to determine if this wine membership can fit your needs!
What is the Bright Cellars wine club?
Bright Cellars is a monthly subscription wine club that has been operating since 2015. It promises to personally match you with four high-quality domestic and international wines, based on a quick palate quiz you take as part of the subscribing process. 
The two MIT grad founders of Bright Cellars developed a unique pairing algorithm that matches Bright Cellars customers with wines they are sure to love, using the Bright Cellars quiz.
The company is passionate about interesting, quality wines, and its primary goal is to help its members discover the fantastic world of wine.
Our In-depth Bright Cellars Review:
How Does Bright Cellars Wine Club Work?
Bright cellars wine club has a very straightforward model – sending great personally matched four wines every month, straight to your home.
Based on your quiz results, this wine club can identify your taste preferences and match you with great bottles of wine.
Is Bright Cellars a Wine Subscription Plan?
The Bright Cellars wine club is straightforward, including only one subscription plan type that delivers four bottles of personally matched, quality wines per month. 
There is the flexibility for customers to specify their preferences in terms of red, white, or a mixed box of both. There is also the flexibility to change the frequency to bi-monthly or quarterly and skip a month or delay your shipments when needed.
How Many Bottles Do You Get With Bright Cellars?
With every bright Cellars delivery, you are expected to get four bottles of wine matched to your profile. You can also get a mystery bottle of wine when you redeem your reward points.
Bright Cellars Wine Club – Who is it For?
In our Bright Cellars Review, we noticed that whether you are an experienced wine drinker or are a novice who would like to venture into the world of wines, Bright Cellars is the wine club for you. 
Bright Cellars can help you with trying wines that you otherwise would never have found via regular retail channels. The company is focused on finding unique small-vineyard wines from all over the world.
Holiday Deal! Get 6 Bottles For Only $53
Bright Cellars Main Pros And Cons:
Bright Cellars Main Membership Benefits:
Great bottles of wine are offered.
Personalized wine delivery based on your profiling.
A wine rating system based on active customer reviews.
Huge selection of wines from local and global small hidden gem wineries.
Satisfaction guarantee – if you receive a bottle you did not like, Bright Cellars will help you select a free replacement wine bottle for your next month's delivery!
Flexibility in skipping shipment when needed.
Customers can specify preference in terms of red, white, or a mixed wine box.
A member rewards program with a 'Bright Points' system – get bonus bottles and other excellent gifts when rating the wines you got and referring friends to join the wine club.
Bright Cellars cheese club available for orders as well.
Bright Cellars Cons:
Only one type of subscription available
Cost – Around $20 per bottle of wine, plus shipment fee
While Bright cellars do have a customer reviews system, the ranking of the wines is not shown on the website.
The Bright Cellars Personalized Process
Bright Cellars makes an extra effort to keep the personalization process simple and user-friendly for their customers. Yet it is highly effective for Bright Cellars to develop an accurate profile of your palate.
To begin your personalization process, all you need to do is take a simple quiz with questions like preferred chocolate, preferred hot drink, drinking wine habits, etc. The quiz will take you only a minute or two to complete.
Based on the answers you supply during the quiz, you will then receive four personally matched wines from around the world that you are most likely to enjoy. The wine club scores each wine bottle by comparing many attributes and matching them to your personal preferences and matching you with different wines every month.
With every new shipment, Bright Cellars encourages you to rate your wines online. This rating process helps Bright Cellars to keep making your deliveries more and more suitable for your wine tasting profile!
The Flexibility of This Wine Club
Delivery – you can control your delivery's regularity, choosing when you would like to receive your wine club box and how often.
Personalized selection – the wines you will receive with each delivery match your wine tasting profile and any rankings you have provided for previous deliveries.
Promotions – Bright Cellars usually offers a tempting beginner's promotion for new customers to enjoy. Unfortunately, Bright Cellars does not offer a free trial. 
Select wine preference – prefer red wine, white wine, or a mix? You can easily choose or change your preferences.
Delight guarantee – if you received a wine that you did not like, the company's promise is that they will help you select a replacement bottle for your next month's delivery for free!
Reward points system – as a Bright Cellars member, you can receive and redeem points earned for various activities. With those points, you can get bonus bottles for subsequent shipments.
Is It Easy To Cancel Bright Cellars Subscription Or Skip a Month?
Bright Cellars, like many other wine club businesses, understand the need for a flexible membership. For that reason, when it comes to their cancellation policy, you are free to cancel your Bright Cellars subscription at any time before your next shipment is processed, by email, or by calling their customer service team. There are no hidden cancellation fees for unshipped wine boxes.
Bright Cellars also allow skipping delivery when needed or postponing your delivery to a different time when required.
Holiday Deal! Get 6 Bottles For Only $53
How to Subscribe – The Bright Cellars Ordering Process
The Bright Cellars website is straightforward to navigate, and the subscription and ordering process is user-friendly. To make your first order, you start by creating a personalized palate profile by answering a short quiz. Next, you create an account by entering an email address and a password, and you can then explore and edit your recommended wines.
You will need to finish creating your account by providing your address, phone, payment details and make an order. Be aware that someone 21+ must sign for the order at delivery.
Once you have an active account, you can log in at any time and edit it – rank your wines, reorder wines you loved, change personal details, and more.
We noticed that Bright Cellars understands that drinking wine is supposed to be fun and stress-free. This is why the club offers a 'Skip a Month' policy that you can use anytime you need to delay an order.
You can also cancel your account at any time via email or by calling Bright Cellars customer support.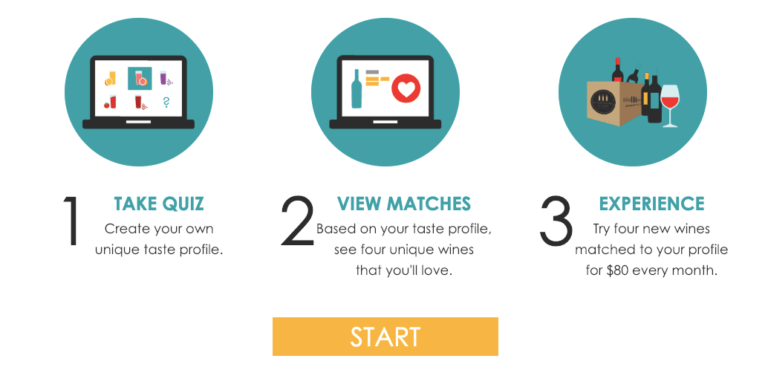 Bright Cellars Variety of Wines and Wine Brands
Bright Cellar is passionate about good-quality wines. The company declares that only 1 in 12 wines they try out make it into their monthly wine collections. The club focuses on finding unique, hidden gems from small vineyards from all over the world, including Italy, Spain, Portugal, and South America. 
The list of wines offered by Bright Cellars is vast and includes wines of all varieties and origins:
Red wines – Cabernet Sauvignon, Shiraz, Pinot Noir, Zinfandel, red blends and more
Whites wines – Riesling, Pinot Grigio, Chardonnay, fascinating white blends, and more
Out of the Bright Cellars wine boxes we have reviewed, we LOVED the following wine brands:
Folk & Fable Red Blend 2016 had berry undertones and a hint of sweet cooking spices. It was a lovely, enjoyable California red blend that matched perfectly with a tasty cheese platter. 
Jinxed Wine CO. Chardonnay 2016 from the McNary Vineyard in the Horse Heaven Hills region of Washington state. This white Chardonnay had a nice sweet fruity touch, with some interesting buttered popcorn hints. It went very well with creamy pasta!
Forty Winks Chenin Blanc Chardonnay 2016 from California. Light and crisp white wine, perfect for summer nights. The wine had clear notes of apple and citrus, fun and easy to drink.
Mojave Rain – Cabernet sauvignon red wine from California. A bold and dry red wine. Enjoyable to the taste buds with high dark fruit flavors, mainly blueberries, black cherries, and plums. It also had some great spice notes, especially of cracked pepper. It can go very well with spicy foods.
Holiday Deal! Get 6 Bottles For Only $53
The Bright Cellars Delivery Box
The Bright Cellars wine box is a mid-sized box labeled with the company's logo. Inside the Box, there are four wine bottles, each wrapped separately in paper. The wines are protected by a specially designed carton frame that keeps them stable and safe through the delivery process.
You can easily track your Bright Cellars shipments. Once the shipment is out of the bright Cellars fulfillment center, a tracking email with a link will be sent to you. You can track your shipment status through this link.
 Does Bright Cellars Ship To All States?
Unfortunately, the Bright cellars website does not offer enough information regarding their delivery area.
To know if Bright Cellars delivers to your zip code, you can take the short taste quiz and then input your email and zip code. You will then be advised if your zip code is included in their delivery area.
 Can I give Bright Cellars Wine Club as a Gift?
Yes, you can!
The Bright Cellars subscription service offers the option to give the gift of good wine to someone you love and get the nickname of the best gift-giver ever.
It's easy – you can send a gift certificate with a personal message via email or mail, and the club will ship personalized match wines directly to your recipient at their convenience time. 
You can order the gift card by going to the 'gifts' section on the website. Gift pricing goes from $10 and up to $1200.
CHECK OUT MORE WINE CLUB GIFTS
Bright Cellars Customer Service Team
Members can contact the Bright Cellars Wine Concierge team at 1-844-223-5527 or [email protected], Monday through Friday between 9:00 am and 5:00 pm CT.
The customer service team is there to help you adjust your account, help with your wine choices, handle the delight guarantee if you are not happy with a wine you received, and anything else regarding your subscriptions.
Bottom Line – Do We Recommend Bright Cellars?
Bright Cellars is all about quality wine paired to your taste, sourced from boutique operations from around the world that are matched to you personally!
Our team at the Wine Club Reviews gave Bright Cellars a try and loved the personalization process this wine club offers. We felt that the selection matched our profile perfectly. The wines we tried were tasty and enjoyable, and we thought that the 4-bottle quantity was just perfect for maintaining a wine tasting experience.
Our team felt that Bright Cellars offers quality, boutique bottles of wines at relatively affordable prices, so we highly recommend giving it a try!
Holiday Deal! Get 6 Bottles For Only $53
Why Use Our Bright Cellars Wine club review?
Our team is passionate about the world of wines. From our years of experience, we know that wine clubs allow you to enhance your tasting experiences in an affordable, convenient, and user-friendly way. However, it can be complicated knowing where to start with so many companies offering a range of different wine club services. 
This is why we created the Wine Club Reviews. We wanted to make it easier for people by having all the information they need about the industry and the individual wine clubs in one place.
Our team undertakes an in-depth review process of each company that we profile. This includes subscribing and being a wine-club customer to report back on every element of the wine club membership experience.
As well as our company profiles we also provide "Best for….." reviews that include best wine clubs for white, red wines, or a mix of both, Most affordable or premium wine clubs, and many more. Everything that we do is designed to make it easier for you to find the best wine club service to match your personal needs and preferences. 
What to Consider When Choosing a Wine Club Membership Like Bright Cellars?
When you are choosing a wine club, there are many things to consider. This is why we recommend looking at the company profiles and articles on the Wine Club Reviews, as you will find most of the information you need in one place. 
If you are budget conscious, then look at the price first. You might be after international wines or would prefer a local Californian wine experience. If you are a novice, you will undoubtedly be looking for something a little bit different from someone with a seasoned palate who is looking to broaden their taste horizons.
A wine club with a strong personalization process that regularly updates your tasting profile might be a priority for you, whereas others might prefer a random fixed membership delivery. Whatever your preferences, there is a wine club out there for you. What we recommend doing is making a list of what is important to you and starting from there!
Bright Cellars Vs. Competitors
There are few notable competitors to Bright Cellars in the wine subscription market, the main ones being Winc and Firstleaf.
Which is better? we invite you to read our complete comparison:
Review of Winc Vs. Bright Cellars.
Review of Bright Cellars Vs. Firstleaf.