A wine subscription is an excellent way of receiving an on-going varied selection of wines that will broaden your wine horizons, without leaving the comfort of your home!
These wine club services – Like Firstleaf, Winc, Bright Cellars, Martha Stewart Wine co., and more – are becoming an increasingly popular service in the US.
As a result, it can be quite a challenge working out which is the best wine club service for you, and that is where we come in! At The Wine Club Review, we look at all the details of the individual wine clubs and offer in-depth comparisons and company profiles, which will make your choice so much easier!
In our wine club comparison today, we are looking at Winc Vs. Firstleaf!
Winc is all about making your wine experience as easy and enjoyable as possible.  This wine club is Californian-based and specializes primarily in Californian wines.
On the other hand, Firstleaf is an affordably priced monthly wine subscription that offers a personalized experience of tasting award-winning wines from great local and around the world wineries.
Firstleaf Vs. Winc – Which is the best wine subscription service?
| | | |
| --- | --- | --- |
| | | |
| | | |
| | Every One, Two Or Three Month | |
| | Award winning Wines, Rose', Sparkling | Low-Sugar, Organic And Sustainable Wines |
| | | |
| 100% satisfaction guaranteed | | |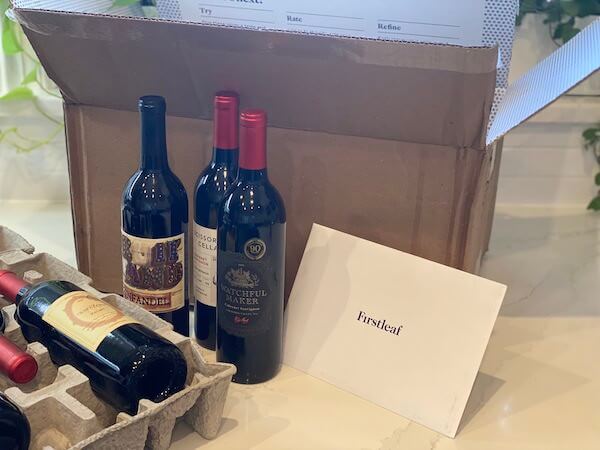 6 bottle for $39.95 + free shipping!
The Wine Clubs Available Plans:
The Winc wine club subscription plan is straightforward and includes the delivery of four bottles of wine monthly.  
You can specify if you would prefer an all red, all white, or mixed delivery, and the wine bottle selection you get in your wine box is personalized based on your taste profile.
The Firstleaf wine club includes two different steps:
Introductory Shipment is a box made up of six bottles picked according to a few simple questions you are asked to begin the personalization service. This shipment also serves to establish your taste profile based on your feedback after tasting the wines. The club also offers a range of fixed introductory box options such as an Award-winning wine box, Founder's favorite, and Big reds.
Club Shipments are made up of six bottles that have been matched to your profile. If you don't like a bottle that has been included in your box, you can opt to change it before the box is shipped.
The first club shipment will arrive a month after your initial shipment, and subsequent deliveries can occur monthly or every second or third month, depending on your schedule preferences.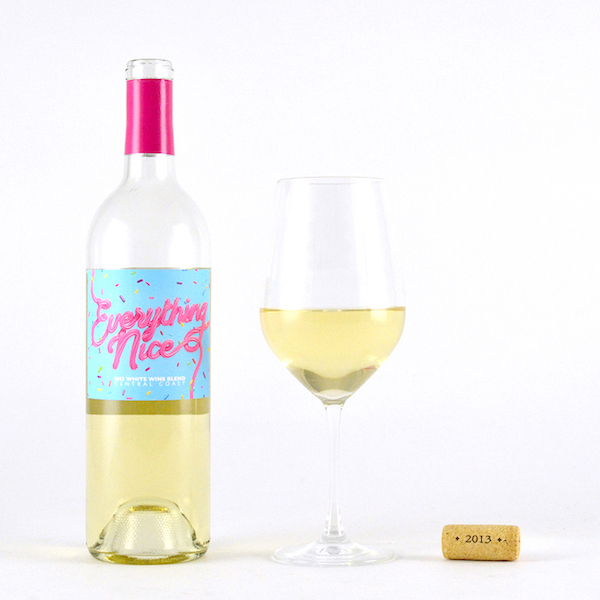 Who Firstleaf and Winc Are Best For?
Winc is an excellent choice for those who enjoy Californian wines and for those who are after a straightforward, light and fun wine club experience.
Firstleaf is a great wine club for wine drinkers who want to experience both local and international wines. It suits people who want a great wine tasting experience but would like it to be reasonably priced and 100% hassle-free.
Main Benefits of These Two Wine Subscriptions:
Winc Wine Club:
Reasonably priced monthly subscription.
Delivered to your home every month.
A fine selection of original Californian wines.  
A personal taste profile ensures that wines are personally matched to your taste.
Flexiability to edit your wine selections.
Club members get an additional 10% off for all orders of 12 bottles or more.
Free shipping.
Firstleaf wine club:
A vast range of wine from local vineyards and from around the world.
Many award-winning wine bottles, affordably priced!
Attractive Introductory box.
On-going personalization process of matching the wines to your taste profile.
100% Wine Club Guarantee – get 100% credit for wines you didn't like.
Flexibility to select a monthly or quarterly delivery, based on your preference.
Tasting notes and food pairing with each wine box.
Professionally trained wine experts are on hand to help you get the most out of your wine subscription.
The Personalization Process:
Winc Wine club:
The Palate Profile is an essential part of the Winc wine club service. Your Palate Profile is created by answering a short quiz of online questions. The profile is also updated as you submit feedback on each wine delivery you get.  
Your Palate Profile plays a signifacent role in choosing your four bottles every month. It is designed to improve constantly, resulting in wine choices that are increasingly targeted to your customer palate.
Firstleaf Wine Club:
The initial steps in the Firstleaf personalization process are that you answer a few simple questions. Based on your answers, your six bottles introductory shipment is selected.  
After submitting feedback for the initial shippment, your profile is refined for each subsequent six wines delivery.
By rating all the wines you receive from the club, you ensure that every wine in your future monthly deliveries is increasingly matched to your taste.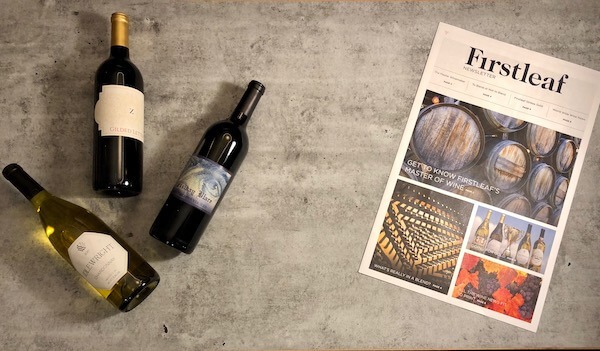 6 bottle for $39.95 + free shipping!
The Website and Online Ordering Process:
Both Winc and Firstleaf have very easy-to-follow subscription processes and websites that are easy to navigate.
Via the Winc website, you can explore the wine selection available and discover the club concept and team.   
To begin your online account, you create your palate profile, select your preferred type of box (red, white, or mixed) and then create your account.   
Once you see your wine selection recommendation, you can edit your order until you are happy with your delivery. 
Winc also offers the option to skip a month whenever you do not want to receive the monthly delivery.  Canceling your subscription is easy to do online or via their customer support team.
Via the Firstleaf website, you can explore their wine range and find out about the club and its team.  
To begin your subscription, you simply answer three simple questions to personalize your introductory shipment. Then you create your account, view your wine box selection, check if you want to change the type of shipment, and then check out.  
Firstleaf usually ships within two to five days to the location of your choice, and you can advise where your preferred delivery address is.
Please note – all wine deliveries require that someone 21+ is available to sign for the order at delivery. That is valid for both Winc and Firstleaf.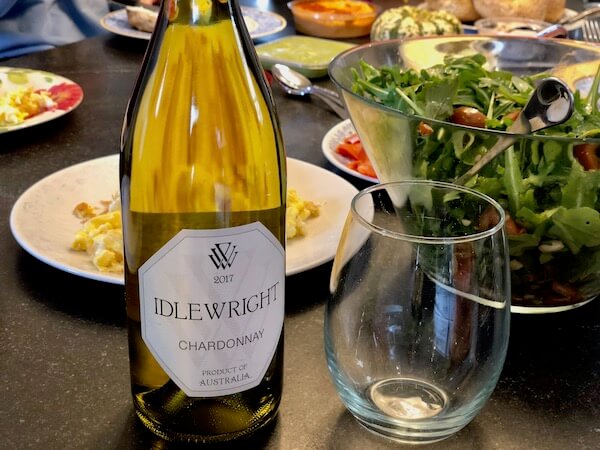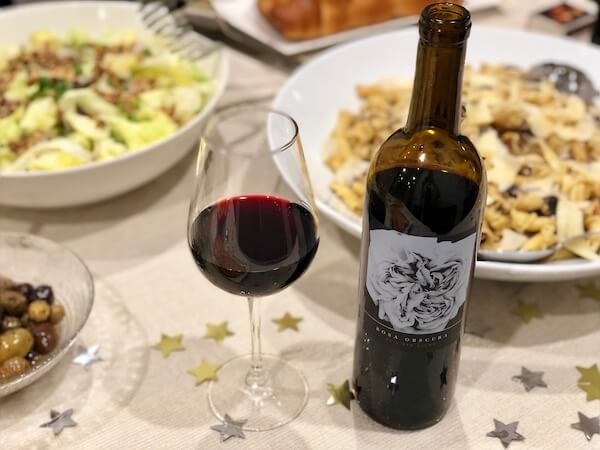 Are Winc and Firstleaf Wines Any Good?
As part of our extensive review process, at the Wine Club Review, we ensure that we try the wines of all the clubs we review.  This means our reviews are from the first-hand experience and are completely unbiased. We enjoyed our tasting experiences with both Winc and Firstleaf.
The Winc Wines:
Winc is a very casual and easy-to-use wine club.  They have a list of over 100 hand-picked wines, and their selection includes classic better-known wines, along with more rare boutique vineyard creations.
Winc club offers a fantastic experience of wine drinking, with diverse wine options – from reds to whites, sweet to dry, plus some rosé and great summery sparkling wine options.
Some of the Wines We Recommend From The Winc Wine Selection:
2018 Likelihood of Confusion Zinfandel, a medium body red wine from California.
2020 So This Happened, a light Rosé from California.
2018 Rosa Obscura, a relatively fruity red wine blend from California.
2020 Chommie Sauvignon Blanc, light and dry wine from Western Cape, South Africa
2019 Kin + Country Chardonnay, a dry, citrusy white wine from Lodi, California.
The Firstleaf Wines:
Firstleaf has an expert team selecting a very diverse range of local and international wines.  Red, rosé, white, sparkling – Can all be found as part of the Firstleaf wine selection.
92% of the Firstleaf wines have been recognized at international competitions (award-winning wines!). The wine selection also includes wines that are touted as the next up-and-coming hits in the wine industry.  
Firstleaf takes pride in the fact that their wine experts team samples more than 10,000 wines yearly, with less than 2% independently selected to enter their wine portfolio! So you know you are getting the best of the best only.
Firstleaf is very proud of the fact that they work directly with the wineries and, as a result, can offer incredible prices of up to 30% – 60% lower than retail prices.
Some of the Best Wines We Recommend From The Firstleaf Wine Selection:
2019 Caduto Dalle Nuvole, a Lively and citrusy flavored award-winning Pinot Grigio from Garda, Italy.
2019 La Douleur Exquise, Best of Class awarded Grenache Blanc from Pays d'Oc, Frence.
2018 Tailored Republic Pinot Noir. 92 points and gold-medal winning red with a complex taste of berries and a hint of vanilla.
2018 Watchful Maker, Cabernet Sauvignon from Columbia Valley, Washington State. A gold-medal winner, 90 points classic red cabernet wine.
Mumm Napa, Brut Rosé from Napa County, California. Great sparkling wine with vivid aromas of berries and cherries.
Can I Give Those Wine Subscriptions As A Gift? Yes!
Both Firstleaf and Winc offer the option of an E-Gift Card. You can give your loved ones or friends a great gift of experiencing fantastic wines very easily, with various price ranges.
You can purchase a Firstleaf gift card here. 
Bottom Line of Firstleaf Vs. Winc – Our Winner is Firstleaf!
We honestly enjoyed our experiences with both Winc and FirstLeaf wine subscription services. Both wine clubs offer a great wine experience for wine lovers, with a personalized process, so the bottles you get with each delivery match your wine preferences.
Both clubs appeal to a very similar audience and provide an affordable wine club experience, that will save you money and some trips to the local wine shop.  
But, there is always a winner, and in this instance, our vote goes for FirstLeaf!  
We felt that Firstleaf offered a better value for money with its very attractive introductory first box and its best-quality range of unusual and award-winning wines.
We also found the tasting notes very helpful in better matching the wines to suitable foods, and their 100% wine guaranty makes it a no-brainer to try!
The bottom line is – all the wines we have tasted from our FirstLeaf deliveries were very good! It offers a great way to discover new favorite wines!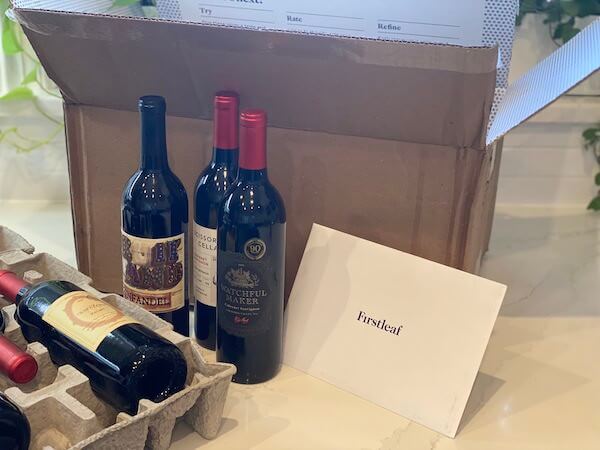 6 bottle for $39.95 + free shipping!