If you would like to expand your wine knowledge and enjoy a new world of tasting experiences, all from the comfort of your own home, then wine clubs offer a service that is sure to appeal to you. Wine Clubs provide a way of receiving an ongoing supply of wines, handpicked by experts and personalized to your palate. 
As there are now so many wine clubs in the wine club arena, it can be hard to know which company best suits your needs. This is where we come in! At the Wine Club Reviews, we provide in-depth wine clubs reviews and comparisons, making your decision easier!
Today we have a great wine club comparison –  Winc (formally known as Club W) and Bright Cellars. 
Winc is a Californian-based wine club specializing in Californian wines and aiming to make your wine tasting experience enjoyable, light, and hassle-free. 
Bright Cellars has been operating since 2015 and is a wine club that provides a monthly wine delivery with a fantastic domestic and international wines range.
So let's dive into our complete comparison of Winc vs. Bright Cellars and show you what is offered by both!
The Available Club Plans
Both Winc and Bright Cellars offer identical wine subscription plans designed to be simple and easy to enjoy. The subscription for both includes the delivery of four bottles of wine every month. 
With both wine clubs, you can stipulate if you would prefer an all red, all white, or mixed delivery, and you also have the option to skip months if required.
Who is For?
If you are a fan of Californian wines and would like to extend your tasting experiences with wines from this region, Winc is the perfect wine subscription box for you. They are also great for people who appreciate a hassle-free and straightforward wine club experience at an affordable price.
Bright Cellars is ideal for novices to the world of wine-tasting and for those who have more developed palates. Bright Cellars sources wines from all over the world that otherwise would have been hard to try.
Main Benefits:
Winc:
Attractive and accessible pricing
Direct relationships with winemakers allow better wine quality and diversity.
Very appealing for lovers of Californian wines
Membership includes a personal taste profile that is updated over time.
If you order a dozen bottles or more, you will receive an additional 10% off your order.
Flexible monthly subscription – choose your wine types, skip months when needed, or cancel at any time.
Delight guarantee – Don't pay for bottles you didn't enjoy drinking.
Bright Cellars:
A diverse selection of international wines that are reasonably priced
If you did not like a bottle of wine Bright Cellars, Delight guarantee will provide a replacement bottle in your next delivery free of charge.
Your monthly wine selections are personalized to your palate.
Flexibility to skip months when needed
Holiday Deal! Get 6 Bottles For Only $53
The personalization process:
Winc:
Providing personalized service is very important to the team at Winc wine club. As a member, you will create a palate profile by answering a few short questions. This will determine your initial delivery. Your feedback on subsequent deliveries will be used to constantly update your profile, resulting in wines that are better suited to your palate.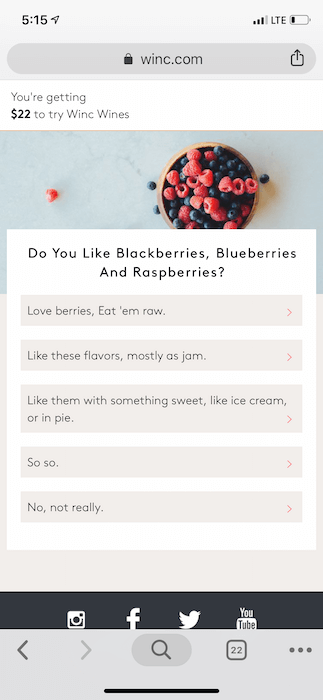 Bright Cellars wine personalization process
The Bright Cellars personalization process begins with a simple seven-question quiz. The answers will be used to create your tasting profile and determine which wines are included in your first shipment from Bright Cellars. With every delivery, you are encouraged to provide feedback on your delivered wines, allowing the Bright Cellars team to continue matching you with wines suited to your palate.
Winc and Bright Cellars Flexibility
Personalized selection – with both Bright Cellars and Winc, the wines you receive as part of your membership match your taste profile.
You are encouraged to rank the wines you receive with each delivery, ensuring that your profile can be developed as an ongoing part of your membership. 
Promotions – Bright Cellars and Winc usually offer a range of tempting beginner's coupons for new members to enjoy. Unfortunately, as is standard with wine clubs, neither company offers a free trial promotion.
Flexible wine selection– do you prefer red wine, white wine, or don't you mind either? You can specify which wine you like and change this whenever suits you. You can also change any bottles that you don't want to be included in your delivery.
Delight guarantee – if you receive a wine that you do not like, Bright Cellars promises to help you select a FREE replacement bottle for your next month's wine selection.
Both wine clubs allow you to skip deliveries as often as you like, without any penalties or maximum allowances. 
You can cancel your account with both Winc and Bright Cellars at any time by contacting their support center via email, phone, or online live chat.
Bright Cellars Reward points – as a Bright Cellars customer, you can receive and redeem reward points from various activities. You can then use these points to have bonus bottles included in future shipments. 
Winc offers the option to buy wines a-la-carte, with 10% off your order when you order a dozen bottles or more. 
The Bright Cellars and Winc Delivery Box
Both companies deliver their wines in a 4-bottle mid-sized wine box that is clearly labeled.
Inside the box, four wine bottles are carefully packed in a specially designed carton frame. This packaging style keeps the wine bottles stable and safe throughout the delivery until the box arrives at your home. 
Bright Cellars go the extra mile with their packaging by wrapping each bottle in a nice paper wrap which gives the delivery a nice boutique feel. 
The Winc and Bright Cellars Delivery Area
From what we can ascertain, both Bright Cellars and Winc deliver to most continental US places. Unfortunately, they do not offer enough information regarding their delivery area on their websites. To confirm if they deliver to your zip code, you can start the subscription process until you are asked to enter your zip code. You will then be advised if your zip code is included in their delivery areas.
Holiday Deal! Get 6 Bottles For Only $53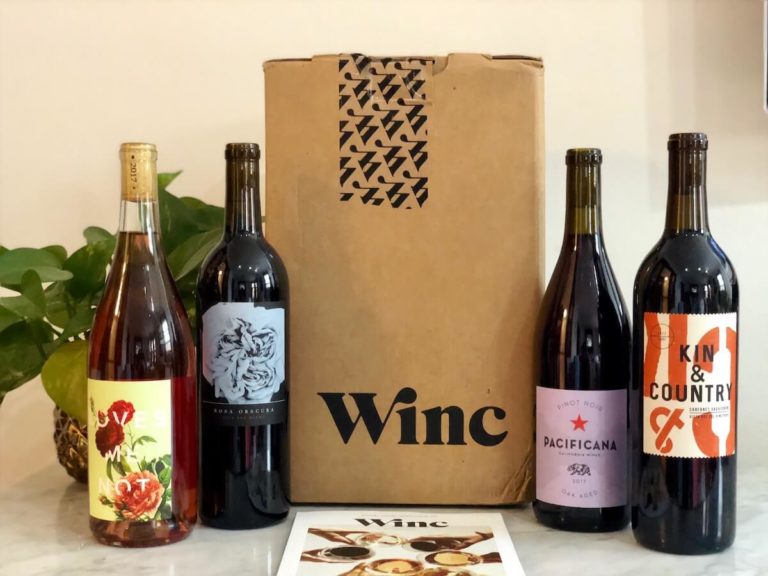 The website and ordering process:
Managing your wine club account is super-easy via the websites of both Winc and Bright Cellars. Their websites are simple to navigate, and creating your account and establishing your tasting profile is as easy as possible. Via both websites, you can see your selections, edit your orders if necessary, skip a month, or cancel your account whenever required.
It is essential to note that all wine deliveries require that someone 21+ is available to sign for the delivery.
On the Winc website, you can also get lots of information on each wine bottle from the collection, including tasting notes, the story behind the wines, and some excellent food pairing tips.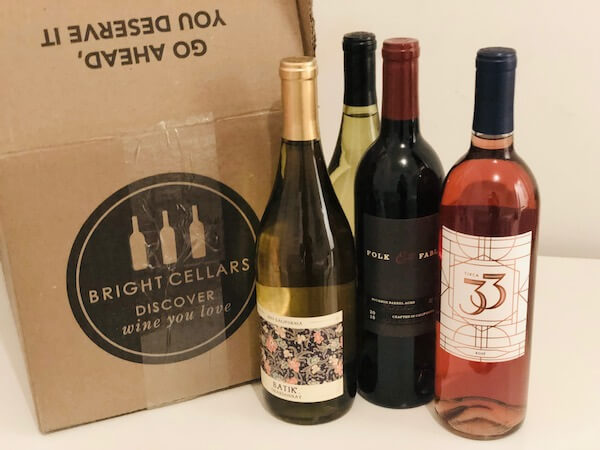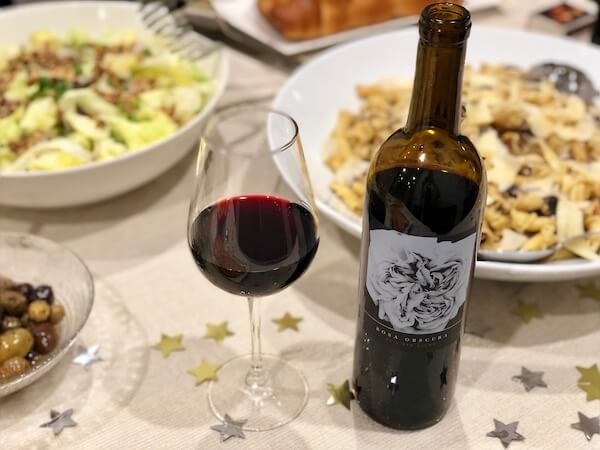 Winc And Bright Cellars Wines Selection:
The team at the Wine Club Review has the very arduous task of tasting a diverse selection of wines from every company that we review! All jokes aside, this is an important process we go through to ensure the information we provide here is from first-hand experience and is 100% unbiased. In this instance, we were impressed with our tasting experiences with both Winc and Bright Cellars.
The beauty of Winc is that it is a very easy-to-use wine club. Their wines include over 100 hand-picked wines from the Californian wine region and some worldwide wines. Their wine list includes well-known and popular wines alongside rare boutique vineyard selections.
Bright Cellars is incredibly passionate about the quality of its international wine selection. They are proud of their tasting process in that only 1 in approximately every 12 bottles of wine makes it onto their monthly wine list. Many of their wines are also award-winning from several wine competitions. They love finding unique, unusual creations from boutique operators from around the globe. Wine Regions include Italy, Spain, Portugal, and South America, to name a few. Your wine selections are personally picked from their impressive global collection.
Winc and Bright Cellars Customer Support
Both wine clubs provide helpful and convenient customer support services. Following are the full details as to how you can reach Winc And Bright Cellars:
Bright Cellars:
The Wine Concierge team is available Monday through Friday between 9:00 am and 5:00 pm CT using phone number 1-844-223-5527.
The Wine Concierge team email is [email protected]. 
Live chat via the HELP button on the bottom right of their website.
Winc:
You will find a very detailed FAQs section via their website.
Contact is also available using Facebook Messenger!
Live chat via the support button on their website Monday to Friday 6 am-5 pm PT or Saturday-Sunday 7 am-4 pm PT.
Phone number – (855) 282-5829 with opening hours between Monday to Friday 6 am-5 pm PT and Saturday-Sunday 7 am-4 pm PT.
For website contact, the form can be found here https://support.winc.com/hc/en-us/requests/new.
Bottom Line – The Best Wine Subscription is Winc!
We were impressed with the ease of use of both wine club memberships that Winc and Bright Cellars offer. But, after looking at all aspects, in this comparison, our vote goes to Winc!
Winc is one of the most famous and popular wine subscription services in the country and for many good reasons. We honestly felt that the range of quality wine bottles offered by Winc is better for a broad tasting experience. We also felt that their personalization process was fun and easy to answer and allowed for better ongoing selections.
We also loved their 'delight guarantee' feature, which is a fantastic vote of confidence by Winc in the quality of wines they provide every month.
Last but not least – Winc offers an excellent value for money subscription! The wines are affordable, to begin with, and the company always provides fantastic first box promotions!
The benefits of using wine clubs like Winc and Bright Cellars
You might be someone who loves the world of wine and would like to expand your tasting horizons. Alternatively, you might be a novice and would love somewhere where you can go to find out a little more about wine. Regardless of where you are at with your tasting experiences, you will find many benefits to using a monthly wine club like Winc and Bright Cellars. 
Affordability – companies like Winc and Bright Cellars give you access to an incredible range of wines at very affordable prices. Often these companies work directly with the wineries, cutting out the middleman so that they can pass on substantial savings to their members. 
Convenience – with wine clubs, you don't even have to leave the comfort of your own home to taste an extensive range of local and international wines. Wine clubs deliver them directly to your front door!
Diverse variety – being a member of either Winc or Bright Cellars will give you access to wine lists that include a varied range of wines that are often difficult to access via regular retail channels. Some wine clubs offer an international wine experience, while others expose you to hidden gems from local vineyards.
Flexibility – you are not locked into trying certain wines or having a fixed delivery schedule with either Winc or Bright Cellars. You can specify your wine preferences, swap wines that don't appeal before delivery, and skip a delivery whenever required. 
Personalization process – receive wines that are matched to your tasting profile. 
Points to Consider when Choosing a Wine Club Like Winc or Bright Cellars
With so many wine clubs available (Firstleaf, Winc, Cellars, Bright Cellars, and more), it can be hard to know what to choose. When deciding which wine club is the best for you, it is best to understand your priorities.
The following are some of the points you should consider:
If the price is a deciding factor and your budget is a concern, then look at the bottom line first. 
The flexibility of the wine selection process – if you would like to have input in deciding which wines are included in your regular deliveries, then make sure you check that you have the option to swap bottles when required and select your own choices. 
Amount of bottles per delivery – wine clubs vary in the number of bottles, and frequency of delivery. some offer a monthly wine subscription, while other offer bi-monthly or quarterly delivery. Some offer six bottles per delivery, other four or three bottles, and few even offer only cases of wine.
The flexibility of delivery – if you hate being locked into regular deliveries and would like to be able to skip a delivery depending on your schedule, check with each company to see how much flexibility you have in skipping deliveries. It is also a good idea to make sure that there are no penalties for skipping deliveries.
Focus on local or international wines – some people prefer local wines from California or Washington, while others prefer tasting new wines from other countries worldwide. 
Why Use Our ComparisonS?
At the Wine Club Reviews, we are big believers in wine clubs and have been using them for years! The following are some of the reasons why you should use our Bright Cellars vs. Winc comparison and why our reviews are the best place to start when you are venturing into the world of wine clubs!
We have years of experience in using wine club services and can easily spot the pros and cons of each company. 
We have a thorough and detailed review process which means that the information we provide comes from our first-hand experience. Our reviews are up to date and relevant to customer expectations. 
The wine club industry is now quite overwhelming. By using Wine Club Reviews, you will find all the information you need in one place. 
As well as compiling wine club comparisons, we also complete lists that detail the best wine clubs for different preferences and occasions. 
Regardless of which company you choose, you will find an endless amount of information on the Wine Club Reviews, which will help you make this decision. Wine tasting should be a fun and easy-going experience, which is why the Wine Club Reviews is your best place to start!