The Best Wine Subscription Boxes and Wine Club Gifts in 2023
You've got a lot on your mind, so let us save you some time – These are our top wine club gifts for the upcoming holiday season of 2023 and for many other special occasions in life!
Experience gifts hold a special place in our hearts. Their memories tend to linger far longer than conventional presents! Consider a wine club subscription gift experience to someone dear in your life.
The wine club's unique offering is perfect for those who relish tasting various wines or wish to delve deeper into the fascinating world of wine.
Whether it's a Christmas holiday, a birthday, an anniversary, or a heartfelt thank-you, a wine club subscription makes for an excellent choice. It's a lasting gift that's bound to be cherished.
This review gathers our recommendations for the best wine club gifts based on our personal experience with each service.
FirstLeaf Wine Club gift card
Our Winner For Best Wine Gift!
Firstleaf is an affordably-priced, fully personalized wine club with a large portfolio ...
FirstLeaf stands out as an exceptional choice for a monthly wine club, offering an experience that blends top-tier wines with budget-friendly prices. Remarkably, 92% of the extensive wine selection at Firstleaf has garnered awards, a true delight for any wine enthusiast!
The company's ability to provide these acclaimed wines at such affordable rates stems from its direct collaboration with world-class wineries, cutting out the middleman and offering savings of up to 60% off standard retail prices on exceptional vintages.
What sets FirstLeaf apart even further is its commitment to personalization. Each wine shipment is tailored to the unique preferences of every customer. Through analyzing hundreds of wines and billions of data points for each palate profile, Firstleaf's system leverages feedback from over 500,000 satisfied customers to accurately predict which wines will bring the most joy to each one, enhancing the wine-tasting experience to the top.
How to Purchase FirstLeaf Gift Card?
With the Firstleaf gift card, your recipient will enjoy affordable, award-winning wines. They can either redeem their gift cards with the regular wine subscription shipments (with an attractive first shipment of six bottles offered for red wine, white wine, or a mixed case!) or purchase individual bottles or a wine box from the Firstleaf online store.
When you purchase a gift card through the Firstleaf website, it can be sent directly to the gift recipient via email or to your email, so you can forward the gift card or print it when you want.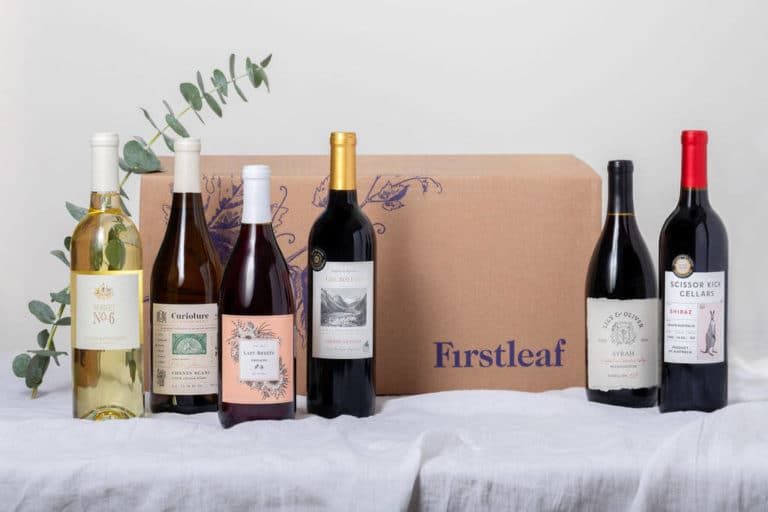 Buy Firstleaf Wine Gifts Today!
2. California Wine club – A Wine Gift for Wine Connoisseur

The California Wine Club is all about  introducing you with small family wineries, main...
If you're looking to pamper your friend with exceptional wines, particularly those hidden gems from small family wineries in the sunny state of California, then the California Wine Club is an excellent choice!
Established in 1990, this wine subscription service has a singular mission: to bridge the gap between small artisan wineries in California and wine enthusiasts, assisting these wineries in showcasing their finest creations.
Within the California Wine Club's curated selection, you'll discover wines hailing from esteemed regions such as Sonoma, Napa Valley, Russian River Valley, the Santa Barbara area, Orange County, and Santa Cruz County, as well as some standout international offerings.
The California Wine Club caters to various taste preferences and budget ranges with its six 'wine of the month' club levels, many of which include two-bottle shipments.
How to Purchase A California Wine Club Gift Card?
The California wine clubs offer a range of gifting options Under the 'wine gifts' section on the website. You can purchase a personalized gift card, a one-time shipment, or a wine club membership with the number of months you wish. The price range can go from as low as $60 up to $650 and more.
Based on your choice, a gift card can be sent via email to your gift recipients, or a wine shipment can be sent to the address of your choice, including a personal greeting card

10% off Wine Club Gifts and Gift Sets using code WOW
3. NakedWines.Com -Excellent Wines For Any Wine Gift Recipient
Naked Wines is a one of a kind online wine store that also offers a tempting monthly su...
Naked Wines stands out as a distinctive online wine retailer founded on a unique concept that revolves around a community of hundreds of thousands of customers known as 'angels' who both rate and financially support winemakers.
This innovative approach empowers Naked Wines' winemakers to concentrate on the meticulous craft of producing wines while keeping their prices relatively low. Given our appreciation for Naked Wines' compelling offerings, we couldn't resist including them in this review.
One of the standout features of Naked Wines is its remarkable assortment of high-quality boutique wines and wine cases, all of which provide exceptional value for your money.
The company's ability to deliver such quality wines at attractive prices is a result of bypassing the middleman and eliminating many of the costs associated with traditional wine retail.
When perusing the Naked Wines online store, you'll discover a wealth of gifting options, ranging from red wines, whites, local wines, international wine selections, sparkling wine, and a diverse array of grape varieties. The possibilities are pretty much limitless!
How to Purchase NakedWines.com Gift Card?
The wine gifts' price range can fit any budget, from $60 to $300 or more, and the whole process can be done quickly online.
You can order all the wines to your address, or you can order the wine box delivered directly to your recipients, including a gift message and a big sticker on top of the delivery box so they know you got it as a gift for them.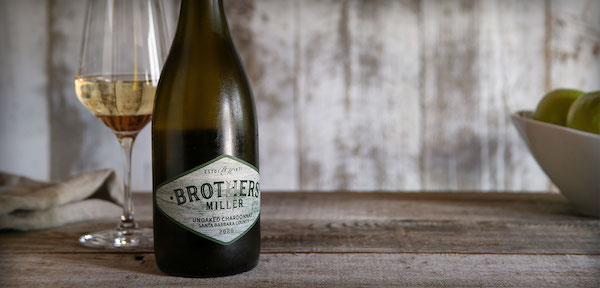 Holiday Deal! $100 OFF 12pk + 3 Gifts Bottles For Only $79.99 + Shipping!
4. Bright Cellars
Great Wine Club Gift for Wine Lover With a Discerning Palate!
Bright Cellars is a monthly wine club that matches you with four wines that you'll love...
Bright Cellars beckons wine enthusiasts with its exceptional wine club membership, featuring an exclusive pairing algorithm crafted by its founders, both MIT graduates. Their unwavering dedication to sourcing top-tier wines from across the world ensures a diverse selection of superb quality wines, making it the perfect choice even for the most discerning palates.
With Bright Cellars, you'll give your loved ones a wine-tasting experience that is a true journey through the world of fine wines.
How to Purchase Bright Cellars Gift Card?
Bright Cellars allows you to treat your loved ones with a unique gift of wine that they are sure to love. 
You can send a personalized certificate to the person you wish, and Bright Cellars will ship them their personalized matches directly.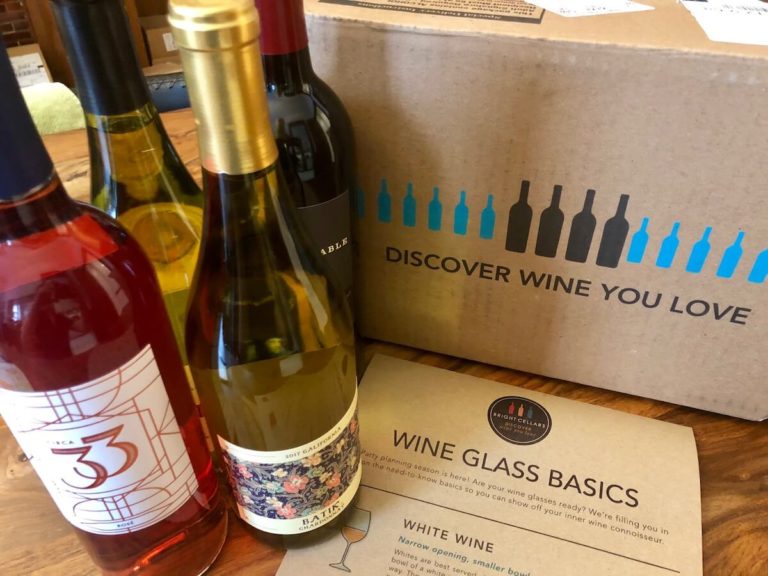 5. Wine Awesomeness
Wine Gifting With a Variety of International Wines

Wine Awesomeness is a wine club that curates unique wines and delivers them to club mem...
Wine Awesomeness was founded with a clear and captivating mission: to meticulously curate an extraordinary international wine bottle collection, each bottle bearing a remarkable narrative of its own.
At Wine Awesomeness, the possibilities for wine enthusiasts are diverse. The service provides the flexibility of gifting through subscription wine plans, offering a continuous journey of discovery, one-time wine packs for those seeking an immediate wine adventure, and the convenience of e-gift cards for those who want to share the joy of choice with their recipients.
Wine Awesomeness is committed to excellence and storytelling through wine, ensuring that every selection is a vibrant chapter in the story of the global wine culture. Whether you choose to embark on a wine journey or surprise a loved one with a delightful wine gift, Wine Awesomeness can be there to elevate your wine experience.
How to Purchase Wine Awesomeness Gifts?
Wine packs – you have many selections on board – European red or white wine tour pack, French wine lovers pack, and Malbec lovers pack, just to name a few from the huge list. The packs can be bought in three-bottles, four-bottles, six-bottles, or twelve-bottles boxes.
Wine subscription – you can surprise your recipients with a pre-paid monthly wine delivery for three, six, nine, or twelve months.
E-card gift – Not sure what wines they love? Buy an e-card and let them choose their favorite bottles from the wine shop.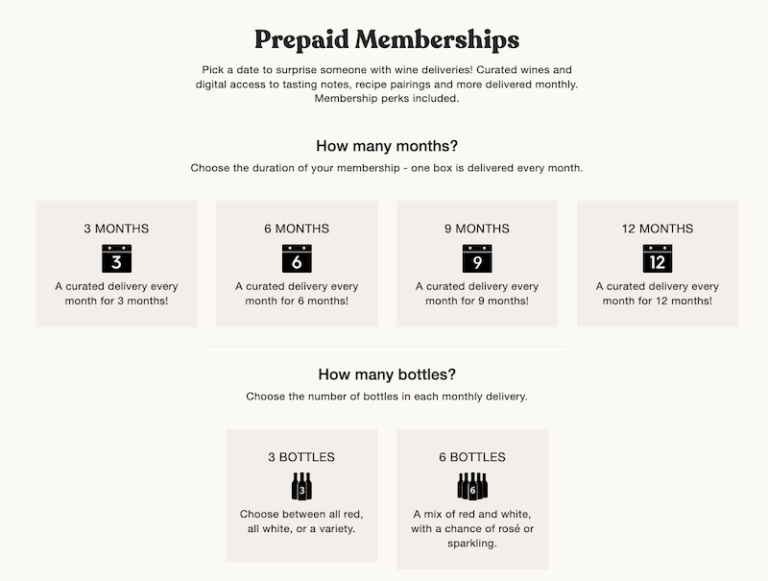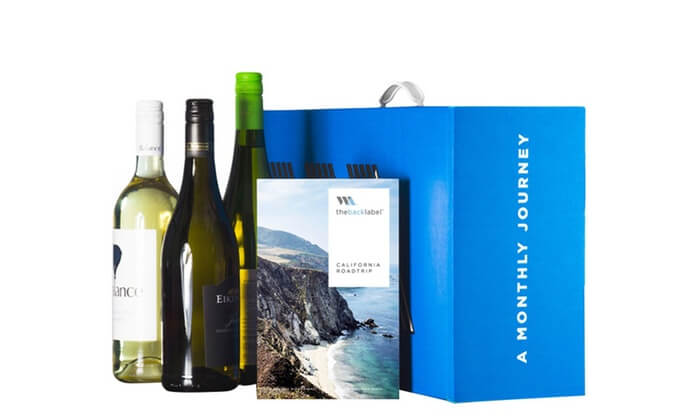 Holidays Deal! $100 OFF to stock up on wines, Use Code TURKEY100
7. Gold Medal Wine Subscription Gift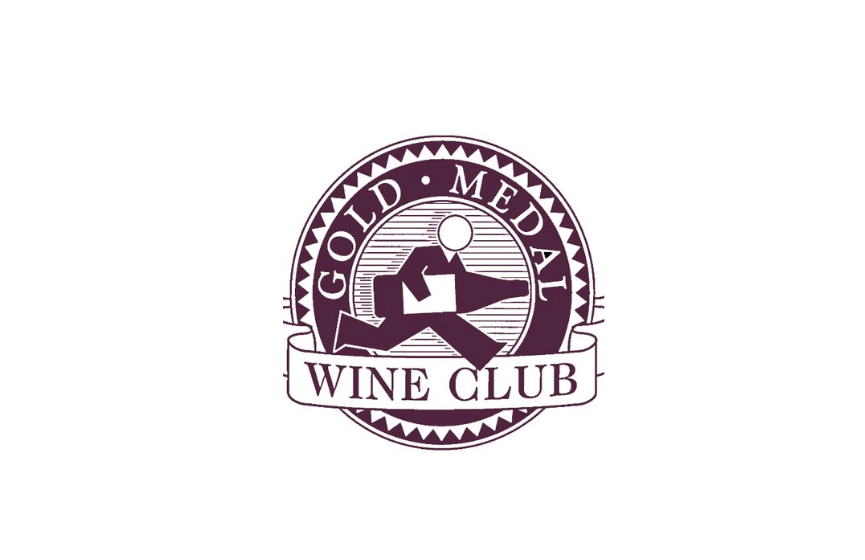 The Gold Medal Wine Club is here to introduce you to the best California wines! The clu...
If you want the best wine club experience for a loved one passionate about the world of wine, then the Gold Medal wine club is a great choice! This wine club is one of the oldest in the wine club industry, with over 25 years of experience in delivering the best Californian wines.
The Gold Medal subscription specializes in award-winning and highly-rated wine bottles. All the club wines featured in their six different clubs have received top medals in various wine competitions or are highly rated by national wine publications. The wines are usually produced in small batches from boutique family wineries.
How to Purchase The Gold Medal Gift Membership?
When you buy the wine club gift card online at the "Wine Club Gifts" section, you will need to choose between one of their six wine club options – Gold, Platinum, International, Garagiste, Diamond, or Pinot-noir.
Each wine club shipment includes two bottles of wines, one red + one white wine, with the option to choose a red or white delivery only.
The gift will be delivered to your recipient in a dedicated gift box that includes premium wines wrapped in organza gift bags and a personalized gift card.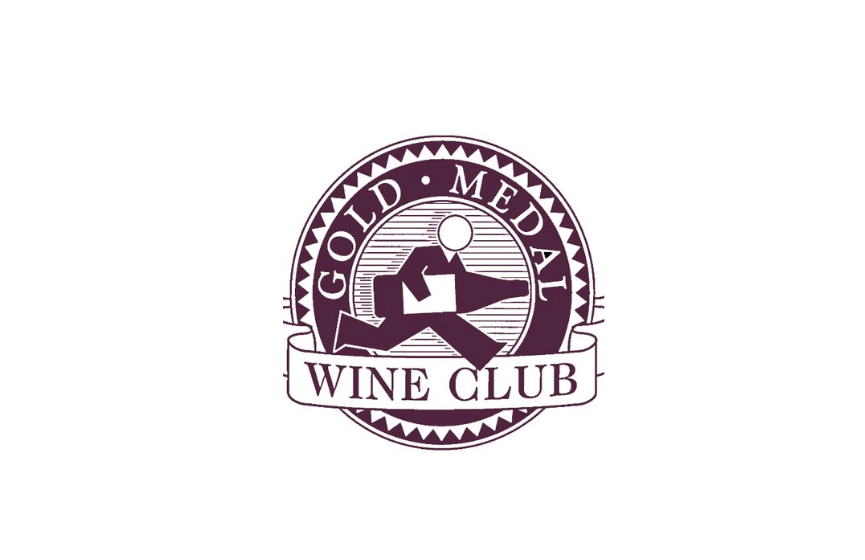 Buy Gold Medal Wine Gifts Today!
8. Winc
Excellent Californian Wine Subscription As A Christmas Wine Gift
Winc is one of a kind personalized wine club, suitable for people who enjoy wine and wh...
Winc is the US's biggest wine club, offering a personalized and enjoyable wine club experience. The subscription box service provides a vast selection of over 100 wines from California and worldwide at affordable prices. The wines match the customer's flavor profile based on a short six-question quiz.
The Winc wine club is an excellent way to start a wine-tasting journey or increase existing wine knowledge. Winc offers a 100% satisfaction guarantee, so you can't go wrong with Winc as a Christmas gift!
Purchasing a  Winc gift card is very flexible. All you need to do is choose the amount of money you would like to spend and then write a personalized note for your recipient. Your gift card will be sent directly to the recipient so that they can redeem the gift card for their personalized wine delivery based on their palate profile. 
How to Purchase a Winc Gift Card?
Purchasing a Winc wine club gift card is very flexible. The purchase is made through the Winc website. All you need to do is choose the amount of money you would like to spend and then write a personalized note for your recipient.
Your customized gift card will be sent directly to the recipient, so they can then redeem the gift card for their personalized wine delivery of original wine bottles based on their palate profile.
What makes a good wine club gift?
A good wine club gift is characterized by several key elements. Firstly, it should align with the recipient's wine preferences and knowledge level. Understanding whether they prefer reds or whites, sweet or dry wines, and their familiarity with wine can help tailor the selection.
Variety is another essential factor. A quality wine club gift offers diversity in its selections, introducing the recipient to new and exciting wines from various regions and styles. This diversity ensures that each shipment is an exploration of the rich tapestry of the wine world.
Flexibility in subscription options is also crucial. The best wine clubs allow the recipient to choose the duration of the subscription, whether it's a one-time gift or an ongoing membership.
Moreover, an excellent wine club gift includes educational materials or tasting notes that enhance the recipient's wine knowledge and appreciation. These resources can turn the gift into a wine-learning experience, making it even more valuable.
Lastly, exceptional customer service completes the package. A good wine club gift should come with responsive and helpful support to address the recipient's questions or concerns.
In summary, a good wine club gift combines thoughtful personalization, diversity, flexibility, educational value, and outstanding customer service to create a memorable and enjoyable wine experience for the recipient.
The Best Way to Present Your Wine Club Gifts
The act of presenting a Wine of the Month Club gift can greatly enhance the overall experience for your recipient, making it even more unforgettable. Consider these tips:
Give it a personal touch – Accompany the wine club gift with a handwritten note or a personalized message. Express your thoughts and why you chose this gift for them. Personal touches go a long way in showing your care and consideration.
Fancy Gift Packaging – Try to invest in elegant packaging. A gift box or a stylish wine bag can add an extra layer of sophistication to your present. It also keeps the wines safe during transportation.
Enhance the gift with extra wine accessories -Try to include wine-related accessories like a corkscrew, sparkling wine glasses, or a wine opener in the gift package. These add-ons demonstrate thoughtfulness.
Sharing the experience together – If possible, consider enjoying the first wine shipment together. It's an excellent opportunity to bond and savor the wines together.
Final Notes For Our Best Wine Clubs Gifts Review
We hope you discover the perfect wine club gift to match both your preferences and budget.
In this comprehensive review, we've explored the outstanding wine subscriptions, each presenting a unique opportunity to elevate special occasions with the gift of wine. Whether it's a birthday, anniversary, holiday celebration, or a simple gesture of appreciation, the versatility of wine club memberships offers a present that keeps on giving, bringing joy and delight to your cherished ones time and time again.
What makes wine club gifts so enchanting is their ability to create lasting memories with every bottle. It's not merely a gift; it's an experience that unfolds over months, a journey through the diverse and delightful world of wines.
So, we invite you to explore these exceptional wine club options and share the magic of wine with your loved ones, leaving them feeling truly special and lucky.
What Is a Wine Club?
A wine club is a membership service that provides its members with a carefully chosen selection of wines regularly. Wine club deliveries can be as varied as a handful of tasting-size bottles or a dozen full-size bottles.
The regularity of deliveries can also vary from club to club, with some wine clubs providing monthly deliveries while others deliver every second or quarterly.
Some wine clubs, like Firstleaf and Winc, have a personalization component, which means that you will receive wines matched to your palate as time goes on.
A wine club also gives you access to otherwise hard-to-source wines from small wineries all over the globe.
The Benefits of Using a Wine Club Service
We believe that wine clubs offer an attractive service that will easily and affordably introduce you to the fantastic world of wine.
There are many reasons to consider becoming a member of a wine club. The following are our top five reasons:
Wine clubs open the door to a diverse range of international and domestic wines from vineyards and wineries of all sizes from across the world. They generally have extensive wine lists featuring wines that the average customer would not be able to source independently.
Wine of the month clubs offer a broad tasting experience where you will enjoy wines that have been hand-picked by sommeliers and wine professionals. In many cases, you will also get detailed tasting notes for each wine, which enhance your experience even more.
Wine clubs are surprisingly affordable. As a member, you will receive substantial discounts on wine purchases and enjoy wines as part of your membership that have been sourced at prices well below your regular retail and cellar door prices.
As a wine club member, you will be able to enjoy the benefits of a personalization process that allows for wines to be matched by experts to your tasting profile.
Wine clubs are very easy to use and offer a generous amount of flexibility to their members. You will find with most wine clubs that you can edit your wine selections, skip deliveries when necessary, and cancel your account whenever required with no fee.
The Wine Club Reviews and Our Promotions
At the Wine Club Reviews, we work hard to taste the wines and test all wine clubs' membership processes that we include on our website. This means you will be able to look at valid information that comes from first-hand experience and covers all elements and aspects you should know of each wine subscription service.
If you are contemplating buying a wine club membership for a loved one, make sure you have a look at our promotion page. You will be able to access some fantastic promotions from many wine clubs that will mean your gift-buying dollar will go even further!