If you are looking for a fun way to taste wines every month without breaking the bank – continue reading this review!
Of course, the affordability of wine is a subjective matter and can also change in time, but we can say that $15 per bottle just doesn't buy what it used to in the past.
This may surprise people who mistakenly think that wine clubs are only for connoisseurs with sophisticated palates and big budgets – but many wine clubs offer an excellent and affordable wine club experience.
Wine club subscription services are becoming increasingly popular, and they offer a convenient way to broaden your wine knowledge and delve into the fantastic world of wine.
But another appealing thing about wine clubs, other than the fact that the wine bottles are delivered to your door, is that they can also be very cheap. There are still a handful of wine clubs that provide good value wines under $15 to $20.
Our team at the Wine Club Reviews are experts in wine subscription boxes, and we are here to help you work out which wine club is the best match for your needs.
Our knowledge comes from honest first-hand experience, and we provide a detailed insight into each wine club we review.
In this article, we focus on the bottom line price you pay.
So, Let's Dig In – What is the Cheapest Wine Club?
1. Firstleaf
Award-Winning Wines, Affordably Priced
Firstleaf is an affordably-priced, fully personalized wine club with a large portfolio ...
What You Get: Six wine bottles per month
Firstleaf is the best example of an affordable wine club and one of the best wine clubs with an introductory offer of six award-winning wine bottles, reds, and whites. 
This wine club has a unique personalization process that assists in shipping your wines based on your taste profile.
Firstleaf is a reasonably priced wine club that makes your wine tasting experience as easy and fun as possible.
Firstleaf's business model has cut out the middlemen in the delivery process and has partnered directly with many wineries. That way, they can offer members prices around 40% to 60% below average retail prices on great award-winning bottles.
Firstleaf Wine Club Main Benefits:
Best wine club introductory offer that you can order for all red, all white, or a mixed box of both.
Extensive wine selection, with award-winning wines from local and international produce.
Personalized tasting profile and rating wines system.
Flexible service – option to choose your preferred delivery timeframe, whether it be every one, two, or three months, and the option to change your selected wine bottles per box.
Excellent customer service, with a 100% wine satisfaction Guarantee.
Tasting notes and pairing recommendations for every wine bottle in your shipment.
Want to know more? Read our full Firstleaf Review here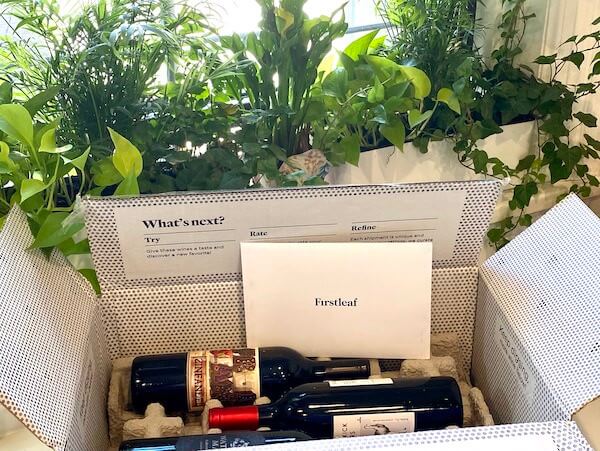 6 bottle for $39.95 + free shipping!
2. Nakedwines.com
Affordable Unique Wines, Straight From The Winemakers To You
Naked Wines is a one of a kind online wine store that also offers a tempting monthly su...
What You Get: Varry based on your choice, monthly.
Nakedwines.com offers a unique and affordable wine club concept, making it one of the best wine clubs to consider. Their idea is based on over 100,000 customers (named angels) that regularly rate and fund their winemakers. This means that the NakedWine.com winemakers can put 100% of their efforts into creating outstanding wines at low wholesale prices. 
Another remarkable fact that makes Nakedwines.com an extraordinary experience is that it provides customers access to a fantastic selection of high-quality international wine options.
NakedWines.com works with many independent winemakers, both locals from different wine regions and internationals. In their vast wine collection, you can find every type of wine with great wine prices per bottle.
Naked Wines Wine Club Main Benefits:
Hand-made small-batch wines made by authentic top boutique wineries from the USA and worldwide.
Use your 'angel money' to get any wine you want, based on your wine preference.
Best saving – 40-60% off retail prices on bottles and cases of wine.
100% money-back guarantee on wine bottles you didn't enjoy.
No commitment, You can leave at any time or order on a one-time basis.
You can find gift cards and voucher options available.
Want to know more? Read our full Naked Wines Review here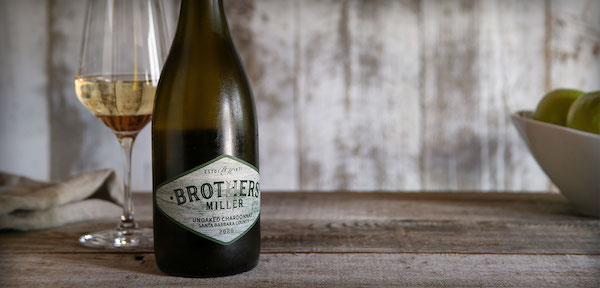 Holiday Deal! $100 OFF 12pk + 3 Gifts Bottles For Only $79.99 + Shipping!
3. WSJ- Affordable wine club
The WSJ wine club is really one of the jumpstarters in the wine club industry in the US...
What You Get: twelve bottles per quarter
The Wall Street Journal wine club subscription is one of the first in the industry to offer a 12-case or a 6-bottles wine subscription box at a great price per shipment.
The WSJ wine club has a vast selection of excellent international wines delivered directly to your door every three months. Many WSJ wines have won major wine tasting awards, and others have been recorded as a favorite by thousands of wine lovers online.
The one thing that stands out about the WSJ wine club is its unique price-attractive introductory offer  – with a price per bottle of less than $10!
WSJ Wine Club Key Benefits:
Good-quality everyday wines from top wine producers from around the world.
The introductory 12-bottles wine box is highly discounted.
At least 20% savings on cases after the first shipping.
100% money-back guarantee if you don't like a wine they send you.
You can skip a shipment or cancel at any time.
Option to choose all reds, all whites, or a mixed case. Can change preferences at any time.
Tasting notes are included with each wine shipment, with info about the wine you're drinking, its story, and pairing tips.
A wine concierge is available to you for free.
Rewards and upgrades for club members, including magnums, luxury bottles, and credits.
Want to know more? Read our full WSJ wine club review here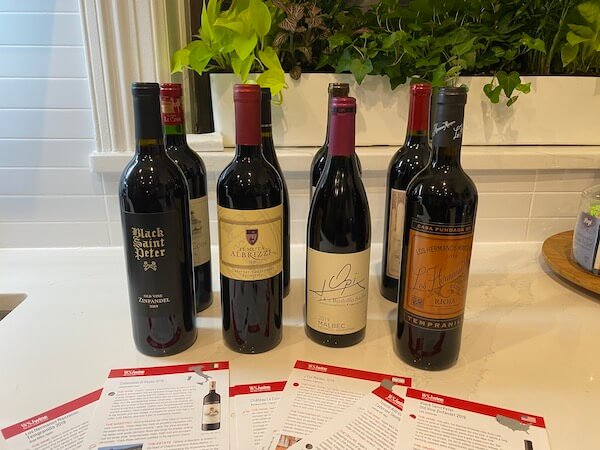 Wine Advent Calendar of 24 mini-bottles For $149.99 + FREE Shipping

Wine Awesomeness is a wine club that curates unique wines and delivers them to club mem...
What You Get: three, six, or twelve bottles per month, as you wish.
The Wine Awesomeness wine subscription is curated to help curious wine drinkers explore new and exciting wines from different wine regions around the world at an affordable price.
You can choose how many bottles you want per month – 3,6 or 12. The price goes down as you order more bottles per shipment. Each shipment is completed with each wine tasting note and recommended recipe ideas, making the entire experience complete.
Wine Awesomeness Wine Club Key Benefits:
Fun and easy to drink wines from around the world.
You're in control – Easily skip a delivery, swap wines, or cancel your subscriptions at any time.
All members get 20% OFF every wine offered on the wine list.
Gift Card Options are available to make an excellent gift for your loved ones.
Want to know more? Read our full Wine Awesomeness wine club review here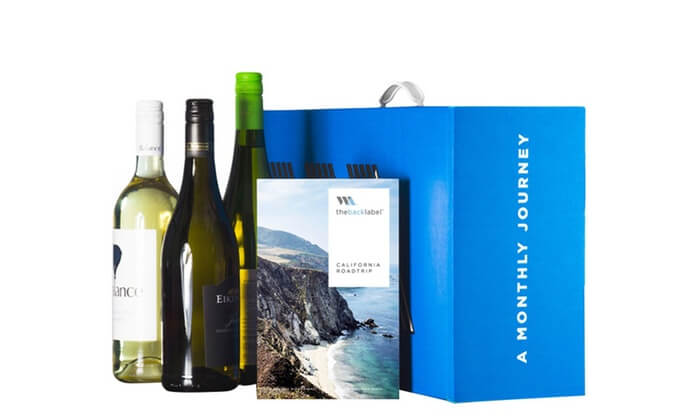 Holidays Deal! $100 OFF to stock up on wines, Use Code TURKEY100
4. Bright Cellars
Premium Wines At A Budget-Friendly Price
Bright Cellars is a monthly wine club that matches you with four wines that you'll love...
What You Get: four bottles per month
Bright Cellars wine club is another great option for an affordable monthly wine club that promises four bottles of high-end wines of the best quality that are personally matched to your tasting palate.
The Bright Cellars two MIT grads co-founders developed a sophisticated pairing algorithm based on a short 7-question quiz. The algorithm finds wines that match each customer's taste perfectly.
The Bright Cellars wine club is passionate about its wine selection. The company state that only 1 in every 12 bottles of wine that are tasted makes it onto their wine collection list! Their wine list includes very hard-to-find boutique wines from around the world – Italy, Spain, Portugal, and South America, just to name a few, known for their excellent wine production.
With Bright Cellars, you have the flexibility to choose your preference in terms of red, white, or a mix of both red and white box. You also have the flexibility to skip months or delay your shipments whenever you need them.
Benefits of Bright Cellars Wine Club Subscription Service:
High-Quality wines at an attractive price per shipment.
Personalized shipments based on your tasting notes.
Huge wine selection from local and around the world wineries.
Delight guarantee – if you receive a bottle of wine you did not like, Bright Cellars will help you select a free replacement.
Club members have the flexibility to skip delivery when needed.
A reward points system.
Holiday Deal! Get 6 Bottles For Only $53
6. Gold Medal Wine Club
Premium Wines From California At a Comfortable Price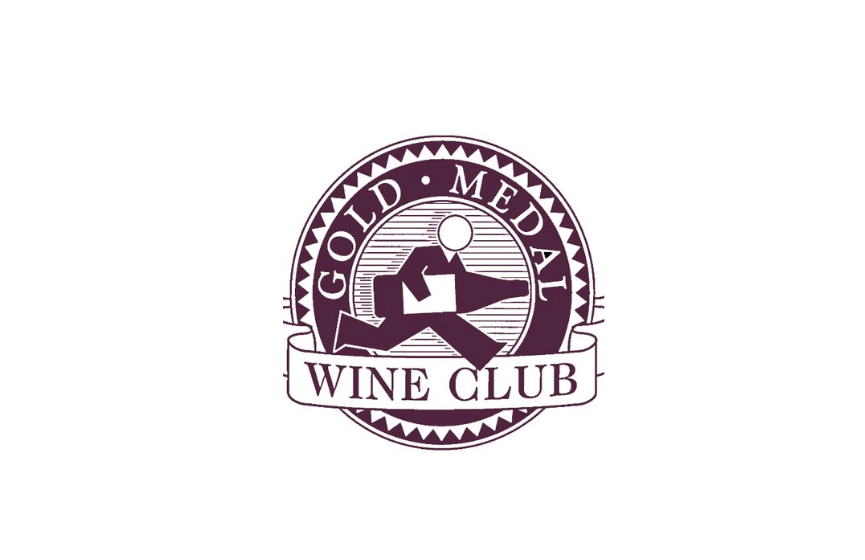 The Gold Medal Wine Club is here to introduce you to the best California wines! The clu...
What You Get: two, four, six, or twelve bottles, as you wish. You can also choose the frequency.
Within this wine club, you can find several wine plans. The one that is more comfortably priced is the gold wine club. This plan offers superb local California wines from top boutique wineries of the ever-sun wine country. You will get hard-to-find yet relatively affordable red and white wines when joining this wine club.
The Gold Medal Wine Club plan can be a perfect match for people who love discovering new wines and boutique wineries and those with a specific passion for California wines.
The club offers flexibility in choosing the number of wine bottles with each shipment (starting from 2 bottles and up to 12), the frequency of delivery, and the type of wines (reds, whites, or a mix). The price, naturally, goes down per bottle as you order more bottles per shipment.
Gold Medal Wine Club Key Qualities:
High-Quality wines from the California wine scene.
Attractive price per shipment when ordering six bottles or more.
Complimentary high-quality newsletters that will teach you about the wines in each delivery.
Great as a gift option for the holiday season!
A wine store for a single purchase is also available.
Other plans, like diamond, international, and Pinot Noir, are also available.
Want to know more? Read our full Gold Medal wine club review here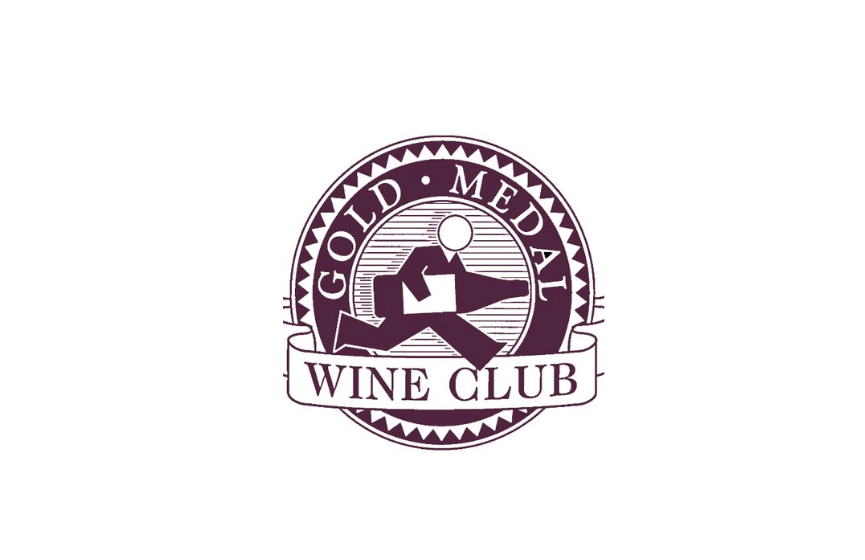 FREE Bottle In 1st Shipment of 4+ Months Subscription! Use Code: MKRBONUSWINE
7. Winc Wine Club
Personalized Wine Club With Best Value For Money
Winc is one of a kind personalized wine club, suitable for people who enjoy wine and wh...
What You Get: four bottles or more per month
Winc is one of the largest and most famous wine clubs in the US, and it is a cheap wine club option for those who enjoy tasting Californian and west coast wines. Winc offers a membership service that is very easy and fun to use. Winc aims to make your wine-tasting experience as enjoyable and accessible as possible
The Winc team of wine experts, their winemaker, and sommelier Brian Smith have created and curated over a hundred wine bottles over time.
The Winc wine club is a monthly wine subscription service. As members, you will get a shipment of 4 bottles of fantastic wines every month that is personally selected to match your taste – reds, whites, rose', and sparkling wines.
We also found most wine labels, designed by Winc, quite chic. The labels' concept seemed to be supporting the Winc premise that drinking wine is a light-hearted and fun experience.
Winc Main Characteristics:
An excellent pricing structure for casual wine drinkers.
The personalization process results in delivering wines matched to your palate profile per shipment.
Supporting the best local winemakers, focusing on California and the west coast.
Large selection – red wine, white wine, rose, sweet wine, you name it!
10% discount on all orders of 12 bottles (case of wine) or more.
Flexibility – You can edit your wine bottle selection, skip delivery when needed, and cancel at any time with no fee.
Tasting notes and wine pairing suggestions for each wine
100% money-back guarantee on wine bottles you didn't enjoy.
Want to know more? Read our full Winc Review here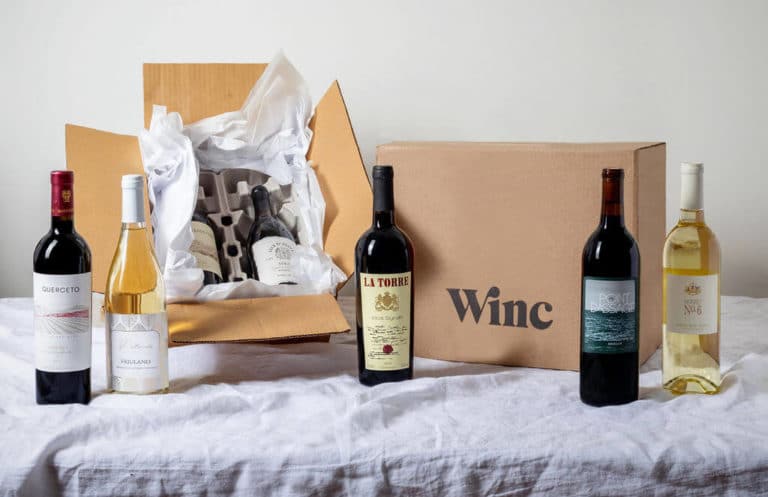 Our Final Notes 
For the Best Affordable Wine Clubs Review
Wine clubs are a great way to diversify your tasting experience and broaden your knowledge of the wine world. They also offer opportunities to take advantage of some significant savings on standard retail prices, with a range of wine clubs offering excellent cheap service.  
Some provide increasingly personalized membership services, so your tasting experience becomes one that is ideally matched to your palate. Wine clubs mean that you can enjoy the world of wine without spending a fortune or even leaving your living room!