What is the Martha Stewart wine club?
True to its name, Martha Stewart wine club is all about the best wines, specially curated by the lady herself, and with the stamp of quality that the Martha Stewart brand is famous for. The Martha Stewart wine club is really a whole world of wine, with various wine club services and subscriptions available. There is truly something for everyone, whether it be 6-bottle (half case) or 12-bottle (full case) deliveries, with options for red wines, white wines, and mix box selections. You can also simply explore and shop for specific wines, however, in the Martha Stewart wine club review, we are going to focus on the features and benefits of subscribing to a Martha Stewart wine plan. So here goes!
Martha Stewart wine club offer
The Martha Stewart wine subscription has various levels:
Introductory offer: The first Martha Stewart wine club delivery is an introductory selection that includes a range of starter wines to help you get to know Martha Stewart's cellar. The selection comprises red wines and white wines, mostly French and American.
Wine club subscriptions: The Martha Stewart wine club service offers a half-case (6 bottles) selection delivered every 6 weeks, or a full-case (12 bottles) selection every 8 weeks. Both subscription plans offer three delivery packages – red wines, white wines, or a mix box of reds and whites. For 6-bottle deliveries, pricing works out at $8.33 per bottle, while for the 12-bottle deliveries, you get better value for money with each bottle coming to $7.49. All Martha Stewart wine plans are shipped for free straight to your door.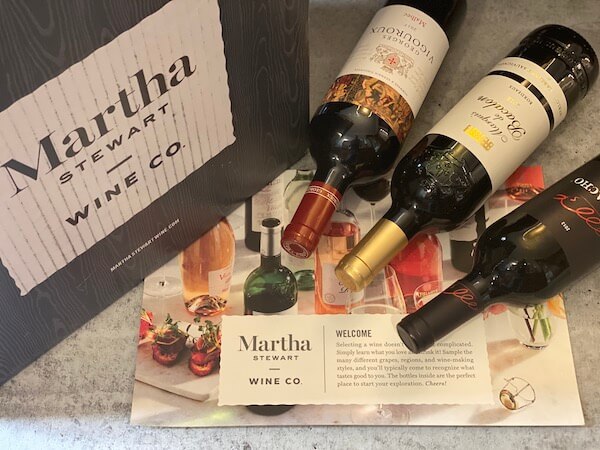 Who is it for?
The Martha Stewart wine club is a wine lover's delight, with dozens and dozens of wines on offer. Although you don't actually choose the wines you receive, apart from selecting the general "red wines", "white wines" or "mix box" plan, it is still fun to be able to explore the wines on the site and see what the Martha Stewart cellar has on offer.
Like all Martha Stewart brands, the wine club is perfect for those who love entertaining, food and wine, and who want to spice up their table with some great quality and delicious wine selections. Besides, part of the fun of a wine club is the surprise of seeing which wines you'll receive, and exploring wines you might not have thought of purchasing on your own. The Martha Stewart wine service does an excellent job of personalizing the selection and introducing members to some pretty amazing wines.
Main Benefits:
Enjoy selections from an extensive range of varied high-quality wines
Affordable plans – quality wines at a reasonable price
Introductory shipment of specially curated wines to get you started
Choose half case or full case: 6 bottles every 6 weeks, or 12 bottles every 8 weeks
Carefully curated selections based on Martha Stewart's unique cellar
Receive a credit refund on the next shipment if not fully satisfied
The Martha Stewart wine personalized process
The Martha Stewart wine plan process is based on a special approach to curating wines that takes your needs into account. First, you select the wine plan you prefer – red wines, white wines or the mix box plan that includes a selection of both reds and white. Then, the Martha Stewart wine club team will carefully select new and exciting wines for each six-weekly or bi-monthly shipment, taking care to give exposure to different aromas and experiences. The bonus is that the wine shipments come with exclusive suggestions from Martha Stewart herself about how to serve the wine, the best dishes they go with and how to enhance your entertaining with the help of wines from the Martha Stewart wine club. It becomes much more than a simple wine delivery – it's really a lifestyle add-on at a convenient and affordable price.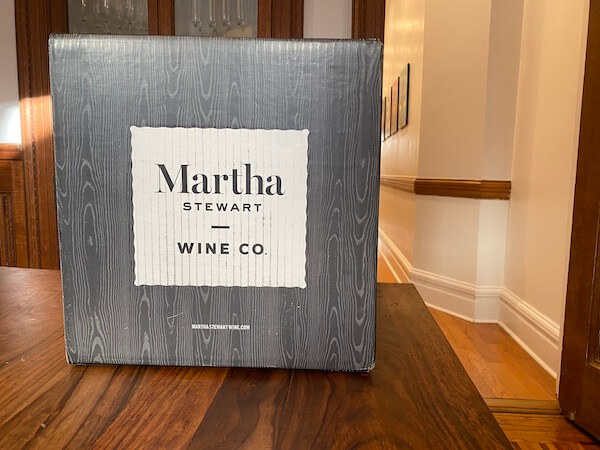 Martha Stewart Wine flexibility
The flexibility of wine plans: Make your choice from a 6-bottle shipment every 6 weeks, or a 12-bottle shipment every 8 weeks for those who enjoy wine more regularly. Plus you can choose between red wines, white wines or mix box wine plans.
Handpicked wines and suggestions by Martha Stewart: The Martha Stewart brand is the standout here, with the wine cellar full of wines specially handpicked by Martha Stewart as meeting her exacting standards. You know you'll be receiving the best-curated wines available.
Wide selection for more tasting opportunities: Explore the full range on the website to get a taste of what you can expect. However, get ready to be surprised as the personal curation of your wine delivery will be done by the Martha Stwart wine club team.
Option to skip shipments or change preferences: You can opt to skip a shipment if you don't need it or are going on vacation, and you can also change your wine plan preference at any time. If you want to try some whites after a long stretch of red wines, go for it. Or change it up with the mix box selection that includes both red and white wines.
Free replacement guarantee: If you are unhappy with a particular wine, the Martha Stewart wine club service offers free replacement. Plus, they will ask you for more details about why you didn't like the particular wine, which will help them personalize your selection even more accurately in the future.
Martha Stewart website and ordering process
The Martha Stewart wine club website is user-friendly and simple. First, you need to create an account, then go ahead with selecting your introductory wine shipment. The main decision you need to make next is whether you want a half-case or full-case shipment, meaning you will receive your wine delivery every 6 weeks (half case) or 8 weeks (full case). Note also that the full case option works out cheaper per wine bottle, making it a good choice for people who like to drink wine frequently or those who regularly entertain. You will also need to select your wine plan preference, whether it is red wines, white wines, or a mix box with a selection of both.
For wine club members, shipping is free. The club recommends shipping to a work address, as they seem to have higher delivery success rates. If shipping to a home address, note that the receiver must be 21 years of age or older. Once shipped, you can conveniently track your order in your Martha Stewart wine subscription account. 
On the downside, if you choose to cancel your wine club membership, you can't do it online. You will need to contact the customer care department by phone to cancel.
The wines:
The Martha Stewart wine club offers a wide range of wines, both red wines, and white wines, as well as rose, sparkling and dessert wines. It is a truly international collection, with wines sourced from France, the USA, Australia, Spain, Italy, Chile, Germany, New Zealand, Uruguay, and Argentina. The Martha Stewart wine club selection comes with suggestions and guidance from Martha Stewart herself, helping club members create the perfect fine wine atmosphere when entertaining or relaxing at home.
The Martha Stewart wine club is a great option for people who enjoy their wines and want to receive expert advice and recommendations to enrich their wine knowledge.
Martha Stewart box
Martha Stewart wines arrive securely packed in a strong box, with tasting notes and recommendations included. The wine delivery is shipped for free, straight to your door. If you are unhappy with any of the wines, the company says they will replace them for free. However, they do request more information about what you didn't like, so they can better curate your wine club deliveries in the future.
Martha Stewart delivery areas
Martha Stewart wine club delivers to all states, EXCEPT for Alabama, Alaska, Arkansas, Delaware, Hawaii, Kentucky, Oklahoma, Mississippi, Rhode Island, South Dakota, and Utah. The club does deliver to Washington DC.
Martha Stewart customer support
Martha Stewart wine club gets top marks for customer service. Just like all Martha Stewart brands, the wine club is very customer-focused. Apart from their satisfaction guarantee, in which they will replace a bottle of wine if you didn't like it, there is an extensive FAQ page on the website that answers most questions. If you need more information or to speak to a customer service representative, you can do so in a number of ways: contact the customer care department on Monday to Friday, between 9am and 8pm EST, by phone on 1 888 212 8197 or email [email protected]. You can also contact them via live online chat on the website, from Monday to Friday, between 9am and 6.30pm EST.
Bottom Line:
People love brands, and when it comes to lifestyle, Martha Stewart is one of the leading brands in the world. It's no surprise then that the Martha Stewart wine club offering is such high quality, delivering on the promises we have come to expect from Martha Stewart products. The wine club service is top-notch, with a really extensive range of international wine labels that even experienced palates will enjoy. We love that you can go for the 6-bottle or 12-bottle wine plan, meaning the Martha Stewart wine subscription works well for occasional and frequent wine drinkers. Plus, the advice and suggestions for entertaining and pairing of wines is the cherry on top, making the Martha Stewart wine club membership experience much more than a convenient wine delivery service – it's really a great option for wine connoisseurs, and those who want to become connoisseurs.
If there is one thing we can guarantee at the Wine Club Reviews, it's this: we are a team of experts who love wine and love wine clubs. Several of our team members have been members of wine clubs for years, making them true wine club experts. This Martha Stewart wine club review is recommended for you because it gives you a tried and tested picture of what the wine club is all about.
Just like we did with this wine club, we have assessed numerous wine clubs, gathering all the relevant information about quality, pricing, selection, delivery, customer care and the personalization process that goes into creating your monthly wine club delivery. 
Check back often to read more about the different wine club reviews, as well as comparison reviews, 'best of' lists and all kinds of content to help you choose your best wine club plan at the most affordable cost to you. We are always updating the site with fresh, current information to keep you in the know about everything to do with wine clubs.