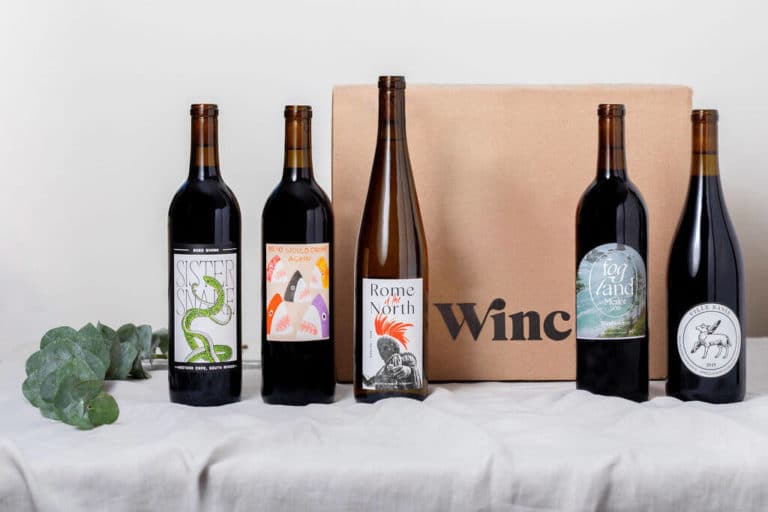 We at the wine club reviews love wine clubs! We feel wine clubs offer a great wine tasting experience that will save you long trips to the liquor store and expose you to new wines every month.
We have experience with many wine clubs, like Winc, Firstleaf, bright Cellars, and more. ALL of our wine club reviews include hands-on experience as a member. For this Winc review, we subscribed and tasted a few wine boxes from Winc wine club as a regular paying customer, and we are here to tell you about our experience! 
So Here It Is – Our Winc Review:
What Is Winc Wine Club?
Winc is one of the largest and most famous wine clubs in the US (used to name Club W). It offers a vast variety of Californian-based wines, combined with a comfortable online membership experience.
Winc's mission is to make the wine drinking experience accessible and fun by making the ordering process more straightforward and more comfortable to enjoy.
The Winc team of wine experts and their winemaker and sommelier Brian Smith have created and curated over a hundred wines over time.
The Winc wine club is fully personalized, which makes the experience of tasting new wines suited to your palate.
The Winc Wine Club Plan:
The Winc wine club is a monthly wine subscription service. With Winc, every monthly shipment will arrive at your home with a selection of four bottles of wine.
You have the flexibility to choose between only red wines, only white wines, or a mixed delivery box. Plus – one of the great Winc benefits is that the shipping is free, every month!!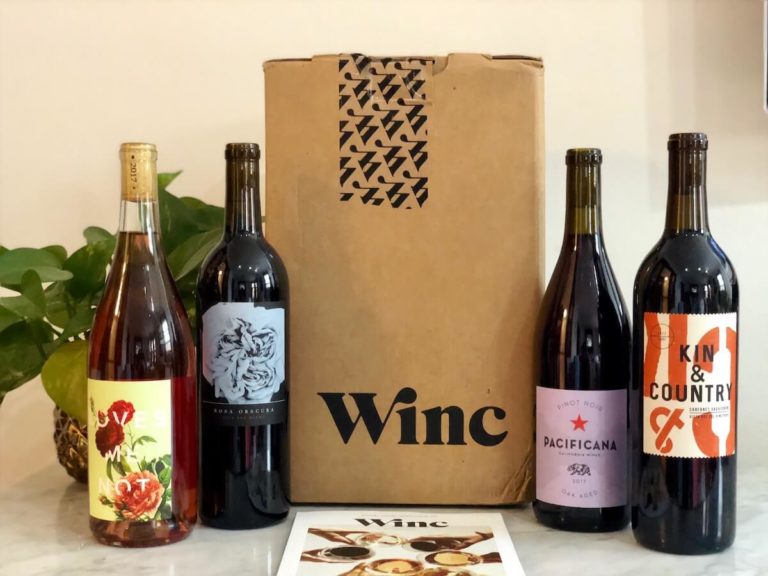 Who is Winc Wines Best For?
The Winc wine club is best suited for casual wine drinkers who want to buy their wines at an accessible, affordable price per bottle. The club is also ideal for Californian-based wine lovers.
As Winc is a monthly wine subscription service, Winc members get the great opportunity of tasting new wine bottles matched to their taste with every monthly shipment.
Who is Winc Not Right For?
If you are a very experienced wine drinker looking for premium luxury wine bottles – Winc probably won't be your first wine club choice. Winc offers great day-to-day wine bottles for casual drinking at home.
Main Features On Winc Wine Club:
Four bottles of tasteful wines delivered each month.
Wines start at $13 per bottle – a relatively very low-price.
Delightful selection of California-based wines.
Brief profile quiz for personalized delivery to matches your taste.
Option to edit your wine selection per delivery.
Option to rate your wines to get the best-matched wines in future shipments.
Winc members benefit – 10% discount for a case order or more at the Winc wine shop.
Satisfaction guarantee – never pay for wine bottles you don't like.
Flexible membership – skip shipment when needed or cancel online at any time.
Gift card options available.
Several organic, biodynamic, vegan, and sustainable wines.
Cons to Winc Membership:
Only 4 bottles per month – not for regular heavy wine supply.
Focus on local wines. Does not offer a lot of international wines.
The Winc Personalized Subscription:
Winc created a very straightforward yet smart on-line Palate Profile process. To start the subscription process, you will answer six questions quiz on Winc's website. Based on your answers, the company assesses your unique taste profile. You can expect questions regarding How salty you like your food, your thoughts on citrus, etc.
The process takes not more than two minutes, and the wine selection that will be included in your monthly delivery box will precisely match your palate.
After you receive each Winc wine club box, you are encouraged to rate your tasted wine bottles. That way, the company can improve your profile even more and send you better-matched wines the next month.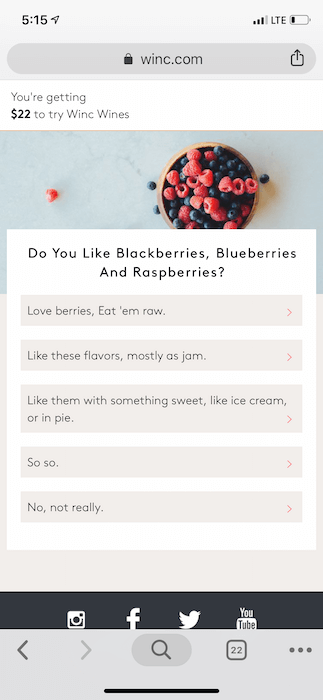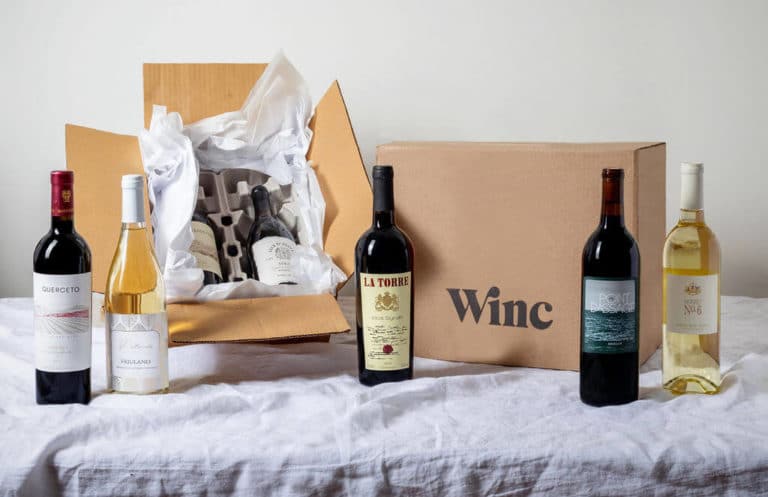 How Does Winc Work?
The Winc website is straightforward to navigate, and the subscription process is very user-friendly.
To create a membership and make your first order, you start by creating your palate profile. You do so by answering a few simple questions. Next, you will stipulate your preferred box (red, white, or a mixed pack) and create your account (you can use Facebook or Google account login as well). The last step is seeing your wine selection recommendation, specifically chosen to match your palate, and checkout.
What's nice about the Winc wine box membership is the flexibility – you can always edit your box, add or delete wine bottles until you feel your collection best matches your needs.
You will receive your first wine box within a few days. Please note that you need to make sure that someone above the aged of 21 is present to sign for the delivery.
The website allows you to explore the wines that Winc has to offer, with the full wine menu at the upper left toolbar. The information per wine includes Winc customers ranking and full details like tasting notes, recommended food pairing, and more. You can also find much information on the club concept and its team of wine experts.
Winc understands that wine exploring is supposed to be fun and not stressful, which is why this wine club offers a 'Skip a Month' policy whenever you need it. You can also cancel your Winc wine subscription at any time via chat or by calling the Winc customer service team.
Winc Review – Our experience using Winc:
Our mission at the Wine Club Reviews is to review and taste deliveries from all US marketplace wine clubs. As part of our Winc review, we made a paying customer membership account and got four monthly deliveries of their wine package.
We are delighted to report we were very pleased with most of the Winc wines we tasted over time!
Winc is a Californian-based winery offering a great online wine subscription experience. Their team makes sure to create and curate a vast amount of over a hundred unique fine-wines from the US and around the world.
Winc wines range from classic blends to obscure, single-vineyard fringe wine projects, and it really seems that Winc is all about bringing customers wines at the best possible value for money.
From exploring the Wine wines, we could see that the Winc portfolio includes almost any wine type you can think of; reds like pinot noir, merlot, cabernet, red blends, and more; whites like pinot grigio, chardonnay, sauvignon blanc, and more.
Moreover, it was reassuring to find that Winc actively supports winemakers that are focused on making the wine using sustainable farming and winemaking processes. Among their wines, you will find many that are made special wines like – organically grown grapes, biodynamic wines (a holistic and ecological growing approach), vegan wines, and more.
We loved the concept of unique wines exclusively bottled by Winc. We found most of the labels to be fun, light, and chic – which matches Winc's focus on wine drinking as a light-hearted and fun experience!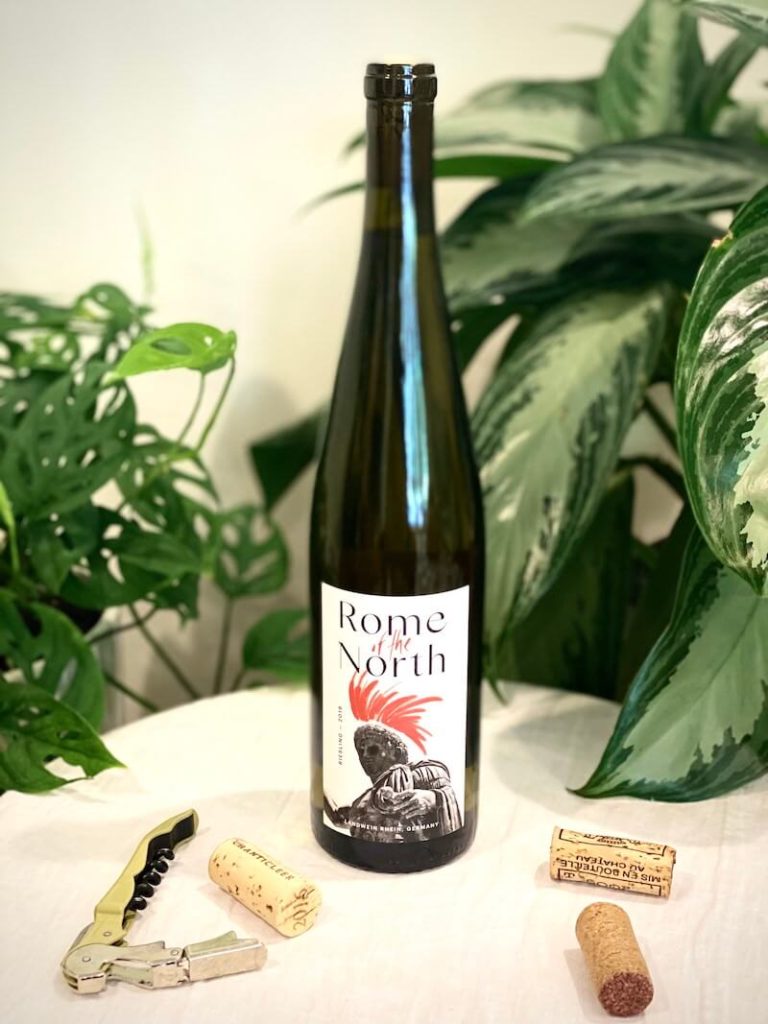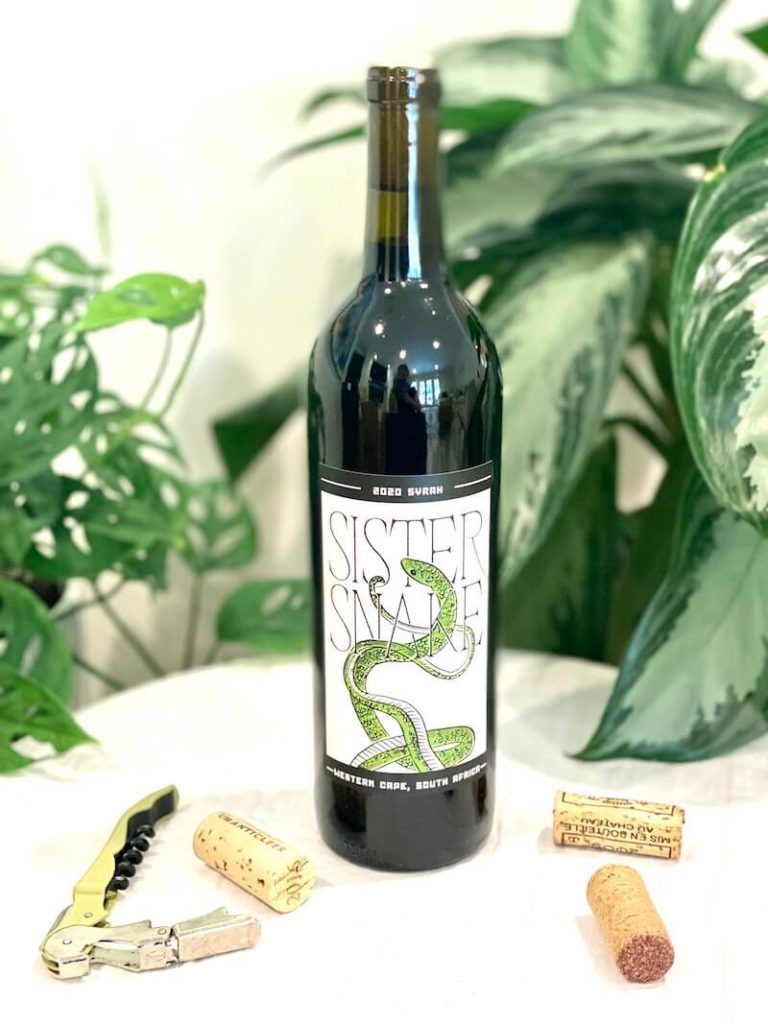 Can I Give Winc as a Gift?
Yes! Winc offers the option to purchase a gift card. When doing so, you can choose the amount of the gift card as you wish. You can also write a personalized note to be attached to the gift card. 
The gift card can be sent via regular mail or to an email address. Once your recipient gets the gift card, he/she can redeem it and order either a one-time taste of the Winc wine selection of his choice or the full Winc membership experience.
Winc Delivery States
Here is the list of dry zip codes:
Florida: Day 32013, Mayo 32066, Bristol 32321, Hosford 32334, Sumatra 32335, Telogia 32360, Caryville 32427, Ebro 32437, Wausau 32463, Chipley 32428, Vernon 32462
New Hampshire: Ellsworth 3223, Ellsworth 3266, Monroe 3771, Sharon 3458
Connecticut: Bridgewater 6752, Eastford 6242, Roxbury 6783
West Virginia: Bethany 26032, Capon Bridge 26711, East Bank 25067, Fort Gay 25514, Wayne 25570, Worthington 26591, Arnoldsburg 25234, Big Bend 26136, Big Springs 26137, Chloe 25235, Five Forks 26136, Floe 25235, Grantsville 26147, Millstone 25261, Minnora 25268, Mount Zion 26151, Munday 26152, Nobe 26137, Orma 25268, Sand Ridge 25234, Tanner 26137, Arthur 26847, Bayard 26707, Cabins 26855, Dorcas 26847, Gormania 26720, Lahmansville 26731, Landes Sta 26847, Landes Station 26847, Maysville 26833, Mount Storm 26739, Wilson 26707, Advent 25231, Cottageville 25239, Duncan 25252, Evans 25241, Fairplain 25271, Gay 25244, Given 25245, Kenna 25248, Kentuck 25248, Le Roy 25252, Liverpool 25252, Millwood 25262, Murraysville 26164, Rock Castle 25245, Romance 25248, Sandyville 25275, Sherman 26164, Statts Mills 25271, Alkol 25501, Branchland 25506, Ferrellsburg 25524, Griffithsville 25521, Griffithsvle 25521, Harts 25524, Leet 25524, Midkiff 25540, Morrisvale 25565, Myra 25544, Palermo 25506, Ranger 25557, Sias 25506, Sod 25564, Spurlockville 25565, Sumerco 25567, Sweetland 25523, West Hamlin 25571, Yawkey 25573, Arbovale 24915, Bartow 24920, Buckeye 24924, Cass 24927, Droop 24946, Dunmore 24934, Green Bank 24944, Hillsboro 24946, Mill Point 24946, Minehaha Spgs 24954, Minnehaha 24954, Minnehaha Springs 24954, Seebert 24946, Slatyfork 26209, Slatyfork 26291, Snowshoe 26209, Stony Bottom 24927, Amma 25005, Gandeeville 25243, Harmony 25243, Left Hand 25251, Linden 25259, Looneyville 25259, Newton 25266, Reedy 25270, Tariff 25259, Uler 25266, Walton 25286, Adrian 26210, Alexander 26218, Century 26201, Cleveland 26215, French Creek 26218, French Creek 26219, Frenchton 26219, Hodgesville 26201, Kanawha Head 26228, Lorentz 26229, Rock Cave 26215, Rock Cave 26234, Selbyville 26236, Tallmansville 26237, Tennerton 26201, Alvy 26377, Big Run 26561, Burton 26562, Coburn 26562, Folsom 26348, Hastings 26419, Jacksonburg 26377, Knob Fork 26581, Lima 26377, Littleton 26581, Paden City 26159, Pine Grove 26419, Porters Falls 26162, Reader 26167, Smithfield 26437, Wileyville 26581
Winc Return Policy
Winc takes pride in offering some of the best bottles of wine for its members. If you are not 100% satisfied, for any reason, with the wines that arrived in your delivery, you are welcome to contact the Winc customer support team. Winc offers a 'satisfaction guarantee' promise, meaning you are expected to get credit at the full value of your bottle towards another wine of your choosing in your next shipment.
Winc Packaging – How is The Wine Delivered?
The Winc delivery arrives in monthly shipments of a medium-size box. Inside, The bottles are comfortably situated in a pulp tray to keep them safe during shipping.
You might ask yourself if Winc promotes sustainability in Its Packaging? We researched for you, and we can say that it seems that Winc is doing a lot in that area:
Both the box and the wine trays inside are compostable.
Most of the Winc bottles don't have a cork capsule. These capsules you usually see on wine bottles were used in the past to protect the corks from moving in old cellars changing climate. As the Winc wine bottles are stored in controlled climate cellars – this addition is no longer needed. producing the wine bottles without them is another sustainable contribution!
Winc bottle the wines using a 'just-in-time' inventory management, meaning the wine travels in its bottle only directly from the distribution center to your doorstep. This makes the carbon footprint to be about 50% less!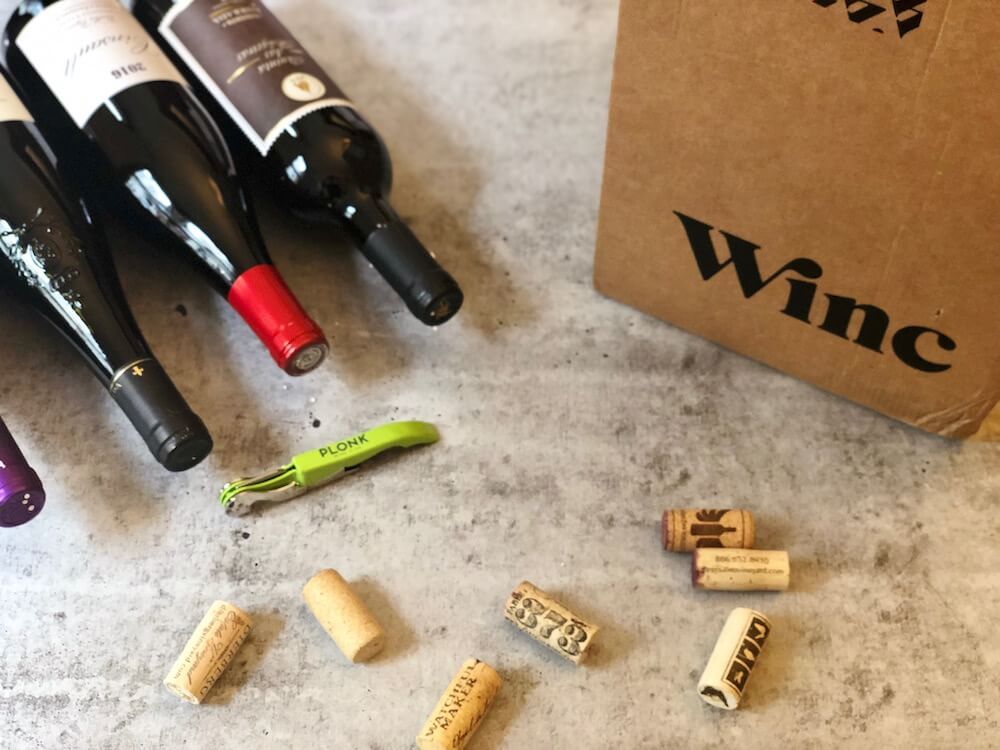 Is Winc Easy To Cancel?
With Winc, you may cancel your membership at any time by an online live chat (via the support button on the Winc website). There are no cancellation fees or any other hidden commitments. The chat operates Mon-Fri 6 am-5 pm PT or Sat-Sun 7 am-4 pm PT.
Wine also offers the convenient option of an unlimited 'Skip a Month' feature that you can use anytime you don't wish to receive a monthly wine shipment at no extra charge.
Bottom Line – Is Winc a Good Deal?
Winc is for sure famous for a good reason! It is a great and flexible wine club that is suitable for wine lovers who want to explore new day-to-day wines at an affordable cost. 
Winc also offers you the opportunity to enjoy different new wines – red, white, and Rosé – without heavy research because they do all the hard work of matching the wines for your taste profile.
With the month-by-month Winc subscription, you are promised to consistently receive excellent small-batch boutique wines, personalized to your taste and delivered every month to your home.
Sign up to start your Winc experience today, using our great beginner's promotion!