Out of the many wine clubs we've reviewed over the years, Wine Insiders takes a good place for offering regular case shipments of excellent international wines at a low price (especially at the first shipment).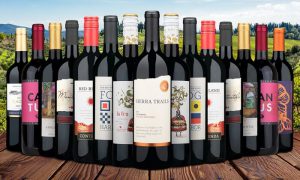 URL: https://www.thewineclubreviews.com/reviews/wine-insiders/
Author Name: Lee Levy
Published Date: February 11, 2023
Appearance Headline: Wine Insiders Review
Appearance Author: Lee Levy
Appearance Published Date: February 11, 2023
Out of the many wine clubs we've reviewed over the years, Wine Insiders takes a good place for offering regular case shipments of excellent international wines at a low price (especially at the first shipment).
Read our full review to see our opinion on the wines, customer service, delivery, and more.
What is Wine Insider?
In A nutshell – Affordable Wine Club with Award-Winning Wines
Wine Insiders is a direct-to-consumer online retail wine shop and wine club. Wine Insiders is well-established, having been around since 1982. This wine club is proud to offer exemplary customer service and an extensive wine list with wines from both local and international wine regions.
A team of a few professional wine curators with over 50 years of experience manages the wine list of Wine Insiders. Thousands of wines are tasted every year by this discerning team, but only approximately 3% of those wines are accepted to become part of the Wine Insiders wine box experience. 
Wine Insiders ensures that there are wines to suit every budget, occasion, and palate on their wine list. The club dedicates itself to offering a convenient and straightforward online retail and wine club experience.
Quick Wine Insiders Review 2023 – Main Pros & Cons
Pros
An extensive selection of premium wines at affordable prices.
Amazing Wine Insiders promo code.
Selection of local and international wines. 
12 wine bottles in every shipment, six times a year.
100% Satisfaction Guarantee on wines you did not like from your delivery (store credit)
Free shipping on all orders of six bottles or more from the online store or wine club orders. 
Responsive customer service. 
Flexibility to select red wines, white wines or a mixture of both. 
Flexibility to skip a shipment, change your wine selection before shipping or cancel membership at any time. 
Cons
No club-customized shipment based on your taste.
Club Shipments are offered only for a full 12-bottle case of wine.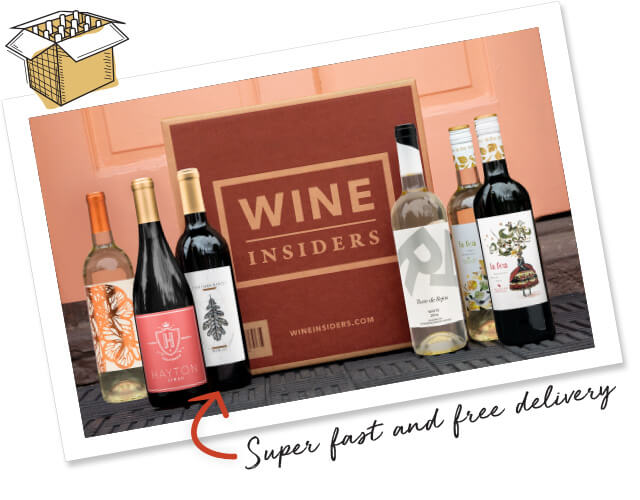 Get $30 OFF + FREE Gift - Code NEWYEAR30
Who Is The Wine Insider Wine Club For?
Wine Insiders is suitable for those who appreciate drinking wine. Both seasoned tasters and novices will be happy with the Wine Insiders experience, especially since they offer a large variety of wines in every shipment for an affordable price.
Wine Insiders will be perfect for wine lovers who prefer to spend about $15 per bottle or newbies to the wine world who wish to explore what they like in a risk-free and affordable way.
Wine Insiders Membership Programs & Online Store
Wine Insider offers customers the flexibility to choose if they wish to subscribe to their wine club service of getting 12-bottle delivery every 3 months (plus a bonus case in the winter and a bonus case in the summer), or purchase wine on the online store.
The online store offers an extensive collection of quality wines and wine sets (from 3 to 12 bottles that can fit the needs of different wine lovers; top-favorite wines, pinot noir sets, Chef Ludo's California wines set, Martha Stewarts's entertaining must-haves, and many more.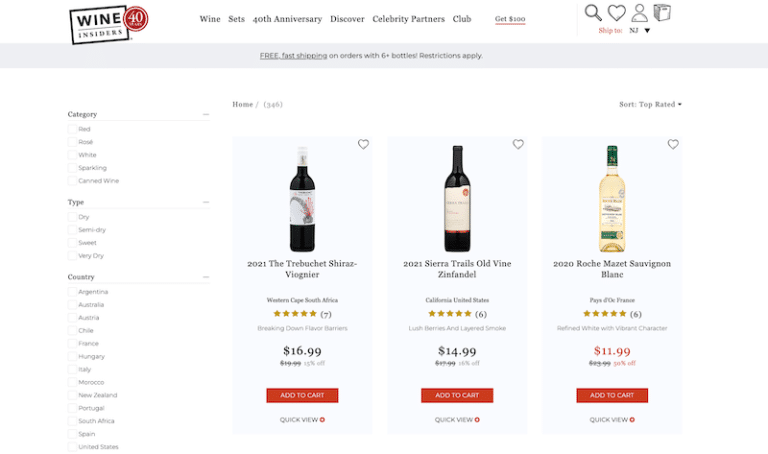 The Wine Insiders Ordering Process
Whether you are ordering a Wine Insiders one-time wine box or signing up for the Wine Insiders wine club, you will find that the ordering process is straightforward. The website is easy to navigate, and it takes no time to set up your account. 
If you want to buy a Wine Insiders wine box, you just need to select the wines you wish to include in your delivery and complete your order by advising delivery and payment options. 
If you prefer to receive a continuous 12-bottle delivery, you head to the 'club' tab on their website and click 'join now'. You will then complete the process of setting up your account, selecting your wine preferences, and confirming your delivery details.  
The Wine Insiders ordering process is stress-free, and their fantastic customer service team is always on hand if you need assistance. 
The Wines of Wine Insiders
The team at Wine Insiders wine club is passionate about wine. They state that they taste thousands of wines yearly, and on average, only 3% of wines are good enough to be accepted for their wine list.
As Wine Insiders cut out the middleman and work directly with winemakers and consumers, it gives them the ability to offer their members and customers an impressive range of premium wines at huge savings. 
Their discerning team has worked hard to source wine from over 40 regions worldwide. These regions include California, Washington, Argentina, Italy, France, Spain, and Australia, just to name a few.  Wine Insiders has an incredible selection of red wines, white wines, local wines, and international wines on their wine list.  
Some Of Wine Insiders Wine Brands include Abbazia from Italy, Bruno Lafon from France, Castellani from Italy, Vicente Gandia from Spain, and EthicDrinks – which use sustainable, organic, and biodynamic methods in winemaking.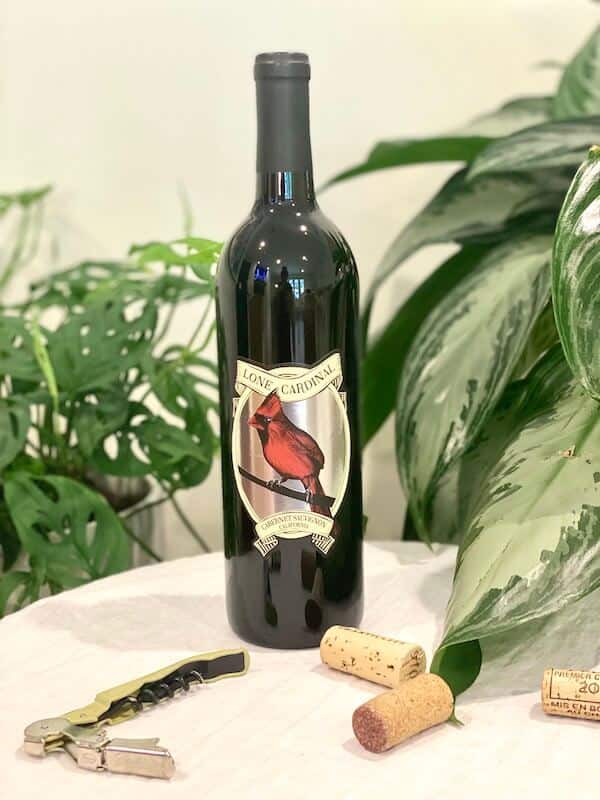 Get $30 OFF + FREE Gift - Code NEWYEAR30
Our Wine Tasting Experience With Wine Insiders
Given the fact that Wine Insider offers a singular wine club membership, it was straightforward to sign up and get started. We got our shipment a few days later and could start our review process.
One of the things we love about Wine Insiders is that they tend to work with more boutique operations as opposed to bulk wine producers. This way of working means that many of the wines offered on the Wine Insiders website would be impossible to source via regular retail channels.
Overall we enjoined our drinking experience from Wine Insiders. We can't say it's top-tier wines, but it's without a doubt a very good value labels for a very attractive price. You are guaranteed a great tasting experience as a Wine Insiders customer. 
Wines We Enjoyed From Wine Insider Wine Club Shipment
2015 Secrets de Bordeaux Rouge – This blend of 70% Cabernet Sauvignon and 30% Merlot is well-balanced, offering a smooth and complex red wine from the historic Bordeaux region in France. we enjoyed this red with an assortment of cheeses on a casual friends evening together..
2018 La Petite Bilaude Cabernet Franc – If you haven't tried Cabernet Franc before, you will most definitely enjoy this bottle of the 100% Cabernet Franc La Petite Blaude. This wine was Made from cabernet Franc grapes from a few vineyards, in order to select the best grapes from each. We loved the result. Great wine with great structure.
2018 Picaro de Chile Sauvignon Blanc – This Sauvignon Blanc is very refreshing, with quite intense citrus flavors and hints of green apple fragrance.
The Wine Insiders Delivery
Your Wine Insiders delivery arrives in a specially designed wine delivery box with individual separator compartments to protect the wine bottles during delivery. From our understanding, all deliveries are done via FedEx.
Please note that you need to have someone aged 21 or more sign for your delivery, or you can opt for pick up at one of the pick-up locations, which is available at over 14,000 locations throughout the USA. 
The Wine Insiders Delivery Area
Wine Insiders currently does not deliver to the following states due to alcohol restrictions:
Alaska, Alabama, Arkansas, Delaware, Hawaii, Kentucky, Mississippi, Oklahoma, Rhode Island, South Dakota, and Utah. 
Sending A Wine Insiders Box As a Gift – Is It Possible?
Yes! Wine insiders offer many award-winning wines wine sets that can be purchased and delivered as a gift. The wine insiders wine store offers gift sets for holidays like valentines day or Christmas, and also celebrity-curated wine sets  (like the Martha Stewart wine collection)
Wine Insiders also offers a gift membership program. In order to do so, you will need to join the Wine Insiders wine club, enter your recipient address as the shipping address, and mark it as a 'gift shipment' at the end of this section box.
Wine Insiders Wine Club Customer Service
Wine Insiders is proud of their customer service, and you are guaranteed to get a quick response if you have any queries or issues. You can get in touch via the following ways:
Live Chat via their website. Chat to real people available from Monday to Friday from 9 am to 6.30 am (EST), excluding holidays. 
Email [email protected], and a member of their team will get back to you as soon as possible. 
Call Wine Insider phone number (800) 615-7304 from Monday to Friday from 9.00 am to 8.00 pm (EST), excluding holidays. 
So How Much Do Wine Insiders Cost?
The Wine Insiders' cost depends if you go for a wine subscription or one-time online order.
The wine club cost usually comes with a very attractive reduced-price coupon code, plus free gifts like a free corkscrew or extra wine bottles.
The online one-time order price obviously depends on the wines or wine sets you choose to buy, with prices starting at three bottles of wine sets under $50. Shipping costs are around $20 but are free for all orders of six bottles of wine and above.
Wine Insiders Flexibility – Cancel Or Skip Delivery
Wine insiders take pride in offering a relatively flexible service. You may skip a shipment or cancel your wine subscription at any time by contacting Wine Insiders customer support or do so online by logging into your account.
The Difference From Main Competitors
| | | | |
| --- | --- | --- | --- |
|   | Wine Insiders | | |
| What You Get | 12 bottles per shipment | 6 bottles per shipment | 12 bottles per shipment |
| Customized shipment | No | Yes | No |
| Free Cancelation | Yes | Yes | Yes |
| Affordable | Yes | Yes | Yes |
|   |   |   |   |
Get $30 OFF + FREE Gift - Code NEWYEAR30
Bottom Line Of Our Wine Insiders Overview – Is Wine Insiders A Good Deal?
Our team at the Wine Club Reviews loved the experience with Wine Insiders. Although the club does not offer a personalization process, the excellent wines included in the Wine Insiders wine club shipment did the trick for us – especially considering the very comfortable price.
We also appreciated their satisfaction guarantee and the fact that subscription deliveries include free shipping and some extra gifts. 
We were also impressed with the diversity of their wine store offerings, and we found their website easy and friendly to navigate and order through.  We love how simple Wine Insiders has made ordering wine. For the quality of wines on offer, their prices are excellent.
As a Wine Insiders customer or club member, you will have access to an impressive selection of hard-to-find and award-winning wines from boutique wineries from all over the world.
Wine Insiders also offers wine education through tasting notes and many other cool resources on its website, like food pairing suggestions.
Bottom line, with the low price of the Wine Insiders coupons and no-commitment policy – we highly recommend giving Wine Insiders a try.