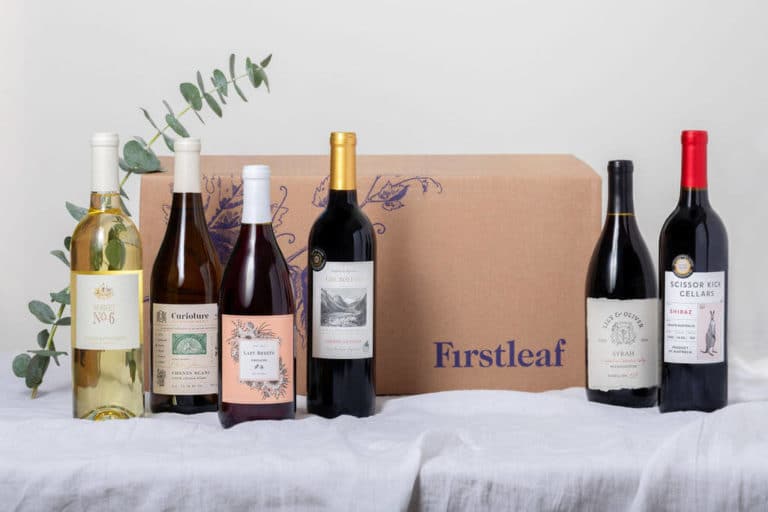 If you're a wine folly and wish to explore new wines from different wine regions from around the world, joining a wine subscription club is an excellent service to consider.
The US market is full of different kinds of wine subscriptions, with each offer a different wine tasting experience. In this Firstleaf review, we will focus on the Firstleaf wine club – one of the largest wine clubs with a direct-to-consumer subscription model, founded by Philip James.
So, with that said, let's jump right to it! Continue reading our Firstleaf wine club review to find out about the subscription options, the wine quality and brands, the club pricing, and the special perks for registered members.
What is the Firstleaf Wine subscription?
Firstleaf wine subscription service is focused on making your wine tasting experience easy to use and enjoyable to drink. This affordably priced wine club offers a fully personalized experience, with a range of elegant award-winning wines sourced from local and international wineries. With Firstleaf, you can try California wines from Napa or Sonoma and imported wines from Argentina, France, and Italy, with many award-winning competitions from different industry competitions.
Firstleaf offers quality wines at up to 60% off standard retail prices. This is achieved by cutting out the middleman – avoiding importers, distributors, and retailers by partnering directly with wineries. 
How Does Firstleaf Wine Club Work?
Firstleaf is a personalized wine club; based on a few simple quiz questions at the beginning of the wine subscription process, the Firstleaf team of experts will send you an introductory order of six wine bottles. After tasting these wines and providing feedback online, your tasting profile is updated, and the algorithm will then begin selecting wines for your next shipment.
The process of rating all the wines you have received and tasted from the club ensures that each box you receive improves in matching your wine tastes! From our experience as an ongoing registered customer – it does works!
Firstleaf Wine Club Membership Programs
The Firstleaf wine club involves two different stages:
Introductory Shipment – includes six wines. The wines are matched to your initial tasting profile after answering a few simple questions. This initial shipment then further develops your taste profile based on how you rate the wines you received.
Club Shipments – after you rank your introductory wines, every next club shipment will include six wine bottles that are personally matched to your palate and preferences. If you don't like a bottle included in your box, you can change it before it is shipped. The first club shipment will arrive a month after the initial shipment. You can then stipulate your preferred delivery frequency, whether every month, every two months, or three months.
$44.95 for 6 Bottles + FREE Shipping!
Firstleaf – who is it for?
The Firstleaf wine club is ideal for people who appreciate drinking wine but prefer an accessible and affordable wine experience. The Firstleaf wine club is great for domestic and international wine lovers alike. This club is also very attractive for drinkers of white wine and rosé wine.
Firstleaf Wine Club Membership Length
Once you subscribe to the Firstleaf wine box service, the wine shipment will frequently arrive, unless you pause or cancel it.
About the Firstleaf Wines
When looking at the Firstleaf wine selection, you can see that their expert wine team is always looking for the next up-and-coming wine trends. Their selection includes wines that have won awards at multiple important competitions within the wine world.
Since Firstleaf has direct relationships with the wineries, the prices you have access to are incredibly attractive and are usually 40%-60% lower than standard retail prices!
Firstleaf offers a wine selection that continually changes. The club's wine tasting team works hard to find the best wines for their customers. Their list of wines is endless and includes hundreds of different wines from all over the world. 
Red wine types– Cabernet Sauvignon, Pinot Noir, Merlot, Zinfandel, red blends and more
Whites wine types– Pinot Gris, Pinot Grigio, Chardonnay, Sauvignon Blanc, White Blends, and more
$44.95 for 6 Bottles + FREE Shipping!
Firstleaf Wine Club Wine Brands and Winemakers
The Firstleaf winemaking team travels worldwide to find top-notch wines. This team works closely with many domestic and international winemakers and vineyards, sampling more than 10,000 wines every year! Only less than 2% make it to the final cut, with 92% award-winning wines. To date, the Firstleaf wines won over 1,000 medals from different wine industry competitions.
Recommended Award-Winning Wines  – Firstleaf Wine Uncork
As part of our ongoing Firstleaf reviews, we tested these award-winning favorites wines:
Isolde's Rapture 2016 Red Blend 
An absolute stunner red wine bottle that has left judges and Firstleaf members amazed. This wine took home 95 points and a Double Gold medal (unanimous Gold votes from every judge) at the 2018 International Women's Wine Competition and was voted "Best of Show" for red wines at the 2018 Denver International Wine Competition.
Disorderly Conduct 2016 Dark Bold Red
At the 2018 Women's International Wine Competition, judges unanimously awarded this wine a Double Gold, 97 points, and named it Best of Class.  A full-body wine that has notes of spices and bold red fruit. It will pair very well with spicy and aromatic food favorites like Indian food or spicy sausage.
Hawthorne Grove Winery 2015 Chardonnay
This wine bottle won numerous silver medals, five gold medals, one double gold medal, and was also voted as 2016 Monterey County Winery of the Year. This fantastic white wine has a good balance of mouthwatering acidity sweetness taste, with notes of lemon and tropical fruity flavors. It's best matched with fresh pasta of a light fish dish.
Paso Del Tiempo
Firstleaf has a long love affair with Spanish wines, and this one is a great example! It is a real stand-out wine that received a double Gold medal at the 2016 Harvest Challenge. It was also awarded the competition's two highest honors – 'Best of Class' and 'Best Red'. It has a unique smokey flavor that matches well with firewood pizza or heavy meats like short ribs.
Bodewell 2019 Sauvignon Blanc
An aromatic 92 Points white wine from sunny Yakima Valley in Washington. This wine won "Best in Show" in the 2020 USA Wine rating competition. It has a tropical aroma, with tasting notes of bright fruit.
When we came to review Firstleaf, we also took a deep look at their awards. The wine club claims that 92% of its wines are award-winning and presents the awards on the wine pages on the website. We researched for you and checked the wines in our shipments. We confirmed one or two awards for each bottle to make sure their declaration is valid and reliable.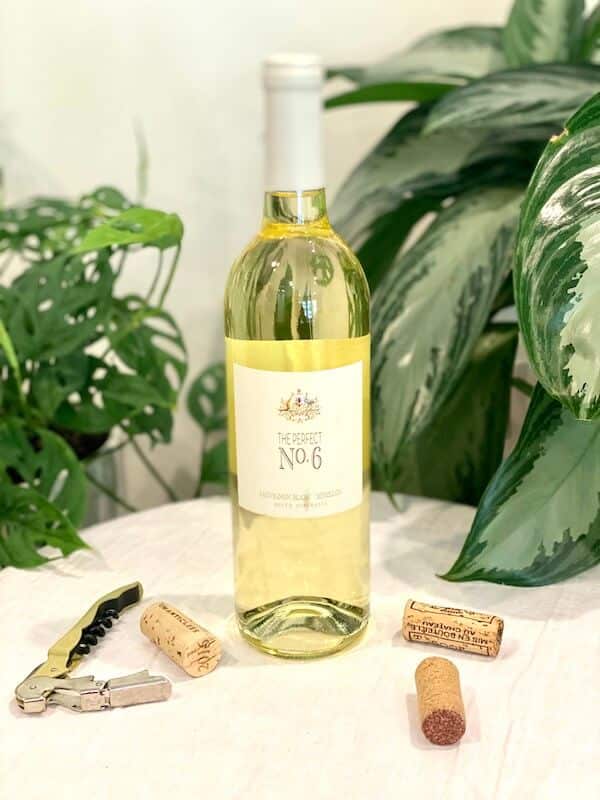 $44.95 for 6 Bottles + FREE Shipping!
Firstleaf wine club main benefits
100% Satisfaction guarantee
This wine subscription service goes the extra mile to keep its customers happy. If you got wine bottles you did not enjoy, you could contact Firstleaf customer support for a full money-back guarantee. With this kind of promise, you can try the wines without any worries.
Special Discounts For Members
Above the attractive offer of the first introductory offer, as a member, you can also buy wines a la carte at the website store – with a fantastic club price of six wines for only  $15 per bottle!
Educating Buyers About Wine
Every shipment you get will include designed wine cards that contain a wine profile (describing the body, sweetness, etc.), tasting notes, dish pairing recommendations, and some basic information about the region the wine came from. Wine profile describing the wine's body, acidity, sweetness, fruit, and tannin. 
Once the first shipment of 6 bottles arrives and you rate the wines, the Firstleaf wine education work is not done. The company takes pride in offering a professionally certified wine concierge service, created to answer any questions you might have, help personalize future shipments even better and provide tips for a meal pairing.
Moreover, Firstleaf's online wine school is available to guide you through the world of wine –  articles and videos about the most widespread grape types, best wine regions, a detailed guide to wine bottle shapes, and many more.
Convenient Service
Other than the convenience of receiving personally matched wines directly to your home, Firstleaf makes sure to make their service as flexible as possible. You can update the frequency of shipping and delivery date, finetuning your wine preferences and quiz, skip a month when needed, and cancel your account with no hidden fees. This can all be done very quickly through the Firstleaf customer service at  800-461-7203 or email at [email protected]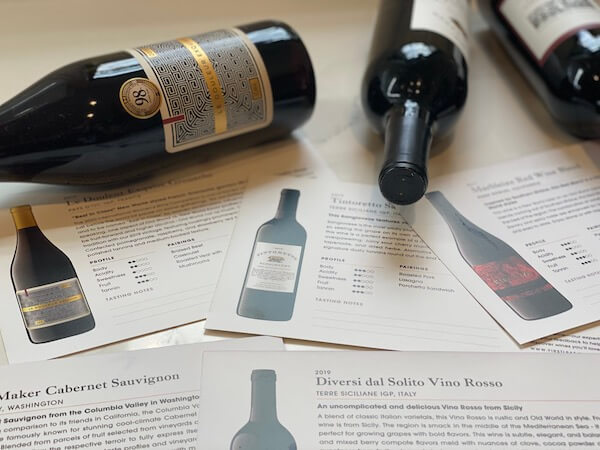 Differences Between Firstleaf & Its Competitors 
The wine club industry includes a few significant competitors, each with its business model and offering. We could find a few significant differences between Firstleaf and its competitors, as following:
Firstleaf works directly with wineries and winemakers. This model enables to cut out the middleman and save a lot of the extra charges, allowing customers to enjoy fantastic wine selections at affordable cost.
100% satisfaction guarantee on all of their wine orders.
An advanced algorithm that matches the delivered wines to your taste profile.
Fantastic introductory shipment offer.
See the Full Separated Comparisons With Each Competitor:
$44.95 for 6 Bottles + FREE Shipping!
First Leaf Shipping Policy and Delivery Box
Firstleaf ships to 44 out of the 50 USA states, using either UPS or FedEx Ground shipping to deliver their wine boxes within 2 to 5 working days. 
The First leaf wine box delivery arrives in a medium-size, labeled box. Inside the box, there are 6 bottles packed in a specially designed wine carton holder, which keeps the wines protected during the delivery.
Inside each box, you will also receive six cards with full tasting notes and pairing recommendations for each wine, and an informative printed Firstleaf newsletter, with many interesting facts and articles about the club and the wines.
Firstleaf  wine club return policy
With Firstleaf, you will not pay for something you didn't like, and that is a big guarantee! If, for any reason, you are not satisfied with a wine you got in your Firstleaf delivery, they will credit you for it. All you have to do is notify them at [email protected] within 30 days of delivery day, and they will give you store credit! 
If the shipment is returned to the club due to refusal of delivery or there wasn't someone above the age of 21 available on the delivery date- the club will refund your money, excluding a $20 restocking fee. 
Bottom Line
Final Thoughts of This Firstleaf Review- It is Worth Trying!
If you are looking for a wine club that will allow you to enjoy excellent wines at affordable prices, Firstleaf is a great choice! This wine club is actually one of our top favorites, and we give it a total thumbs up!
The Firstleaf wine club offers club members a vast selection of hundreds of quality award-winning wines. What's also great about the Firstleaf wine club is that it is 100% personalized to your palate.
Since the club has partnered directly with the winemakers, they can cut out the expensive middlemen and offer you substantial savings. 
We enjoyed the wines we tasted from the Firstleaf selection, and with the added value of their satisfaction guarantee promise, we feel safe to recommend giving Firstleaf a try highly!