Last Updated on
Get $100 off your first order. A 6 pack of wine worth $149.99 for ONLY $49.99, including shipping.
Quick View:
NakedWines.com is one of a kind online wine store concept. It has a unique customer rating system that provides funding for winemakers so that they can create handcrafted wines at the most attractive prices for the Nakedwines.com customers.
Introduction to Nakedwines.com
Nakedwines.com is not really a wine club, but more a one of a kind online wine store. It has a unique concept that is based on over 100,000 customers (named angels) who rate and fund winemakers up-front. This means that the winemakers can then focus on hand-crafting amazing wines at attractive wholesale prices. Since we believe their system offers a very attractive way to buy wine, we had to provide an in-depth company review!
The most attractive thing about Nakedwines.com is that they provide great value for money and access to an amazing selection of wines. The company cuts out the middleman and is able to remove a huge amount of costs that are involved in the traditional wine business and pass these savings on to their customer.
The offering:
Nakedwines.com allows you to order as a one-off, or as part of an angel deal. An angel deal involves you investing $40 a month into their nakedwines.com piggy bank. You can spend this money on any of their wines, or have it returned to you if you don't spend it. The company then use this money to invest in talented and independent winemakers which results in the creation of exclusive wines at insider prices (40%-60% off retail). These wines are then offered to the angels!
The Nakedwines.com catalog includes a selection of both cases and individual wines:
Cases – offering red, white or mixed, for specific wine types like Syrah or Cabernet. Cases for a different event like the 'brunch case', 'date night case' or 'luxury case'. Cases can also come from specific areas or countries such as California, all-American, French, Chile and so much more.
Single wines – their online shop includes hundreds of wines – red, white, rose, sparkling, affordable and fine wines, from all around the globe.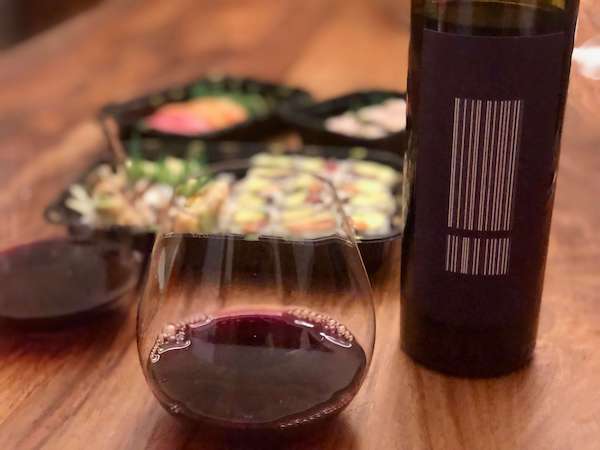 Who is it for?
Nakedwines.com is basically for anyone who enjoys drinking wine. Their huge collection of wines and wine cases delivers everything from basic everyday wines to fine boutique wines.
Main Benefits:
Every wine is hand-made by a real winemaker
Great saving – 40-60% off your wine
100% money back guarantee
Invest $40 a month into your Naked piggy bank which you can then use to receive exclusive Angel-funded wines.
A gift bottle every month for "angels" as a small thank you
No commitment, You can leave at any time or order on a one-time basis.
The Personalization Process: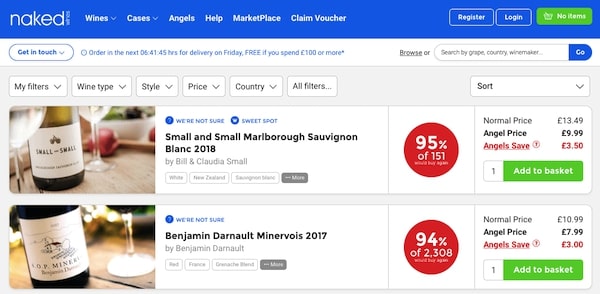 The website and ordering process:
The Nakedwines.com website is very easy to navigate and straightforward. You can choose between the two main categories of single wines or cases, and you have many filter options on the left side toolbar. These filter options include style, rating, grape type, country, region and more. All you need to do is to choose your wines/cases, add them to your cart and checkout.
If you wish to become a Nakedwines.com Angel, you can do so via the website as well – simply press on the "Angel" section on the upper toolbar, and you can easily register and see all Angel's special benefits. You can also explore the many winemakers with whom Nakedwines.com work within the "Winemakers" section, including some information on their work and style of wines that they create.
The wines:
Nakedwines.com takes pride in working with multiple independent winemakers from the USA and all around the world. Their wine collection includes basically every type of wine you can think of – reds like merlot, malbec, cabernet, and Zinfandel. Whites like chardonnay or sauvignon blanc rose or sparkling. Some wines are very affordable while others are more suited to the fine wine category. Really, everyone can find wines to suit their personal preferences, and all at a bargain price!
At the Wine Club Reviews, we make sure to experience and taste wines from every wine company we review, and that goes for Nakedwines.com as well. We were impressed by the quality of wines we received for the price we paid. Some of the wines we tasted and loved are:
Napa Valley Merlot 2017 by winemaker Matt Iaconis – a classic red wine from a single-vineyard. It had a velvety feeling and some nice wild berry notes. The taste was quite smooth and rich,probably from the French oak aging.
ROX Sonoma Coast Pinot Noir 2017 by winemaker Scott Peterson – a double-gold-winning wine, barrel-aged from Sonoma Coast. This amazing pinot was harvested from three special vineyards. Scott, the winemaker, fermented each block separately in French oak barrels then blended to make lovely, light pinot noir.
California Sparkling Rose 2016 by winemaker Keith Hock – you would love this gorgeous blush rosé sparkling wine for a nice spring or summer weekend brunch! Our tasters thought it was full of refreshing citrus flavors, with a nice creamy finish — a truly easy going and refreshing wine to taste.
Bottom Line:
Even though Nakedwines.com is not really a wine club; we just fell in love with the concept behind this wine store! Their developed a customer rating system basically funds winemakers up-front, so that they can then create handcrafted wines at prices as low as 40%-60% off their real market value. This system also helps new customers to choose their wine selection with a developed wine rating system. There is so much choice since their wine collection includes hundreds of wines. Basically, every type of wine you can think of you can think of. Nakedwines.com takes pride in working with multiple independent amazing winemakers, both locally and internationally, and we highly recommend giving their store a try!