Quick View:
Winc is one of a kind personalized wine club, suitable for people who enjoy wine and who want to explore new wines that meet their tastes, at affordable prices. The club offers a 100+ Californian and international wine selection.
We at the wine club reviews love wine clubs! We feel it offers a great wine tasting experience that will save you long trips to the liquor store.
We tested and tasted a few wine boxes from Winc, and we are here to tell you about our experience! 
So Here It Is – Our Winc Wine Box Review:
What Is the Winc Wine Club?
Winc is one of the largest and most popular wine clubs in the US. It offers a vast variety of Californian-based wines, combined with a comfortable online membership experience.
Winc's mission is to make the wine drinking experience accessible and fun, by making the ordering process more straightforward and more comfortable to enjoy.
The Winc team of wine experts, along with their winemaker and sommelier Brian Smith, has created and curated over a hundred wines over time.
The Winc wine club is fully personalized, which makes the experience of tasting new wines suited to your personal palate.
The Winc Wine club Plan:
The Winc wine club is a monthly wine subscription service. With Winc, each month you will receive to your home a selection of four great bottles of wine. You have the option to choose between only red, only white, or a mixed delivery box.
Who is it for?
The Winc wine club is best suited for people who enjoy drinking casual wines and want to buy their wines at an accessible affordable price.
The club is also ideal for Californian-based wine lovers.
Main Benefits:
Wines at relatively low-price
delightful selection of California-based wines.
personalized wine delivery that match your taste profile.
Option to edit your wine selection.
Option to rate your wines to get best-matched future deliveries.
10% discount for a case order or more.
The Winc personalization process:
The Winc wine club uses a very straightforward yet smart on-line Palate Profile process. In order to start the process, you will answer six questions. based on your answers, the company assesses your unique taste profile. You can expect questions regarding How salty you like your food, What are your thoughts on citrus, etc.
The process takes not more than a minute, and the wine selection that will be included in your box will precisely match your palate.
After you receive each Winc wine club box, you are encouraged to rate your wines. That way, the company is able to improve your palate profile even more.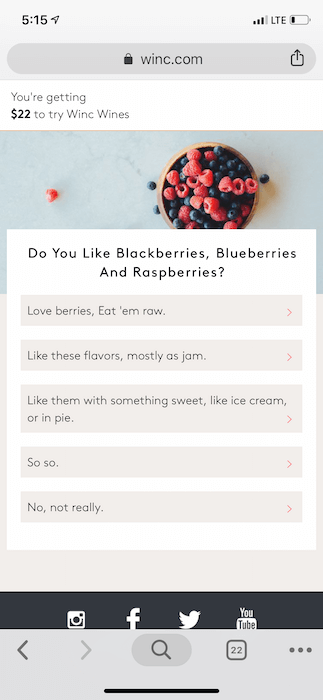 The website and ordering process:
The website is straightforward to navigate, and the subscription process is user-friendly.
The website allows you to explore the wine selection that Winc has to offer, with the full wine menu at the upper left toolbar. The information per wine includes ranking and full details. You can also find much information on the club concept and their team.
To make an order, you start by creating your personal palate profile. You do so by answering a few simple questions. Next, you will stipulate your preferred box (red, white, or a mixed box), and create your account (you can use Facebook or Google account login as well). The last step is seeing your wine selection recommendation, specifically chosen to match your palate, and checkout.
What's nice about the Winc wine box is the flexibility – you can always edit your box, add or delete wine bottles until you feel your box best matches your needs.
You will receive your first delivery within a few days. Please make sure that someone above the aged of 21 is present to sign for the delivery.
Winc understands that wine is supposed to be fun and not stressful, which is why the club offers an unlimited 'Skip a Month' policy. You can also cancel your Winc wine subscription at any time via chat or by calling the Winc customer service team.
Winc Wines Review:
Winc is a Californian-based winery offering an online wine subscription experience. Their team makes sure to create and curate a large selection of over a hundred unique fine-wines, from the US and worldwide.
The Winc wine selection ranges from classic blends to obscure, single-vineyard fringe wine projects, all focusing on bringing customers wines at best possible value for money.
Our mission at the Wine Club Reviews is to review and taste deliveries from all wine clubs. We are delighted to report we were very pleased with most of the wines we tasted from Winc, over time.
We loved the concept of unique wines exsclussivly bottled by Winc. We also found most of labels very well designed and quite chic.  The labels' concept seemed to be based on the premise that drinking wine is a light-hearted and fun experience.
Three of our top picks were:
2017 Loves Me Not Rosé – which had a sweet and fruity flavors, perfect match to a summer afternoon.
2016 Rosa Obscura Red Blend – a nice blend with a full-body, smooth and with a hint of cherry flavors.
2018 Porter & Plot Cabernet Franc from Santa Barbara County, California – This lovely wine had a medium body with Tasting notes of dark fruit bolstered by savory herb and crushed stone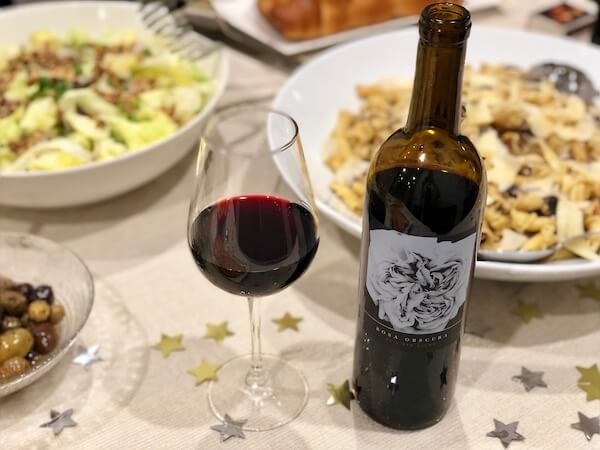 Bottom Line – Do We Recommend Winc Wine Club?
Winc is a great and flexible wine club suitable for wine drinkers that want to explore new day-to-day wines at accessible and affordable prices. 
Winc also offers you the opportunity to enjoy different wines without the heavy research because they do all the work of matching the wines for your personal taste.
With Winc wine subscription you are promised to consistently receive excellent small-batch boutique wines, personalized to your taste and delivered monthly to your home.