Perhaps you're looking for wine gifts for close friends who are wine lovers, or you want to explore the idea of signing up for monthly wine clubs for yourself.
Whatever the case, Black Friday is an ideal time to dive into whether you should create a wine club membership for yourself and your loved ones. So, you can try various artisan wines at lower prices than usual, making it easier to branch out from your typical picks.
You can expect wine club discounted offers during this holiday, from promo codes on a la carte wines to monthly club coupon codes.
This review will provide more information on popular wine clubs' available Black Friday deals.
Black Friday Deals For Wine Club Subscriptions
Here, you'll find information on Black Friday deals for the wine club subscription services below.
1. Firstleaf
Affordable Award-winning Wines
Firstleaf is an affordably-priced, fully personalized wine club with a large portfolio ...
Firstleaf is a customized wine subscription that features wines at an affordable price. The array of wines is sourced from around the world, ensuring you have a larger selection.
After a quick introduction quiz, you're sent an initial delivery of six wine bottles. After trying and providing feedback for this first shipment, your future deliveries will be adjusted based on your preferences.
You can now try out the club with a special discount. When signing up, you can get your first delivery for about 50% off, which applies to the already discounted wines.
Additionally, Firstleaf offers a 100% satisfaction guarantee. If you're unsatisfied with a bottle you receive, Firstleaf will provide a credit for that wine.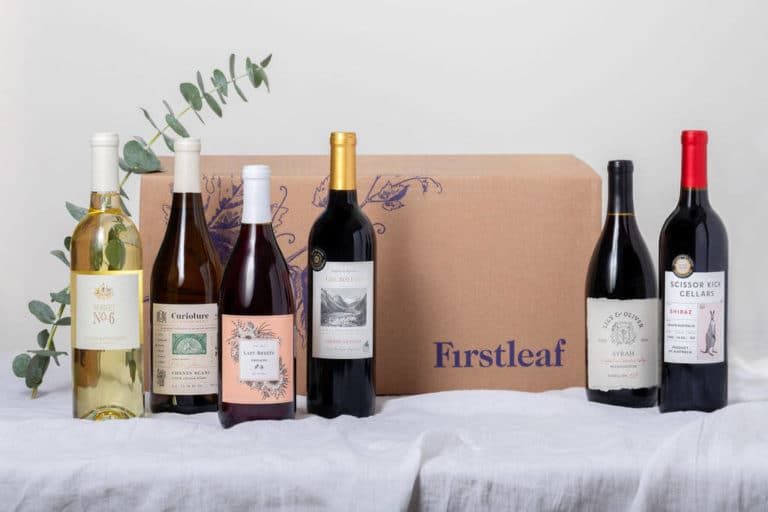 6 bottle for $39.95 + free shipping!
2. Wine Awesomeness
Fantastic Collection Of Interesting International Wines

Wine Awesomeness is a wine club that curates unique wines and delivers them to club mem...
Wine Awesomeness is a wine store with the mission to curate a great wine bottle collection from all around the globe, each with a great story behind it. 
Wine Awesomeness offers the option of registering for a monthly subscription wine plan or making a one-time wine purchase through its wine store.
A wine club subscription is offered for three or four bottles per month, with an option to pre-pay for three, six, nine, or twelve months at an even lower price per bottle.
The wine store offers a large variety of single bottles at attractive prices (Check out the 'last call 50% OFF section!) Moreover, you can find many wine pack options like European red or white wine tour, day or night all whites, and Cabernet lovers pack, to name a few. You can order the packs as three, four, six, or twelve bottles box.

Holidays Deal! $100 OFF to stock up on wines, Use Code TURKEY100
3. Winc
California Wines With personalized Delivery
Winc is one of a kind personalized wine club, suitable for people who enjoy wine and wh...
Winc is another well-known and top-rated wine club that offers international and local wines, though it shines in the category of California-sourced wine options.
Like Firstleaf, you'll take an online quiz that helps discern your preferred tastes; then, you'll receive a shipment based on your results. You can also rate each bottle to help create a more personalized experience for future deliveries.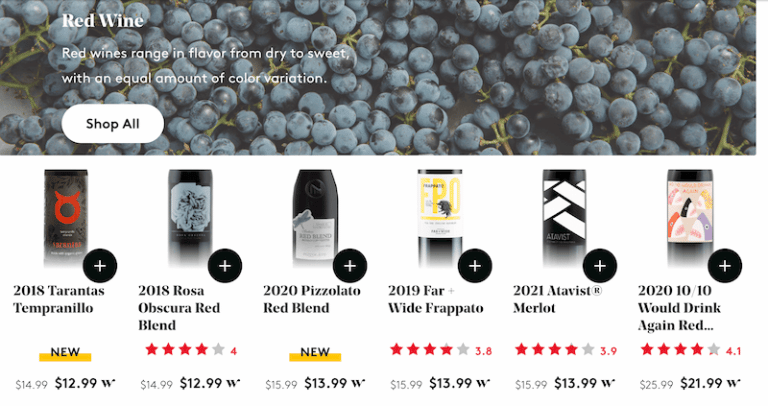 4. Bright Cellars
Four Wine Of The Month Bottles Personally Matched To Your Taste
Bright Cellars is a monthly wine club that matches you with four wines that you'll love...
This wine club offers award-winning wines and international options. However, it has a slightly higher price point than Firstleaf or Winc. However, the high-quality offerings make up for this service's higher cost.
Based on your quiz results, you'll be paired with four wines that the folks behind Bright Cellars believe you will love.
According to the Black Friday deal last year, you can expect to see a promotion for 60% off of a 4-bottle box for new subscribers.
Holiday Deal! Get 6 Bottles For Only $53
5. NakedWines.Com
Connecting Talented Winemakers With Wine Lovers
Naked Wines features a unique business model where angel customers fund the winemakers who provide the product beforehand. By paying the producers upfront, they can craft high-quality wines at lower prices as they can focus all their energy on creating wine instead of marketing. It's an excellent option for those who want small-batch wine at a budget-friendly price.
Each month, you invest a payment to Naked Wines, which you can use as a credit toward wines. You must be an angel investor to take advantage of the Black Friday deal. Then, you can expect to receive 60% off a case of 12 various wines, including a pinot noir, merlot, and more.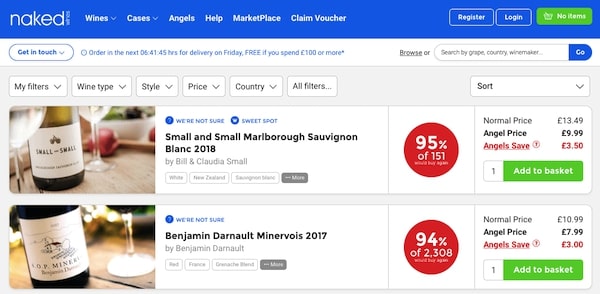 Holiday Deal! $100 OFF 12pk + 3 Gifts Bottles For Only $79.99 + Shipping!
6. California Wine Club
Wine Clubs With Quality Handcrafted Californian Wines

The California Wine Club is all about  introducing you with small family wineries, main...
The goal of California Wine Club is to pair you with wines from small farms, as the company believes these offer the highest quality products.
The California Wine Club offers six different wine clubs at different price-point. Many perks come with a California Wine Club subscription, including personal wine consultants, VIP wine tastings at wineries featured by this club, and a wine storage service.
Last year, the California Wine Club offered an additional shipment along with the purchase of a three-month gift subscription. This promotion did not require a promo code.

Join Today and Get $10 OFF Plus Free Shipping!
7. Plonk Wine Club
Organic and Biodynamic Artisan Wines

If you wish to discover boutique organic and sustainably sourced wines from small hidde...
Plonk is a subscription service specializing in natural, organic, sustainably sourced wines. With a Plonk subscription, you can select between a four-bottle and a 12-bottle subscription, each with differing delivery frequencies.
This club is ideal for those with a good knowledge of wine, as you get to select which type of wines are in each shipment (red, white, or both).
In 2021, Plonk offered about 30% off the first month as a Black Friday special for the smallest case size (4 bottles), with more significant discounts for options with more bottles.

Join Today and Get $10 OFF Plus Free Shipping!
8. Wine Insiders
Keep Your Shelf Stocked With Wine Selection From Around The World
Wine Insiders is known for its affordable range of wines. It cuts out the middleman to ...
This wine company offers the option of individual bottle purchases and the option to sign up for a subscription.
Wine Insiders offers high-quality wines at prices for every budget via direct sourcing instead of using a middleman. A simple website allows for easy navigation for purchasing wine bottles and wine club options.
Wine Insiders offered the highest discounts last year, with prices up to 68% off individual bottles.
Get $30 OFF + FREE Gift - Code NEWYEAR30
9. Gold Medal Wine Club
Six Wine Clubs, From Garagiste Series To Premier Series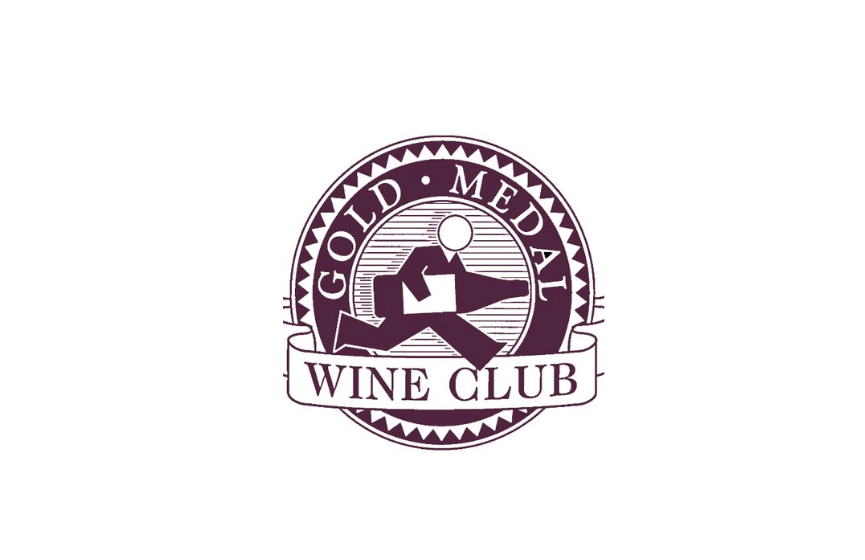 The Gold Medal Wine Club is here to introduce you to the best California wines! The clu...
If you enjoy California wines, you'll be a Gold Medal Wine Club fan. This subscription service focuses explicitly on wines sourced from California.
When purchasing from Gold Medal Wine Club, you can expect award-winning wines from family-owned wineries. Each wine that is available through the website comes highly rated.
Gold Medal Wine Club has a tiered system for Black Friday, with more freebies and higher discounts the more you purchase! When purchasing three bottles, you'll receive an extra complimentary bottle. With the purchase of six bottles, you also get a free entry into a raffle for free shipments, and so on.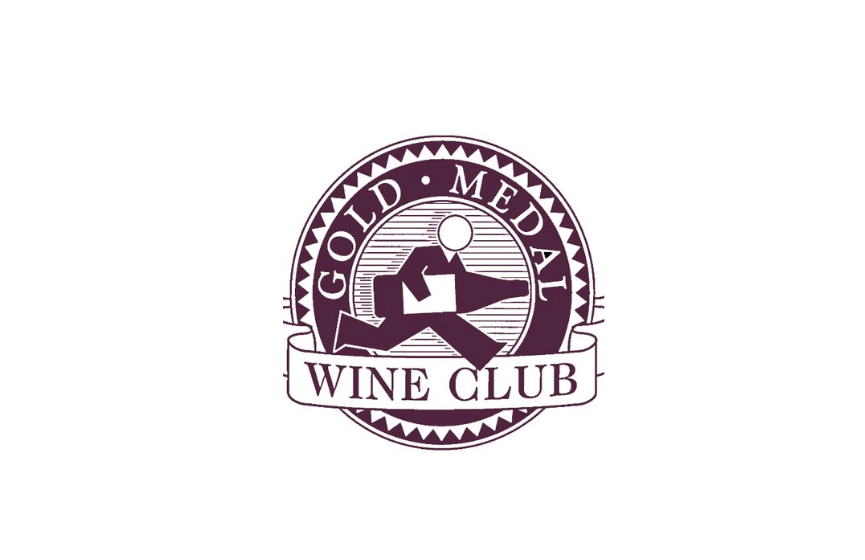 FREE Bottle In 1st Shipment of 4+ Months Subscription! Use Code: MKRBONUSWINE
Is It Worth It To Join A Wine Club?
Yes, it is worthwhile to join a wine club if you're a wine lover. Many benefits exist, though we've listed five benefits below of a wine club subscription.
Exploring new wines, from international wine options to handcrafted wines that you might not normally reach for in the store.
You'll receive a regular supply of wine, so you won't need to spend time hunting for options in the store.
You'll often find excellent savings as your delivery includes bulk or bundle pricing, making it a more affordable option than purchasing from the grocery store.
Most wine club memberships also include additional perks, such as discounts on other wines in their online store.
Signing up for a wine club is easy, making it convenient and quick to check people off your gift list.
What Is The Best Wine Club To Join?
While it's challenging to narrow down which wine club is the best, Firstleaf Wine Awesomeness and Winc are the overall top choices from this selection.
Firstleaf is an excellent option for those who want curated wines delivered right to their door. With an enticing introductory offer and a selection that changes based on your feedback, it's easy to see why this wine club is at the top of our list.
Wine awesomeness is also a fantastic wine of the month club, with the mission of tracking delicious wine gems crafted all around the world.
Winc is another top option for a wine club, with its vast array of wine options. Paired with excellent flavor and affordable prices, Winc is a great choice for those who want to explore more wines.
Final Notes on Black Friday Wine Club Membership Discounts
When searching for wine club gifts, Black Friday is an ideal time to try out new wine clubs due to the promotions and discounts offered.
Whether you prefer a wine club with international wine options or one that sources its wines from local California vineyards, you'll find an option that suits your needs and can start with a great promo code.
You can find more detailed reviews on each wine subscription through our wine club services page. We ensure an honest review based on subscribing and tasting wines from each service, and provide information on flavor, offered plans, price, and more.