Jumping into the world of wine can seem overwhelming and confusing. Surely you know that white and red wine have different sweetness levels, but is that the only difference between the two? How do you decide which variety you'll enjoy more?
We've put together a guide on the main differences between the two, what health benefits they offer, and how to ultimately decide the best fit for your lifestyle.
Red Wine vs. White Wine – What Are The Main Differences Between The Two?
Many differences between red and white wine exist beyond their flavor. They're created from different varietals of grapes, and other grape parts, and even made with different processes. Here are the primary differences between these two types of wine.
Made From Different Type Of Grapes
The process starts with white wine grapes and red wine grapes. Red wines use red grapes, which help provide the red color that they're known for.
White wines use light-colored grapes like white grapes or green grapes. Some white wine options use red varietals without the grape skin to achieve a lighter colored wine.
Made From Grapes Different Parts
Red wine uses the whole grape, grape skins included, to create wine. The entire grape is crushed (seeds, stems, and juice) to make red wines. In contrast, white wine is made from only grape juice.
Different Making Methods
White wine and red wine are processed differently to achieve various flavor notes. For example, red wine is exposed to oxygen during the process as it sits in oak barrels.
White wine is aged in steel vats, which helps keep the flavor lighter and more delicate. White wines are also typically aged for less time than red wines.
Different Chemical Combinations
Since both types of wine use different grape parts, they each hold different chemical combinations. One of the main differences in the chemical composition is that red wine has tannins. This chemical is produced from the grape skins and helps provide red wine with its drier taste and red color.
Different Shelf Life
Because of white wine's more delicate flavor, it does not hold up well with aging. Instead, white wine can be kept unopened on a shelf for about 1-2 years before it's not drinkable.
On the other hand, red wine ages wonderfully and can last easily 2-3 years on the shelf. If you invest in a higher quality red wine, it can sit in your cellar for 10-20 years and still be tasty.
Different Flavor Profiles
White wines tend to be much sweeter (and have a higher sugar content) than red wines. White wines are less acidic and offer a lighter flavor. Many red wines have complex flavors and are rich and full-bodied.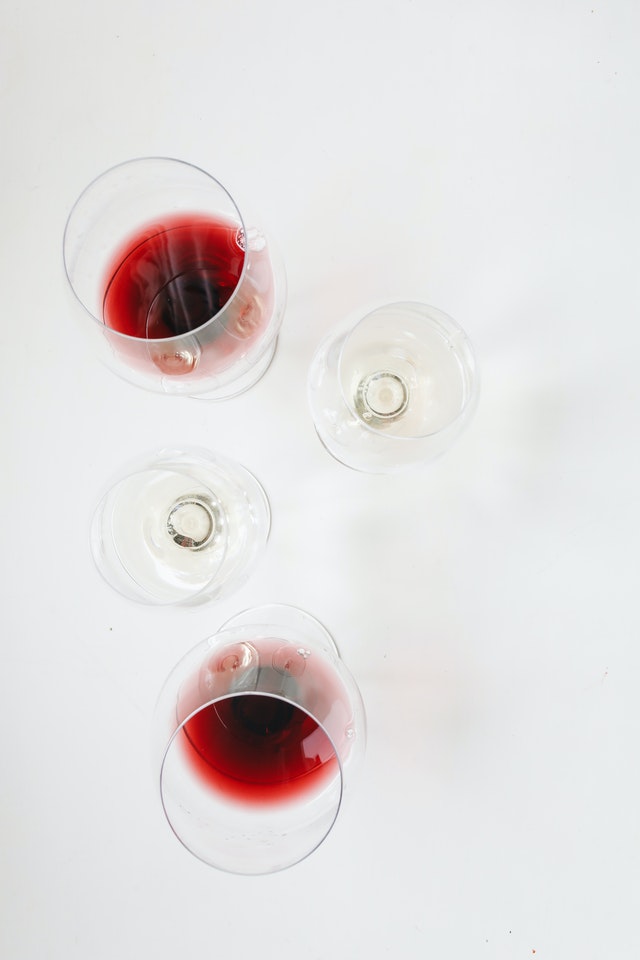 Health Benefits Of Red And White Wine
Overall, the calories, carbs, and sugar content are similar for dry white and red wines. However, there is a significant difference in the number of minerals and vitamins each contains, with red offering a higher quantity than white.
Below are the additional benefits of each type of wine.
Red Wine Benefits
Red wine is associated with better heart health due to its chemical composition. There is a potential link between a reduction in the risk of heart disease and higher levels of HDL, aka the good cholesterol.
It may also boost brain power and aid in slowing the process of mental decline during aging.
White Wine Benefits
White wine's main benefit is its high level of antioxidants, which can help with inflammation. There's also a potential connection between heart health and antioxidants, though additional studies need to be conducted.
Best Food Pairings
Red wine is excellent with heavier dishes like red meat, lamb chops, and pork chops. A few other foods that work well with red wine include:
Cheese
Chocolate
Spaghetti with marinara
As for white wine, its delicate flavor is the perfect pairing for seafood dishes like ceviche. Other pairings include:
Salads
Poultry
Shellfish
Potato chips
The Big Question – Which Type Is Better For Your Taste?
If you're not worried about which wine is healthier for you but would rather focus on taste, here are some ways to know which option is best for you.
Red Wine Best Match For Those Who Like Richer, Berry-Centric Tastes
Red wines are typically created with berries and have a heavier feel. So, if you favor berries, you'll likely enjoy red wine over white wine. Lighter wines typically include fruit like strawberries, while heavier wine options use blackberries for flavoring.
Red wine offers bold, complex flavors with solid aromatics, which allows it to stand up to more flavorful meat. Choose this option if you eat greasier meats often or want a more robust flavor.
White Wine Best Match For Wine Drinker With More Delicate Palates
White wine tends to have a more floral taste and lighter fruit notes like nectarines and citrus. It's more refreshing than red wine and is often served chilled, making it a great summer drink.
White wine is great for vegetarians or those who eat lighter protein sources, including seafood, tofu, and chicken.
Best Way To Taste Red And White Wines – A Wine Club Subscription!
There are quite a few benefits beyond convenience for wine club subscriptions. Often, wine clubs offer wine bottles at more affordable options than what you can find in the store. Depending on the wine club, you can help support small independent wine producers instead of larger companies.
As a bonus, you'll be able to try wines that you likely won't find at your local grocery store.
If you're interested in trying out a wine subscription, check out these Wine Club Coupons.
Bottom Line – Who Wins The Red vs. White Wine Battle?
Overall, the answer comes down to a few factors, including what flavors you enjoy while drinking wine. For example, red wine that offer a higher concentration of tannins is best for those who want drier tasting wines with more body, like Cabernet Sauvignon and Pinot Noir.
White wine, like Sauvignon Blanc and Pinot Gris, features delicate floral and fruit flavors that work well with seafood, creamy sauces, and lighter dishes.
Many people choose red wine over white wine due to its health benefits and lower calorie count. However, there are low-carb and low-sugar white wine options available that fit into a healthy diet easily.
Ultimately, the final decision on red vs. white wine is up to you and your preferences!
Keep in mind that you can drink both types of wine, depending on the occasion, and don't need to strictly stick to only red or only white.