We explore all quality wine clubs so that you know what you get with your wine club experience. However, most of our readers want to know if some of these wine clubs are worth their money.
You can find a range of selections with differing prices and unique quality levels in the wine club industry. If you're a wine lover like us, the chances are that you have been burned a few times by overspending for average or low-quality taste.
Let's look at Firstleaf wines and their subscription services to decide whether it is worth your hard-earned money.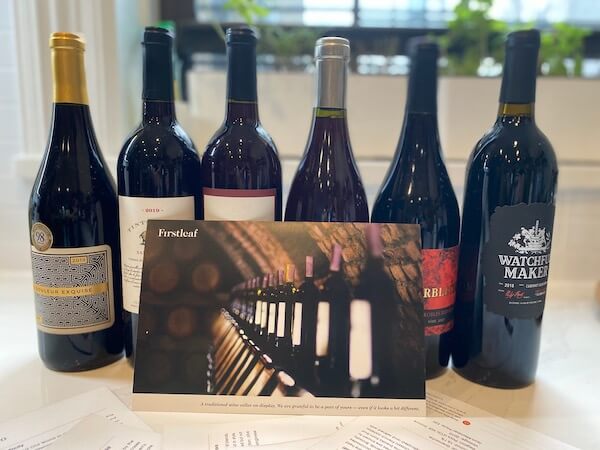 What Is the Firstleaf Wine Club?
Firstleaf is a wine subscription service that offers personalized subscriptions featuring award-winning wines, including domestic and imported wines.
Unlike other wine clubs, Firstleaf has lower prices because they cut out the distribution's middlemen. These are people like importers, distributors, and wine industry retailers.
To provide you with an enjoyable experience, Firstleaf creates a personalized layout for selecting the most appealing bottles of wine to match your taste. These wines range from Napa or Sonoma's domestic bottles to international flavors from countries like France and Argentina.
Firstleaf advertises that their wines are priced up to 60 percent off standard retail prices. You can find everything from reds, whites, to bubblies at affordable prices. Although, with attractive prices, you may be concerned about the overall flavor. Let's take a look!
Are Firstleaf Wines Any Good?
As advertised on its website, 92 percent of the wines Firstleaf offers are award-winning. Additionally, the subscription sends wines it thinks you are going to like. Therefore, the chances of you getting quality and enjoyable wines are almost perfect.
We personally tasted some great wines from the Firstleaf wine collection:
La Douleur Exquise – A new World styled French Grenache, featuring some great fruit flavors. this awesome wine stuck 98 Points and Double Gold at the 2020 Sunset Magazine International Wine Competition. It was also nominated "Best of Class" by women winemakers, influencers, and industry legends.
Tintoretto – Another great award-winning wine, that won 91 Points and a gold medal at the 2020 Sommelier Choice Awards. it is a perfect example of a classic Italian Sangiovese. the wine features a signature of dusty tannins and juicy savory flavors.
Lazy Breeze – white Sauvignon Blanc that was nominated "Best of Class". It also won 98 Points and Double Gold winning in the 2020 Sunset Magazine International Wine Competition. It's a delicious youthful white with some great fruity aromas that jump out of the glass.
So, Is Firstleaf Worth It?
Still not sold on this affordable wine club? Keep reading for a more in-depth analysis of the service so that you can make a conscious choice about where you put your money.
#1 Affordability
One of Firstleaf's main selling points is that it is a cheap wine subscription. Prices are so low because it conducts business directly with the wineries. That way, prices do not have to increase to pay for transportation, distribution, and more. By cutting out the middlemen, Firstleaf can make prices affordable without sacrificing quality.
The wine team at Firstleaf has built strong relationships with wineries worldwide to bring you some of the most desired wines at prices between 40 and 60 percent lower than standard retail prices.
Moreover, Firstleaf offers a great deal on their introductory box, which makes subscribing even more attractive!
#2 Customized Wine Box
Firstleaf delivers customized wine boxes to your door. When you first become a member, the wine team asks you a few questions about your preferences. Then, you receive a package of six bottles to try. Once you return to the website and offer your opinions, your profile gets updated and enhanced for your next shipment.
As you continue to taste, enjoy, and rate the wine selections, the shipments become more accurate to your taste preferences. Therefore, the longer you are a member, the better it gets.
#3 Exclusive Wine
The appeal of Firstleaf is that the team of wine experts picks out exclusive wines that they think you are going to like. If you keep them updated on your wine preferences, they can do a better job of picking out wines that suit your preferences.
#4 Amazing Wine Selection
Firstleaf features a wide selection of wines so that their customers can explore different brands and be satisfied with their hand-picked selections. The offered drinks change on a regular basis to keep things fresh. Based on the current list of featured wines, it is clear the wine team tries to pick the most coveted wines out there. Some of the displayed wines include award winners at renowned competitions.
Firstleaf's array of wines include both reds and whites that come from wineries both international and domestic. That way, you can get a taste for wines all over the world—including ones in your back yard.
Firstleaf's red wines include Cabernet Sauvignon, Merlot, Pinot Noir, Zinfandel, and more. white wines include Chardonnay, Pinot Grigio, Sauvignon Blanc, blends, and more.
#5 Quality Control
The team of wine experts seeks out only the best and highest-rated wines for all their customers to try. About 92% of the wine selection is award-winning. Their experienced and expert team picks trusted wineries and works with them to bring fantastic flavor to your doorstep.
#6 Offered Discounts
Firstleaf has an excellent beginners' promotion that encourages people to try the service. Though this seems a little deceptive, Firstleaf wine club reviews show that people are happy to be a part of the club.
The wine experts at Firstleaf wine club provide two different programs to receive your wines.
Introductory offer: You receive a six-bottle box of wines including those that match your initial tasting profile. Over time, your shipments become more refined as you continue to rate the wines you receive.
Club offer: You receive a six-bottle box of wine with flavors that match your profile. Before a box gets shipped, you can switch out any bottles that you do not like. You receive your first two shipments one month apart. After this, you have the power to adjust the frequency of delivery, whether it is everyone, two, or three months.
#7 100% satisfaction guarantee
Firstleaf strives to achieve a 100% satisfaction guarantee. If you contact their customer service with any questions or concerns, you can expect a response fairly quickly.
#8 Flexibility
In general, Firstleaf is very flexible. After all, it is a personalized program that caters to your wine preferences.
The standard shipping frequency for your wine subscription is every month. However, you can adjust so that it comes bi-monthly or every three months.
Additionally, some people may think that six bottles of wine are too much for them at a time. With your online account, you can adjust this to receive the amount you prefer.
Not a red wine fan? You can express this on your account so that you don't have to receive any reds. You can also do this for white wine and mixes.
Finally, Firstleaf also has programs that allow you to use your subscription for gifting during the holidays.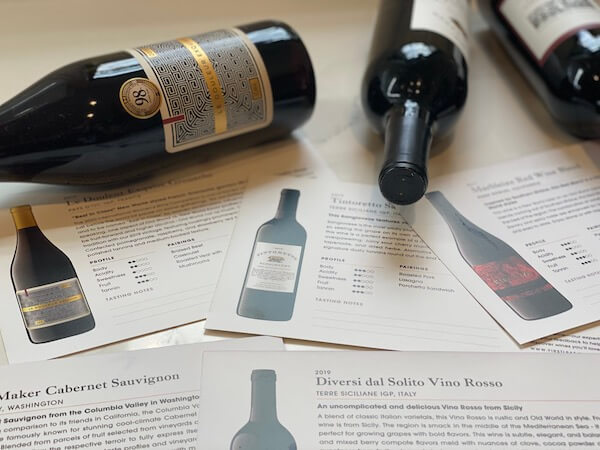 The Bottom Line
When looking at the pros and cons of this wine subscription service, the pros top the cons by a lot. Since the service focuses on personalization, you can count on enjoyable flavors. Additionally, since there are no middlemen, the prices are much lower, possibly making your wine-drinking experience much better!
Overall, we think that this subscription service is worth your money!