What does February 14 mean to you? For sure, Valentine's Day will come to your mind first.
Apart from a wonderful opportunity to celebrate love, Valentine's Day is a perfect time to try sumptuous food and take a sip of your favorite wine. After all, Valentine's Day dinner date is never complete without food and wine.
In this post, allow us to give you the best ideas for the wine pairing for Valentine's Day, a wine club for Valentine's Day, and a wine box for Valentine's Day. What's more, you'll also learn about unique Valentine day food pairing, red wine, white wine, expensive or premium wine, affordable wine, local wines, and international wines.
So, let's get started!
Why Do Food and Wine Pairings Work?
Food and wine pairings allow you to pair a single dish with particular wine in hopes of enhancing both the flavor of the food and the beverage. It will introduce you to a wonderful dining experience or never-before Valentine's Day dinner date.
With food and wine pairings, you can uncover the magical chemistry between textures and flavors that will stir up your palate. You will also learn the art of balancing the different flavor profiles such as sweet, sour, salty, and acid with levels of oil and fat.
In the past 30 years, food and wine pairings have been growing in popularity. Culinary experts discovered that there's something beyond a perfect glass of wine when paired with a specific food type.
As you probably know, wines come with several properties. Each type of wine interacts with the dishes people eat and their unique taste buds. For example, white wines pair nicely with light dishes, while red wines perfectly match heavy dishes, including moreover, sweetness, bridge ingredients, bitterness, acidity, and alcohol. For example, wines that leave bitterness to the taste buds match well with fatty food.
Benefits of Food and Wine Pairings
For sure, you might experience a little pressure when holding a wine list during Valentine's Day dinner date. Why not? Choosing a specific wine to pair with your preferred meal can impact your entire dining experience.
As you consider food and wine pairings on your next Valentine's Day dinner date, you can experience the following benefits:
Transform Ordinary Food Into A Five Star Dining Experience
Excellent food and wine pairings are more than just a pleasurable experience. It will also help your ordinary turn meals into more special ones. So, if you want to leverage your dining experience, then food and wine pairing is the key to make it happen.
Maximum Culinary Enjoyment
Food and wine pairings will help you find the perfect balance between texture and flavors. So, you do not experience too sweet, too fatty, less salty taste because every food and beverage properties are well-balanced. As a result, you will get maximum culinary enjoyment.
Valentine's Day often involves an enticing box of chocolates or a romantic dinner with a glass of red wine. The good news is that food and wine pairing also delivers heart-healthy benefits.
Dark chocolates and red wine are good sources of antioxidants. These antioxidants are proven to relax blood vessels, relieve stress on the heart, and lower the risk of cardiovascular diseases.
Basic Food and Wine Pairing Guidelines
The trick to balance the flavor profiles when pairing food with wines is not to overpower particular elements of the meals. That is to bring out every meal's hidden characteristics.
The good news is that you need not be a professional sommelier just to enjoy a bottle of wine and a plate of your dish. The following food and wine pairing guidelines will already help you enhance your overall dinner date experience.
Red Wine with Red Meat or Heavy Dishes
A rich cut of red meat like prime rib will pair perfectly with a high, bold tannin red wine such as Cabernet Sauvignon and Petite Sirah.
Malbec wines are notable in Argentina and France. They are full-bodied and rich and deliver medium tannin and acid levels. They will pair nicely with foods like pork, lean red meats, mushrooms, creamy sauces, and blue cheese.
Merlot wines deliver fruity flavors with medium tannin levels. There are also hints of chocolate notes, while its finish has fewer tart flavors. Characteristics of cedar, chocolate, plum, cherry, and berries are noticeable. You can pair these wines with red meats, aged cheese, earthy foods, stews, root vegetables, pork, and chocolate.
Bordeaux wines are blends that often contain Merlot, Cabernet Sauvignon, and other varietals from France's Bordeaux region. These wines are smooth, but generally have high tannin levels and full-bodied, making it ideal for foods with high-fat content.
White Wine with Poultry, Fish, and Light Fare
Light white wines include Sauvignon Blanc, Riesling, champagne, sparkling wine, and Chablis. These wines will decently pair with chicken, turkey, duck, and seafood. White Burgundy, White Bordeaux, and Chardonnay are some of the medium body to heavy white wines. These wines will nicely match Gouda cheese, chicken, and seafood.
Chardonnay wines involve sugary, buttery notes with interest hints of vanilla. These wines have top notes of apple, lemon, pineapple, butter, and vanilla. On average, these wines have low tannin levels, medium acid levels, st medium-bodied, and very dry. Seafood or fish in creamy or fatty sauces, soft cheeses, white meats, oily fish, and oysters are foods commonly paired with these wines.
Sauvignon Blanc wines have fewer sugar levels and more sour. These wines have a medium to high acidity level. These wines are also light and refreshing but herbaceous. Lime, passion fruit, peach, and green apple notes can be expected. These are ideal for soft cheese, clams, white fish, white meats, and green herbs like parsley, rosemary, cilantro, and mint.
Pinot Grigio wines have a well-rounded finish and are zesty and light to medium in body. These wines are fruity, refreshing, dry, and medium to high in acidity. Some varieties come in higher minerality, giving a slightly salty taste. These wines will pair perfectly with fresh salads, raw seafood, citrus fruits, white flavors, and light seafood dishes. Food with creamy or rich sauces should be avoided.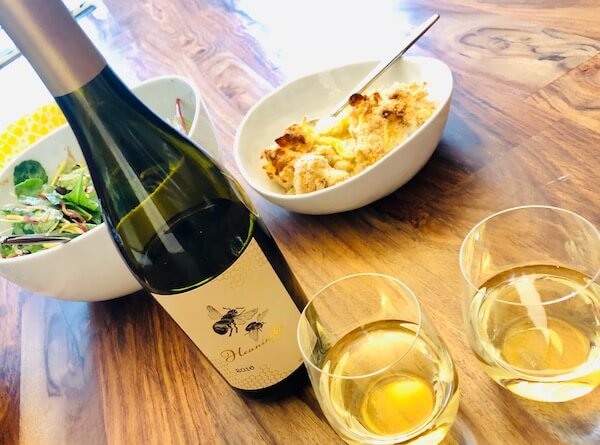 Wines for Desserts
Your dessert is no different when it comes to food and wine pairings. In fact, this pairing will help you leverage your romantic dinner date.
Vouvray Brut wines are crisp and mouth-puckering with notes of honeysuckle, pear, and green apple. These wines are made with Chenin Blanc grapes. These wines are perfect pair for strawberry shortcake as its note of tree fruit perfectly match the fresh strawberry flavor.
Gewürztraminer wines are acknowledged for being dry and sweet and deliver notes of citrus, spice, roses, and lychee. These wines will beautifully pair a warm apple pie.
Oaked Chardonnay wines deliver a bracing flavor of lemon peel, pear, and apple. The citrus and tree fruit of the wines offer a more zip because of the lemony top of lemon bars. Apart from lemon bars, a shortbread crust is also an ideal pair for these wines.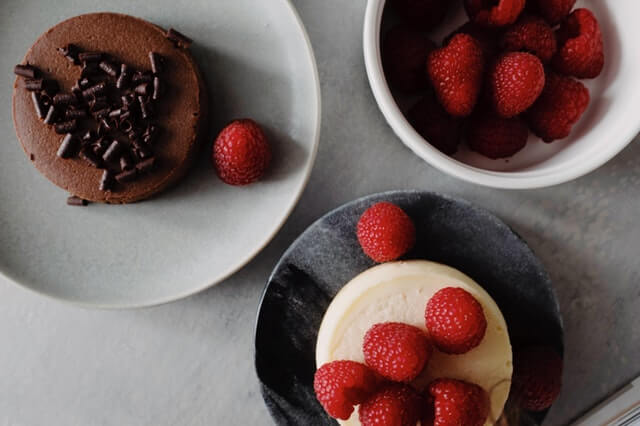 More Food and Wine Pairings
Now, we'll introduce you to food and wine pairing according to the type of seasoning or sauce.
Garlic rosemary, chimichurri sauce, and mint sauce are some of the popular green sauces. These sauces are commonly paired with bold red wines with more well-integrated tannin levels like Monastrell and Argentinian Malbec.
Popular tomato-based sauces include marinara sauce and Espagnole sauce. These sauces are perfect for medium-bodied red wines with medium acidity such as Bardolino, Tempranillo, Cabernet Franc, Merlot, and Sangiovese.
Peppercorn sauce, Stroganoff, Bechamel, blue cheese sauce, yogurt sauce, and Bearnaise sauce are the top options for white sauces. The yogurt sauce is ideal for Rosé or Grenache wines. Bearnaise will pair interestingly with bold wines with high acidity like Lagrein, Chilean Cabernet, and Bordeaux. For pasta topped with Bechamel sauce, look for medium-bodied wines like Valpolicella Ripasso. With stroganoff sauce, seek out fro an earthy French Syrah. As for peppercorn sauce, wines with peppery notes like Shiraz or Cabernet Sauvignon are nice choices.
How Can Wine Clubs Benefit Valentine's Day?
Wine clubs come with pre-order and delivery, so you have more time to focus on the dinner. Curated wines take out the guesswork, large variety of options, from affordable to premium, local to international, and more. Besides, information about the wine typically comes in the subscription, so you can wow your date with your wine knowledge.
Conclusion
One of the best ways to complete and leverage your Valentine's Day dinner date is through excellent food and wine pairings. No need for you to stick to an ordinary dinner date because you can bring out the real flavors of every meal through the right wine. We hope that presented you with all the essential information to make your next romantic date more memorable.