Whether you're looking for a non-alcoholic wine for the holidays or special occasions or simply trying to cut back on your alcohol intake (like when you have too many holiday parties), there are many options for non-alcoholic wines in 2023.
Regardless of the reason for deciding to drink alcohol-free wines, it's worth noting that they can still taste like with regular alcoholic counterparts. Thus, you won't feel as if you're missing out on traditional wine during gatherings or celebrations.
The below list covers everything from top non-alcoholic sparkling rosé wines to alcohol-free wine options, such as NA cabernet sauvignon.
Best Non-Alcoholic Wines
The below list includes alcohol-free wines and alcohol-removed wines. The primary difference between these two varieties lies in the fermentation process. Non-alcoholic wines are similar to unfermented grape juice. In comparison, alcohol-removed wine has a small percentage of alcohol (0.5% or less) that remains after the alcohol-removal process and fermentation.
Best Non-alcoholic White Wine Bottles
1. Luminara Non-Alcoholic Chardonnay 2018
This flavorful non-alcoholic Chardonnay has less than 0.5% ABV and is a low-calorie option for those who are calorie conscious. As it is dealcoholized wine, it retains the flavor of a fruity, creamy chardonnay. It also contains the typical acidity and aromatic notes of chardonnay. It's best to drink this wine chilled at a temperature of 50-55°F.
2. Giesen, 0% Non-Alcoholic Sauvignon Blanc, 750 ML
This non-alcoholic white wine comes from New Zealand and delivers a light aroma of lemon shortbread, lime, and redcurrant. At 19 calories per serving, this NA sauvignon blanc is also excellent for health-conscious folks. This dealcoholized wine has an ABV of less than 0.5% and pairs well with light bites.
3. Blanc Burgunder
The non-alcoholic Blanc Burgunder from Studio Null is an excellent choice for those who enjoy white wine blends. It's made with a mixture of Pinot Blanc and Pinot Gris grapes from the Nahe, Germany region. It features a crisp taste that's a bit sweeter than chardonnay, making it an excellent pairing with seafood. This wine is dealcoholized, with an ABV of less than 0.5%.
4. "Eins Zwei Zero" Riesling Alcohol
This "Eins Zwei Zero" white wine from Germany is the most budget-friendly option on our list. It features a crisp, refreshing taste and light. This dealcoholized wine is excellent with spicy food, like a fiery curry. The citrus and red apple flavor notes help create a complex taste in this riesling, which brings out the bold flavors of spicy dishes.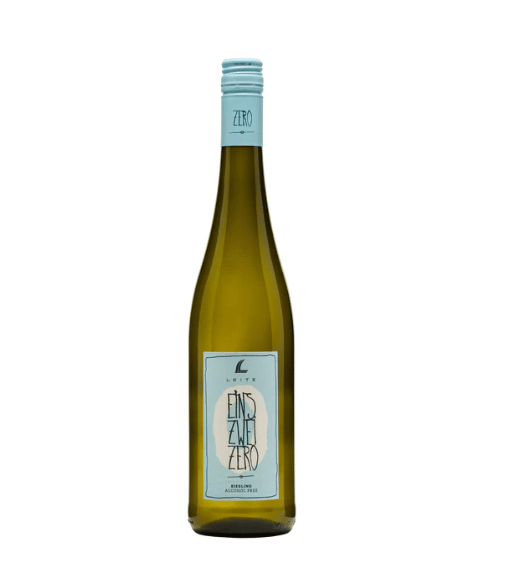 Best Non-alcoholic Red Wine Bottles
1. Luminara Alcholo-Removed Red Blend 2019
Luminara non-alcoholic wines are a top choice in many categories, including some red wine options. 
This red blend features a smoky, spice-filled flavor with a black cherry aroma at the forefront. It tastes nearly identical to a traditional red blend due to the aging process in French and American oak barrels. It's an ideal choice alongside grilled fish, particularly salmon. 
2. Pierre Zēro Merlot
This Pierre Zēro Merlot is a NA wine that has 0% ABV. Even so, it still offers a full-bodied flavor with an aroma of ripe fruit. This elegant wine also has flavor notes of vanilla and spices, providing a complex taste. It's also vegan, halal, and low-calorie, with 16 calories per serving. Pair this NA merlot with a steak to create a tasty meal.
3. Fre Merlot
Out of the listed red wine options, this Fre Merlot is the most affordable choice. Yet, it still provides a delicious aroma of black plum. Flavor notes in this merlot include spices and cherry. When drinking this non-alcoholic wine, expect a full-bodied taste and velvety mouthfeel. It's a great option for a cozy night in, as it pairs well with hearty stews and other similar dishes.
4. Ariel Cabernet Sauvignon
This Ariel Cabernet Sauvignon features a rich, dark color and a complex flavor. This creation from Ariel has flavor notes of spicy black pepper, blueberries, blackberries, and chocolate. It has been barrel aged in oak, which comes through subtly. Expect a dry flavor with light tannins when consuming this cabernet sauvignon. Pair it with red meat, such as rib eye or NY strip steak. It's dealcoholized, so it contains a small amount of alcohol.

Best Non-alcoholic Sparkling Wine Bottles
1. Rondel Zero Non-Alcoholic Cava Sparkling Wine
This Spanish wine has 0% ABV and offers fun, zesty bubbles, which make it a great NA wine for celebrations. It has a delicious fruity flavor and aroma, consisting of apple and citrus. It's made with the same traditional method sparkling Spanish wine-makers have used since the late 1800s.
This sparkling wine is a fantastic option for many dishes, from appetizers to salads, seafood dishes, and meals with creamy sauces. Try serving this Rondel cava alongside a charcuterie board with fresh fruit.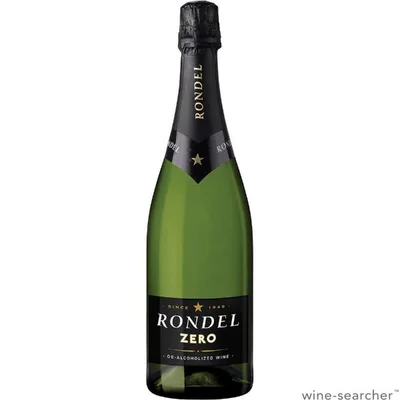 2. Surely Non-Alcoholic Rosé Sparkling Wine
Last but not least is the Surely sparkling rosé. This award-winning non-alcoholic wine features a crisp yet light flavor. It has notes of strawberries, pears, grapefruit, and guava. 
This sparkling rosé is drier, with a light acidity leading to a fuller-bodied taste. Pair this tasty rosé with sushi for a romantic evening.
What Is Non-Alcoholic Wine Anyway?
As mentioned, non-alcoholic wine does not get fermented. Instead, the juice is bottled before the fermentation process, then sold. This creation process means there is no alcohol in the wine. One such example would be sparkling grape juice.
In comparison, alcohol-removed wine goes through the same process as regular alcoholic wine, including fermentation. However, the alcohol can be removed via several methods, such as vacuum distillation. This process ensures that the NA wine tastes similar to standard wine. However, there is still a tiny amount of alcohol in this type of wine, though it must be 0.5% or less.
Some people may also include low-alcohol wines in this category. However, low-alcohol wines still contain a decent amount of alcohol, but they must be under 12.5% ABV. Wines under 10% ABV are typically considered very low in alcoholic content.
Final Notes On Our Review Of Best Non-Alcoholic Wines
Many non-alcoholic wines today feature an excellent flavor with well-balanced aromas, similar to traditional real wine.
Depending on the alcohol content you are comfortable drinking, you'll find an abundance of options with 0%, 0.5%, or less than 12.5% ABV.
If you are considering an alcohol-removed wine bottle due to pregnancy, it's best to consult a doctor first. Otherwise, those simply looking to lower their alcohol consumption (non-pregnant persons) can drink non-alcoholic, alcohol-removed, or less-alcohol wines, like sparkling chardonnay or others.
Ultimately, the above best non-alcoholic wines are top choices for tasty and fun NA drinking. With affordable prices and an array of varieties, from sparkling wines to delicious NA red blends, your wine cravings will be satisfied.