Before consuming a standard wine bottle, it's normal to wonder how many glasses are in a bottle of wine. While it may seem like the answer to this question is straightforward, it is impacted by a few factors, including the bottle size and how much wine is poured into the wine glasses.
For example, a standard bottle typically offers about five glasses of wine. Generally, standard 750ml wine bottles contain 25 liquid ounces. When at a restaurant, the server will normally pour five ounces into your wine glass each time.
However, this restaurant serving size depends on the alcohol content of the wine you're drinking. Typically, the higher the alcohol content, the smaller the pour. So, for example, if you're drinking wine with a larger ABV, your pour may be closer to four ounces leading to about eight glasses in a standard bottle. So, the serving size between a classic white wine glass, a traditional red wine glass, and even a glass for a champagne bottle will all differ.
It's important to note that the serving sizes mentioned are standard for restaurants. However, the amount you pour at home may differ. For example, you may prefer a half glass of wine daily after work, or you may like to pour a few extra ounces into your wine glass. How you pour your wine at home will alter the number of glasses of wine in a bottle and how many bottles you drink.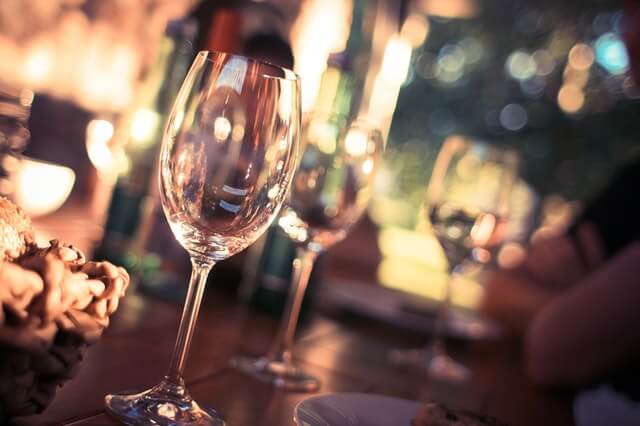 How Much Wine Should Be In A Glass?
As mentioned, if you are consuming wine at a restaurant in a standard wine bottle size, you'll be drinking about five ounces per serving, thus leading to approximately five glasses per wine bottle.
At home, this number of servings will vary depending on your pour size. For example, if you were to fill up your glass completely, 25 liquid ounces would amount to slightly over two glasses. This is assuming you're drinking wine from an average wine glass.
Different Wine Bottles Sizes
While a standard bottle of wine is 750ml, there are additional sizes that you should consider when wondering how many glasses are in a bottle of wine.
The primary wine bottle sizes are half-sized, standard, and magnum bottles. Additionally, there are piccolo and double magnum bottles, though we will focus on the three main sizes with more details below.
Half-Sized Bottle of Wine
Also known as a demi bottle, half-sized bottles are 375ml in size. It is exactly one-half the size of a standard bottle so you can expect about 12.5 liquid ounces in a half-sized bottle.
How Many Glasses Of Wine Are In A 375ml Half-bottle?
Since there is exactly half the number of glasses of wine in a demi bottle, you can expect 2.5 glasses in a standard bottle. This serving assumes you are pouring five ounces per glass.
Standard 750ml Bottle of Wine
As mentioned, the 750ml bottle contains 25 liquid ounces of wine. A good way to remember the number is that it is double the amount contained in a half-sized bottle.
How Many Glasses Of Wine Are In A 750ml Bottle?
There are five glasses in a 750ml bottle with a standard five-ounce pour.
Magnum Wine Bottle
As you may expect, a magnum bottle contains more liquid than a standard or half-sized bottle. A magnum bottle of wine holds double the amount of a standard bottle. Each magnum bottle is 1.5l in size, with 50 liquid ounces.
How Many Glasses Of Wine Are In A Magnum 1.5-liter Bottle?
With a standard pour, you can expect about ten glasses of wine from each magnum bottle.
Why Is it Important To know How Many Glasses Of Wine Are In One Bottle?
It's necessary to know the number of glasses of wine in a bottle for a few reasons. Firstly, knowing the number of glasses, whether red, champagne, or white wine glasses, will ensure you're not consuming too much wine before driving.
If you typically drink 1-2 glasses at a bar and need your significant other to drive you home, drinking an entire bottle of wine at a friend's house means you've consumed more alcohol than usual. So, you will need to make arrangements to get home safely.
Additionally, some people wonder about the number of glasses in a bottle as they are concerned about their calorie intake. Understanding how many glasses are in each bottle allows you to estimate the number of calories you're consuming more easily.
Dry wines like red Cabernet Sauvignon contain fewer calories than sweet wines like white Riesling. As a general rule of thumb, a standard glass of wine is about 120-150 calories, depending on the type of wine.
Lastly, when hosting a large dinner, wine tasting, or a party with casual drinking, you would want to know how many glasses of wine are in each bottle to manage your plans for wine ordering better.
Best Tips For Pouring Wine Into Glass
These three tips will help you pour wine like an expert every time.
Leave the wine glass on the table to help prevent any wine spills.
Grip the wine bottle from the bottom while pouring, then use a quick upward twisting motion when you've reached the desired amount of wine in the glass.
Pouring the wine along the sides of the glass allows the wine to aerate more easily, so you and your guests don't have to swirl your glass of wine before drinking it.
Did You Know There Are Different Wine Glasses For different wine Types?
When choosing a wine glass, there is more to consider than its appearance. Wine glasses can actually alter the flavors of wine. There are different recommendations for wine glass shapes for red wines, white wines, and sparkling wines.
Why Is It Important To Use The Proper Wine Glass?
Using the correct wine glass allows you to enjoy the wine entirely, affecting your smell and taste senses.
Read here our complete guide on wine glasses.
Final Notes On Glasses Of Wine In A Bottle
Answering the question of how many glasses of wine are in a bottle is more complicated than it may seem. As mentioned, the answer to this question varies depending on the size of the wine bottle, the size of the pour, wine glass sizes (there are usually different glass types for red wines and white wines), and the alcohol levels in the wine.
In general, you can assume there will be about five glasses in standard bottles of wine. This generalization changes if you pour more significant portions for yourself and your guests or use glasses that are not standard. You can always divide the liquid ounces in a bottle by five and use that to determine the number of glasses in a bottle.
Remember, half-sized and magnum wine bottles feature different amounts of liquid ounces than a standard wine bottle, leading to a different number of glasses of wine per bottle.